Angry Joe Coffee & Bites
Popup Catering, Food Truck
Las Vegas, NV
2+ Years

on Roaming Hunger
Food truck catering for your next event. Fast, easy and delicious. Book it here.
Get Started
Super Great For
Family Events
Smaller Spaces
Huge Events
Corporate Catering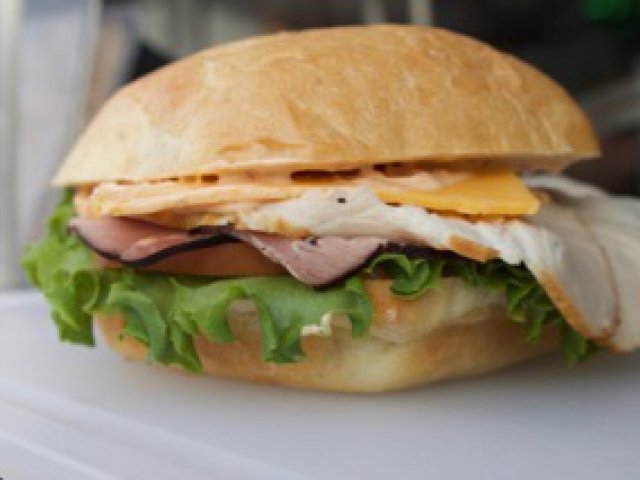 Menu
Main
The Breaky Sandwich
Our signature sandwich will take your morning to the next level. The flaky buttery croissant is overstuffed with juicy sausage, scrambled eggs, a golden hash brown, topped with melted pepper jack, and finished with our spicy Angry aioli.
Cold Cut Ciabatta (CCC)
hAngry? This sandwich will fill any bottomless pit. Soft and chewy ciabatta will carry the weight of both hand carved turkey and black forest ham, thick cut cheddar, fresh tomato and lettuce, and to finish this beast off we smother it in our spicy Angry aioli.
Veggie Panini
Roasted seasonal vegetables, melty pepper jack cheese, house-made vegan pesto pressed into a grilled toasty sandwich. *vegan cheese available.
Sides
Mega Muffin
Got a bit of a sweet tooth? Start your morning off with these colossal muffins. Blueberry or Double Chocolate Chunk, the choice is yours. Let us toast it and melt butter over the top--makes it extra yummy!!
Bagels
Choose between Everything or Plain. Add butter, cream cheese, perhaps peanut butter and jelly, even create your own sandwich.
Vegan Loaf
So moist, flavorful and just so dang delicious! Baked here locally in Las Vegas by Vegan Bites. Carrot, Banana walnut chocolate chip, lemon blueberry, or pumpkin. Yum, freakin YUM!
Danish
Craving the perfect divine treat? Try one of our GIANT cream cheese or Tart Cherry danishes. Fantastic addition to any one of our fabulous coffees.
Drinks
Hot Brew
100% Guatemalan bean roasted locally to give you the perfect balance of body, aroma, and acidity. You will experience notes of creamy sweetness, hints of lemon lime, and toffee.
Cold Brew
We use 100% Guatemalan bean cold pressed for no less than 24 hours. The finished cup is deliciously smooth and balanced and packed with caffeine.
High Roller
Vanilla and caramel sauce swirled together with frothy milk and espresso Try it hot or over ice.
Lady Luck
Raw honey, creamy almond milk, and espresso with a dash of cinnamon.
Luck of the Irish
White chocolate, irish creme, and a sea salted caramel with espresso and frothy milk. Try it over ice or frozen!
All In
Dark Chocolate and house made toasted coconut with creamy almond milk and espresso.
Double Down
Spiced chai with a shot of espresso and frothy milk
Vegas Steamer
Cold brew steamed hot with house made toasted coconut.
Low Roller
Frothy non-fat milk, espresso and sugar-free vanilla and caramel
COLD BREW
We use 100% Guatemalan bean cold pressed for no less than 24 hours. The finished cup is deliciously smooth and balanced and packed with caffeine
About Angry Joe Coffee & Bites
Angry Joe Coffee & Bites is a perfectly pleasant way to start your day, despite what the namesake might say. It's a food truck that's got a couple of sisters on board, slinging their extremely caffeinated coffee on board, for those of us in need of an extreme pick me up. That is, if you happen to be in Las Vegas, NV. If you are, lucky you. There, you'll find Angry Joe Coffee & Bites and a happy amount of gourmet coffee and eats on the streets. Here, they're using only organic, hand picked coffee beans from Guatemala, capitalizing on a strong-bodied flavor that balances aroma and acidity perfectly. From their hot brew packing an additional 50% more caffeine than your regular ol' cuppajoe to lattes, mochas, espressos and americanos, if coffee's your thing, you'll love it here. But that's not all. Angry Joe Coffee & Bites also sports handcrafted sandwiches on board, making for a well rounded breakfast. So why wait? Find Angry Joe Coffee & Bites in Las Vegas, or have 'em out to cater your next event. They'll make your day, that's for sure. MUST TRY
Cold Cut Ciabatta
- this hearty sammie features sliced roasted turkey and black forest ham on a toasted ciabatta roll, topped with cheddar, lettuce, tomato and signature Joe sauce
Book catering for your next event
Protected by our 100% Roaming Hunger Service Guarantee