Carte Diem
Preferred Caterer
Popup Catering

,
Food Truck
Vancouver, BC, Canada
3+ Years

on Roaming Hunger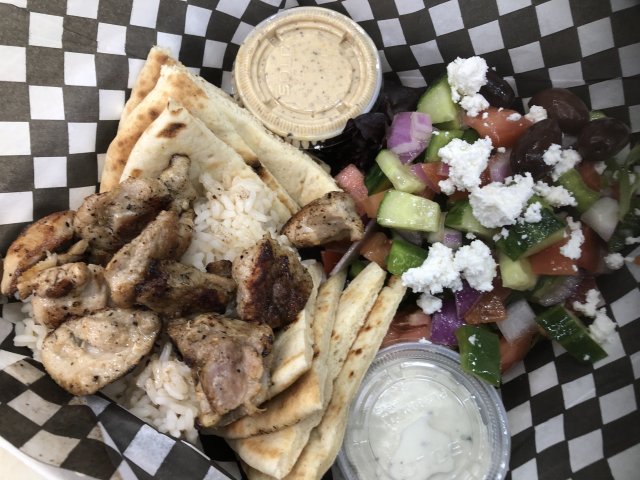 Menu
Main
Greek-Out Dinner (Large)
Served with rice, Greek salad, hummus, tzatziki, warm Greek pita and your choice 0f 5oz protein, falafel or gyro slices.
Greek-Out Dinner (Small)
Served with rice, Greek salad, hummus, tzatziki, warm Greek pita and your choice of 30z meat, falafel balls or gyro slices
That's A Wrap
Served with hummus, tzatziki, salad mix, tomato, onion and wrapped in a warm Greek pita.
In A Bowl
Served with a warm Greek pita (Gluten Free sub rice for pita). Choose 1 hummus or 1 tzatziki dip.
Sides
Dippy Dardanos Trio
2 warm Greek pitas served with your choice of 3 dips
Dolmathes
Rice wrapped in a vine leaf marinated in lemon, oil and spices.
Greek Salad
Tomato, cucumber, onion, pepper, salad mix, feta and olives.
About Carte Diem
Carte Diem is inviting all of Vancouver to live life to the fullest. In this case, that full life includes a full stomach. And in the case of Carte Diem, it's a full stomach full of their fulfilling food. This food truck's specialty lies in Greek food, so seize the souvlaki. It's their motto, after all.
At Carte Diem, you're being treated to Greek fast food by way of the souvlaki. But unlike fast food, the stuff they're serving at Carte Diem is made to order using only the freshest quality ingredients. So you may have to wait a bit before sinking your teeth into these authentic dishes. But trust us, it's well worth it. Get souvlaki in the lamb, chicken, beef or pork variety in a warm pita wrap, or Greek out and get it as a dinner served alongside a bed of rice, Greek salad, and homemade hummus. Or get it all in a bowl. They've even got falafel balls that are gluten free and vegetarian. What we're saying is, you've got options, and Carte Diem is available to deliver. Literally. Book 'em to get traditional Greek food at your next event, or find 'em rolling on the streets of Vancouver. Either way, you're being promised a whole lot of fulfillment in the hunger department. Sounds like a Greek deal to us.
MUST TRY
Souvlaki That's A Wrap - a freshly baked warm pita is host to hummus, tzatziki, mixed greens, tomato, and onion with your choice of protein
Book catering for your next event
Protected by our 100% Roaming Hunger Service Guarantee