Top Caterer
Popup Catering

,
Trailer

,
Food Truck
Boston, MA
3+ Years

on Roaming Hunger
Super Great For
On-Set Catering
Family Events
Huge Events
Corporate Catering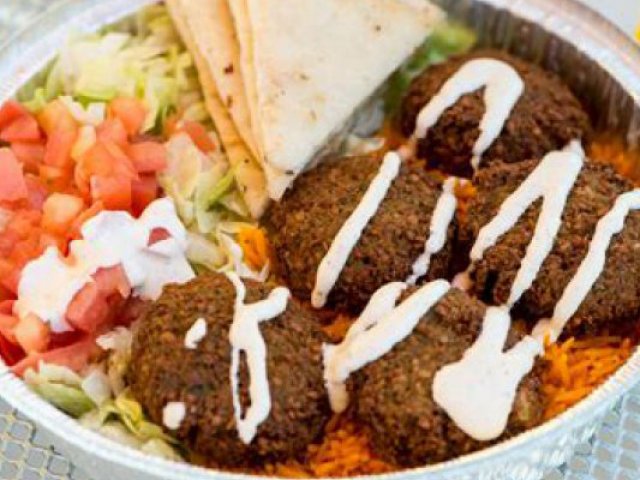 Menu
Main
Lamb N' Beef Gyro Poutine
Lamb N' Beef rotisserie over hand cut French fries topped with tomatoes, red onions, parsley, Feta cheese and herbs
Thai Chicken
Fresh chicken marinated with honey, brown sugar, garlic, black paper, fresh ginger, topped wit sweet n' spicy sauce and served in a warm pita
Lamb and Beef Gyro
Lamb N' Beef Rotisserie, topped with onions, tomatoes, served in warm pita or rice pilaf
Falafel (Chickpea Fritters)
Ground Chickpea, topped with our signature Tzatziki white sauce, Lettuce, Cucumber, Persley, Lettuce, Tomatoes and Pickled Onions and Hummus, it can be served over rice pilaf or in warm pita
Chicken Gyro
Marinated chicken breast strips are broiled, served with a warm pita or rice pilaf, and topped with a creamy Tzatziki sauce and fresh veggies
Greek Salad
Fresh Greek salad, tomatoes, cucumbers, onions, feta cheese, olives
Seasoned basmati rice
Basmati rice cooked with Mediterranean house spices
Sides
Feta Cheese & Tzatziki Fries
French Fries topped with Feta Cheese and Tzatziki Sauce
French Fries
Hand cut french fries seasoned with sea salt and rosemary
Hummus Platter
GMO free chickpeas, tahini, garlic, lemon juice, olive oil, served with warm pita
Falafel side
Fried ground chickpea balls, served with Tzatziki sauce
Pita chips and hummus
House made pita chips and hummus
Desserts
Baklava
Sweet dessert pastry made of layers of filo filled with chopped nuts and sweetened
Cookies variety
Chocolate, macadamia and peanut butter cookies
Drinks
Lemonade
Fresh homemade lemonade
Soda
Water
About Cravin' Shallot
Cravin' Shallot is servin' up some totally crave-able eats on the streets. It's a food truck that's helmed by a chef with over 12 years of experience, making the freshest, most flavorful Mediterranean food available on the go.
Which is pretty much the best news to hit Boston in, well, ever. At Cravin' Shallot, they're catering to your cravin's with a full bodied menu built to satisfy. And if you love Mediterranean food, you'll find all your favorites here. Get a plate full of their signature lamb 'n' beef gyro cooked slowly and cut fresh off the rotisserie, or sink your teeth into their fluffy falafel sandwich: a ground chickpea fritter infused with parsley, garlic, onion and spices in fresh baked pita bread. Not to mention their homemade hummus, tahini and cool tzatziki sauce to amp up the flavor. Really, there are no wrong choices here, only delicious ones. So why wait? Find Cravin' Shallot in Boston, MA, or have 'em out to cater your next event. Trust us. They won't disappoint.
MUST TRY
Gyro Poutine - This all-original take on a street food classic features a piping hot bed of french fries loaded with your choice of lamb 'n' beef or chicken gyro, smothered in gravy and topped with tomatoes, cucumbers, onions and feta cheese.
Book catering for your next event
Protected by our 100% Roaming Hunger Service Guarantee