Greek N More
Trailer
Fresno, CA
12 Months

on Roaming Hunger
Food truck catering for your next event. Fast, easy and delicious. Book it here.
Get Started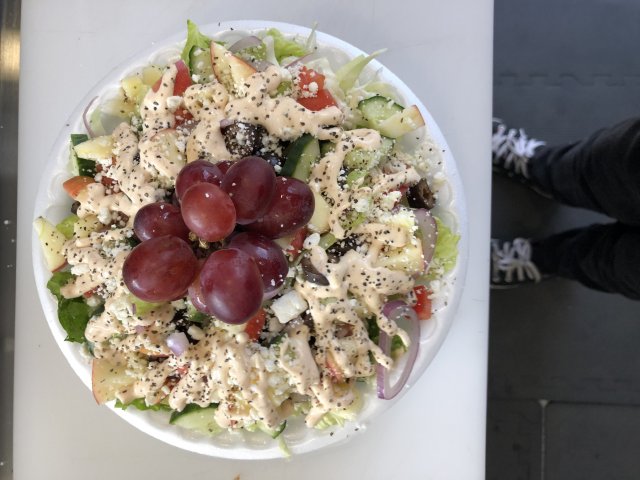 Menu
Main
Gyro
Pita bread, lamb, cabbage, tomatoes, feta cheese, red onions and homemade garlic cream sauce. Served with rice pilaf
Chicken Pita
Pita bread, Chicken, cabbage, tomatoes, feta cheese, red onions and homemade garlic cream sauce. Served with pilaf
Greek Salad
The most amazing salad ever - veggies, fruit, feta cheese and special sauce.
Lamb or Chicken Bowl
Same as Gyro or Chicken Pita minus the pita bread - #1 seller. Rice pilaf topped with meat, fresh veggies and garlic sauce. AMAZING!!! Depending on number of people - can sell from $9-14 pp - all you can eat for 2 hours. Party pleaser!!!
About Greek N More
The Mediterranean diet is considered one of the healthiest in the world, and the team at Greek N More is granting folks across Fresno, CA a bounty of mouth-watering eats that fall under its guidelines. The food here is packed with lean meats, fresh veggies, and heart-healthy fats that'll nourish your body as quick as they please your palate. If you're looking for a way to stay healthy while eating out, make this truck your next pit-stop.
What's the secret to keeping wholesome eats packed with rich flavor? It's all about the robust blends of seasonings used on every single item on the menu. From gyros slathered in a light, savory sauce to salads sprinkled with rich mixes of herbs and spices, this cuisine's the antithesis of bland. And it's good for you to boot, so you can enjoy a mouth-watering meal completely guilt-free. Plus, they cater, so you can pass on that gift to your guests by booking with Greek N More for your next event.
MUST TRY
Stuffed Grape Leaves — The classic Greek appetizer packed with bold briny flavor.
Upcoming Locations
No upcoming events currently listed.
Book catering for your next event
Protected by our 100% Roaming Hunger Service Guarantee