Kona Ice of SE/SW Pinellas
Top Caterer
Food Truck
Saint Petersburg, FL
2+ Years

on Roaming Hunger
Super Great For
Family Events
Fundraisers
Vegans & Vegetarians
Weddings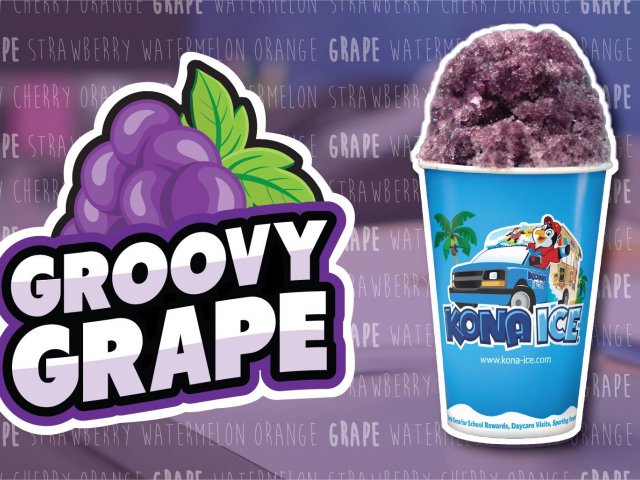 Menu
Appetizers
BLUE RASPBERRY
Hands down, this flavor is our coolest flavor. It has a classic Blue Raspberry taste with a little bite that makes this one a go-to classic.
TIGER'S BLOOD
We hunted through all the jungles in Asia to find the most willing tiger to help give us some of their blood. This guy right here happily obliged.
GROOVY GRAPE
Classic grape taste, same groovy name. This flavor will have you dancing in the streets. Get ya groove on!
ISLAND RUSH
This blue tropical punch flavor has become a quick fan favorite. Named after our gaming app, you'll feel like you're running on the beach with the wind in your hair!
LUCKY LIME
This little lime has the luck of the Irish! Want some of that luck to rub off on you? Then you'll have to give this sweet flavor a try!
MONSTER MANGO
Ahhhh this flavor is out to get you! This monstrous, mouth watering flavor might be your new favorite.
NINJA CHERRY
This cherry flavor is so bold, it might karate chop you right in the mouth. But like a good karate chop.
STRAWBERRY'D TREASURE
We sure do treasure this sweet flavor, so much so that we berry'd it! "X" marks the spot with this delicious goodness. This is a flavor worth looking for!
WATERMELON WAVE
Looking for a rush of melon flavor? Hop on the Watermelon Wave! It'll send your tongue surfing on a giant wave of deliciousness!
PINA COLADA
This flavor is a beach vacation cup. If you're looking for a little escape, this is the flavor for you. With a bit of pineapple and a lot of coconut, this clear flavor is what every adult is looking for. (Dye free, Kosher Certified)
Main
Black Cherry
Bursting with real Black Cherry flavor, this flavor gives you all the cherry you could want with a little pop of tartness to really grab your taste buds!
Paradise Pink Lemon
This flavor packs a punch of pink lemonade flavor. Perfectly tart with a bit of sweet, it's definitely a Kona favorite.
Blue Coconut
Filled with true coconut taste to whisk you away to the islands with a bright blue color that screams fun. (Kosher Certified)
Buttered Beer
Tastes just like the famous frothy drink; a delicious blend of butterscocth and vanilla with a hint of butter. (Kosher Certified)
Daiquiri
A tart citrus flavor, it's great paired with any fruity flavor to make fruity daiquiris! (Kosher certified)
French Vanilla
This flavor tastes just like homemade vanilla ice cream and is perfect to add to any fruit flavor to make a creamsicle. (Kosher certified)
Green Apple
Tastes so much like green apple, you might feel like you're biting into a juicy Granny Smith. Sweet and sour, this is always a favorite. Great alone our paired with Caramel! (Kosher certified)
Cola (Kona Kola)
Tastes so much like cola, we're surprised it isn't carbonated! (Kosher certified)
Lemonade
ust as tasty and refreshing as old fashioned lemonade! You won't believe how delicious it is. (Dye free & Kosher certified)
Banana (Monkey Business)
We aren't monkeying around when we say this flavor seriously tastes delicious! The kids go absolutely bananas! Pun intended. (Kosher certified)
Orange Ya Happy? (Orange)
This flavor will put a smile on anyone's face. Why? The authentic citrus flavor tastes just like a real orange. (Kosher certified)
Peach
This flavor tastes just like a Georgia peach. Tastes great by itself or mixed with our French Vanilla or lemonade flavors. (Kosher certified)
Root Beer
Tastes just like vanilla bean and dark molasses - old time root beer at its very best. (Kosher certified)
Wedding Cake
You won't believe how good this flavor tastes. It's like you just ran your finger across the icing of a cake and licked your finger. Adults LOVE this flavor! (Kosher certified)
Sides
Fireball
Taste just like the jawbreaker you remember ... and other things that were meant to mimic that favorite cinnamon candy!
Appletini
Looking to feel a little fancy? This sweet and sour apple flavor might be the flavor just for you! Heavy on the apple, easy on the 'tini.
Desserts
Blackberry Mojito
Classic Cuban mint mixes with a delicious blackberry flavor to create this instant mocktail classic.
Lavender Lemonade
Sweet lemon flavor combined with the delicate taste of lavender creates quite the refreshing combo.
Aprium Rose Sangria
It's time to "wine" down with this delicious three-layered flavor. It combines fruit, floral and wine flavor notes.
Blueberry Acai +
Did someone say superfruit? Both acai and blueberries have anthocyanins, which have a positive impact on cholesterol levels!
Bourbon Black Cherry Vanilla
This rich flavor is layered with three very distinct tastes that combine for a wonderful, sophisticated palate.
Caramel Macchiato
Sweetened with smooth caramel, this coffee flavor will delight your taste buds and wake you right up at the same time! *This flavor contains caffeine*
About Kona Ice of SE/SW Pinellas
Kona Ice of SE/SW Pinellas brings more than refreshment wherever it drives: it provides a twenty minute vacation. Their KEV (Kona Entertainment Vehicle, naturally) comes ready, not just to make your day better, but to help you make your own day better - the Flavorwave on the side of the truck allows you to custom-blend flavors til each shaved ice becomes your own unmistakable creation.
Staffed by the friendliest guides around, it's an experience that'll lift spirits for any occasion you have planned. And this ice isn't just delicious, it can even be nutritious - ices are available in alterations like vita-blend (with less sugar and more nutrients) or simply sugar-free altogether. To book a party your friends can indulge in without the guilt, hit up Kona and watch the flavors themselves do all the work. The greater St. Petersburg area never had it so good.
Book catering for your next event
Protected by our 100% Roaming Hunger Service Guarantee