Food Trucks, Carts & Trailers For Sale
Search below for our entire collection of new and used food trucks, carts & trailers for sale.
Looking for a new or used food truck, cart & trailer for sale? Find the food service equipment that's right for you.
Search below for mobile food equipment, or use the filters to narrow down your search (location, price, type, and more). Want to learn more about how our process works? Check out our FAQ page for more details.
*NOTE: The listings below are by independent sellers and NOT owned by Roaming Hunger. Make sure to examine all equipment, including getting a professional evaluation, before making any purchase or transaction.
Equipment
Cooking
---
Storage
---
Beverage
---
Extras
---
Sanitation
---
Operations
---
Food Trucks, Carts & Trailers for Sale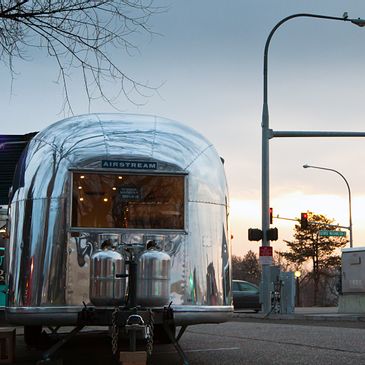 AIR STREAM COFFEE CAFE 70000 down owner will carry to established business
For sale is a vintage 1964 Airstream Sovereign Land Yacht that has been converted to a coffee establishment. The unit has been fully remodeled, from the lugs nuts on the wheels to the a/c unit on top. There is a 30" x 65" serving hatch. All the electrical wiring is new and includes 12v, 110v, and 220v. The interior has been designed as a cafe using items such as reclaimed wood, solid maple cabinet doors and marmoleum counter tops with aluminum edging. The design is very spacious and very detailed. There is bench seating in the front waiting area. The shop is turn key and all equipment, branding (website, social media pages, graphics, photography, etc) is included. This is a one of a kind Airstream with no other Airstream having as much interior design as this one. This is truly a destination attraction. With the flip of a switch, this Airstream can have an immediate impact on any coffee scene - no waiting for a build out. Here's a chance to own the only one of its kind. The Airstream: -Polished exterior -Polished aluminum LP tanks -LP pipes and valves throughout -Safety glass all around, including a jalousie window. -Smoked skylight from Inland RV -Zip Dee awnings on both sides (not new but good condition) -Sandblasted tongue and bumper with rust protection applied -Dexter axles and drum brakes -Steel wheels and Hercules trailer tires -4 BAL stabilizer jacks -New brake, scare and running lights -26-gallon fresh water tank -32-gallon gray tank -PEX plumbing throughout -Girard tankless LP water heater -See Level II monitoring (fresh, gray, lp, 12v, temps) -2 layered Reflectix insulation -12/110/220v wiring -12/110/220v 50amp Intellipower RV electrical panel -Separate 220v 50amp panel for the espresso machine -12 volt Marine battery in the firebox -LED lighting throughout with dimmer switch -Fantastic Fan -Dometic Penguin II AC unit with a drain tube -Suburban furnace -Custom built cabinets with maple doors -Reclaimed wood divider walls -Custom built front bench seating with storage -5/8" subfloor -Luxury vinyl tile floors -Washington State L&I approved, local health district approved Equipment: -Beautiful custom designed Slayer Espresso 2 group machine. Designed to match the Airstream's exterior ($19K) -Mazzer Kony grinder -Baratza Virtuoso Grinders (2) -Pour over equipment (Chemex beakers, Bona Vita kettles, etc) -French press equipment -Yama 8 cup cold brew tower -Barista tools (pitchers, Reg Barber tamper, canvas aprons, scales, etc) -Porcelain and glassware -Beverage-Air under-counter refrigerator -Espresso Parts 24" rinser -Vitamix T&G 2 blender -Square POS stand w/ iPad, receipt printer and cash drawer -Hand made reclaimed wood sidewalk chalkboard signs (2) * The Airstream was completely gutted and rebuilt in the first half of 2014 and everything in this list, including the equipment, was brand new in the first half of 2014.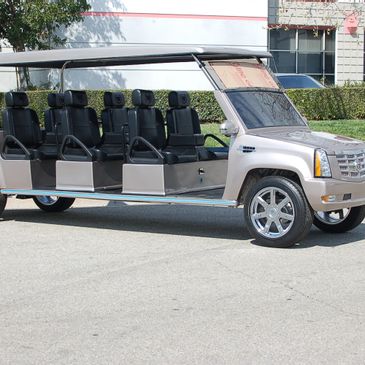 ELECTRIC Custom Escalade or HUMMER
Total Custom MLG Visualize your own Unique Food Truck for Light Food Distribution and Branding with our Brand New Escalade or HUMMER Electric Vehicles. Choose any color. Seats to be replaced by your custom equipment. All - Electric Motor plug into any 110 Outlet. Never use gas! Can be customized for the food industry Ship anywhere !!!!! New Business Opportunity Vehicle! Brand New Cadillac Escalade or HUMMER NEV custom Marketing, DJ, Merchandise, Service, New Product, Human Billboard, Mobile Kiosk or Light Food Truck Vehicle. All-Electric, never use gas! 35MPH for Point-of-Sale cruising. Seats can remain or be removed for your equipment space. Customize for your business. Extremely eye-catching and engaging for marketing or sales. Captivate Your Audience! Bring your Product, Service or Merchandise to Market!!!
Results 397 - 398 out of 398
How It Works
Find the mobile food equipment you like
Inquire about the equipment and place your refundable deposit
We'll connect you with the seller and help you along the way
Read our FAQs for more information.
---
Build Your Perfect Food Truck, Trailer, or Cart
Build your menu. Determine equipment. Decide on your budget.
Get Rolling
---
Looking to Lease or Rent?
Get the support you need building a food truck business from the ground up.
Get Started
---
Resources