Food Carts For Sale in Georgia
Search below for our entire collection of new and used food carts for sale in Georgia.
Looking for a new or used food cart for sale? Find the food service equipment that's right for you.
Search below for mobile food equipment, or use the filters to narrow down your search (location, price, type, and more). Want to learn more about how our process works? Check out our FAQ page for more details.
*NOTE: The listings below are by independent sellers and NOT owned by Roaming Hunger. Make sure to examine all equipment, including getting a professional evaluation, before making any purchase or transaction.
Equipment
Cooking
---
Storage
---
Beverage
---
Extras
---
Sanitation
---
Operations
---
Food Carts for Sale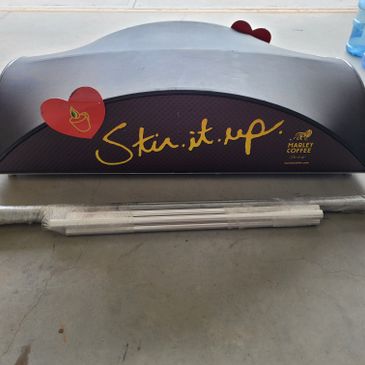 Mobile Bike Cafe
The Bike Cafe' equipment is a Coffee House on Wheels! Powered by electricity, the cart is designed to be LNG (liquefied natural gas) compatible. The bike has an espresso machine installed, compartment for blender, a refrigerator, six-gallon hot water heater, fresh and wastewater tanks, water pump and a sink. The bike uses Kevlar tyres to mitigate punctures. • Astoria Single-Pull Espresso Machine • Refrigeration Unit • Ice Trays w/ Covers • Hand sink • Hot water heater • Knock box • (1) Cambro • (1) Airpot brewer & (1) airpot • (1) Bike Cafe' Mobile Coffee Unit • Canopy w/storage • Menu Flags • (4) Water Tanks • Battery • Condiment tray • Espresso grinder • (2) Tampers • (1) small & (1) large metal milk pitchers
How It Works
Find the mobile food equipment you like
Inquire about the equipment and place your refundable deposit
We'll connect you with the seller and help you along the way
Read our FAQs for more information.
---
Build Your Perfect Food Truck, Trailer, or Cart
Build your menu. Determine equipment. Decide on your budget.
Get Rolling
---
Looking to Lease or Rent?
Get the support you need building a food truck business from the ground up.
Get Started
---
Resources