Food Trucks For Sale in Georgia
Search below for our entire collection of new and used food trucks for sale in Georgia.
Looking for a new or used food truck for sale? Find the food service equipment that's right for you.
Search below for mobile food equipment, or use the filters to narrow down your search (location, price, type, and more). Want to learn more about how our process works? Check out our FAQ page for more details.
*NOTE: The listings below are by independent sellers and NOT owned by Roaming Hunger. Make sure to examine all equipment, including getting a professional evaluation, before making any purchase or transaction.
Equipment
Cooking
---
Storage
---
Beverage
---
Extras
---
Sanitation
---
Operations
---
Food Trucks for Sale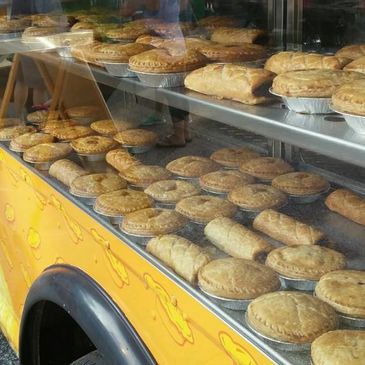 ALL THERE
• FIRE EXTINGUISHER ABC CLASS GENERAL PURPOSE METAL NOZZLE • CONCESSION WINDOW (PASSENGER) 74X40 WITH AWNING AND TWO SLIDING GLASS WIDOWS • 16" WHITE LEXAN MARQUEE, WITH L.E.D LIGHTS FOR SIGNS • WALL MOUNT SHELF ALL STAINLESS STEEL 12X60 (NSF) • SUPPLY FAN 2220 CFM ( MAKE UP AIR) (NSF) VMUA-18 • INSULATED WALLS AND CEILING COVER WITH SCREWLESS ALUMINUM • DIAMOND PLATED ALUMINUM FLOOR WITH DRAIN P/FT • FLOOR DRAIN FOR CLEANING • 125 AMP BREAKER BOX FEEDING 110V EQUIPMENT AND LIGHTS INSIDE TRAILER • COMMERCIAL RATED ELECTRIC LINES AND OUTLETS • 8 x ELECTRICAL OUTLETS 20 AMPS EACH INCLUDING TWO GFI OUTLETS AS PER CODE • 2 x INTERIOR FLUORESCENT LIGHT 4' • "RAINTIGHT" POWER INLET ALL STAINLESS STEEL 220V FOR EXTERIOR POWER SOURCE • PROPANE LINES 1" BLACK STEEL PIPES WITH SHUT OFF VALVES AND FLEXIBLE HIGH PRESSURE CONNECTORS • BRACKET FOR ONE 100 LBS PROPANE TANK • HORIZONTAL 130 LBS PROPANE TANK (BUILT IN) • PLUMBING SYSTEM *PEX* ALL (NSF) INCLUDING 1 1/2 (SHEDULE 40) FOR WASTE AND P-TRAP IN EVERY SINK AS PER CODE • "SHURFLO" INDUSTRIAL WATER PUMP 115 VOLT 198 GPH • BACK FLOW PREVENTER AND WASTE WATER BACKFLOW PREVENTER (NSF) • WATER HEATER 6.8 GPH "BOSH" TRONIC-3000T • THREE COMPARTMENT SINK 10X14x10 (NSF) W DRAINBOARDS 54"x20" CON-3-2D • HAND SINK WITH SPLASH GUARD ON BOTH SIDES • WALL MOUNTED SOAP DISPENSER AND TOWEL DISPENSER • 43 GALLONS FRESH WATER TANK • 50 GALLONS WASTE WATER TANK (LOCATED UNDER TRAILER) • 2 x CONVECTION OVEN "IMPERIAL" ICV-2 ,LP 160000 BTU 120V 9 AMP FROM 150 DEGREES TO 500 (NSF) • PROOFER/HEATER CABINET, DIGITAL THERMOMETER "WIN-HOLT" NHPL-1836 CLEAR (NSF) 70X26X32 • 2 x REFRIGERATOR 19 CU FT "TRUE" T-19 27X24X75 SOLID DOOR (NSF) • WORK TABLE "TORTEC" TE-2448(NSF) • WORK TABLE "TORTEC" TE-2460 (NSF) • 30X12X24 STAINLESS STEEL CABINET WITH S/S LATCHES, MIDDLE SHELF • 6.5 "ONAN" GENERATOR LP 6.5HGJAB-904 27 AMP@220, FUL LOAD 5.3 LBS PH 34X22X17 REMOTE AND EXHAUST • TYPE II 4' EXHAUST HOOD (UL). ALL STAINLESS STEEL (ETL) (NFPA-96) • STAINLESS STEEL WALL COVER BELOW CONCESSION HOOD P/F • HIGH SPEED CENTRIFUGAL FAN UPBLAST VXD33 +1400 CFM (AMCA) (ETL) • EXTERIOR LIGHT • ONE PAIR OF SPEAKERS • L.E.D LIGHS UNDER WINDOW • 60 x 24 x 18 HEATED DISPLAY CASE • SELF CLOSING SCREENS, SELF CLOSING WINDOW, 1 1/2 WASTE LINE Note: The truck has a wrap, not paint, so it can be easily removed
How It Works
Find the mobile food equipment you like
Inquire about the equipment and place your refundable deposit
We'll connect you with the seller and help you along the way
Read our FAQs for more information.
---
Build Your Perfect Food Truck, Trailer, or Cart
Build your menu. Determine equipment. Decide on your budget.
Get Rolling
---
Looking to Lease or Rent?
Get the support you need building a food truck business from the ground up.
Get Started
---
Resources