Food Trucks For Sale in Montana
Search below for our entire collection of gourmet food trucks for sale, food carts for sale, and concession trailers for sale in Montana.
Looking for a new or used food truck for sale? Find the food service equipment that's right for you.
Whether you're looking to purchase your first food truck or expand your fleet, our selection of food trucks for sale, food carts for sale, and trailers for sale is sure to help you get rolling. Use the Filters to search by location to find food trucks for sale near you, by price, by new truck listings, and more. Want to learn more about how our process works? Check out our FAQ page for more details.
*NOTE: The listings below are by independent sellers and NOT owned by Roaming Hunger. Make sure to examine all equipment, including getting a professional evaluation, before making any purchase or transaction.
Equipment
Cooking
---
Storage
---
Beverage
---
Extras
---
Sanitation
---
Operations
---
Food Trucks for Sale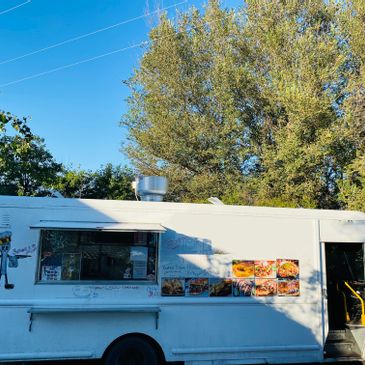 Unwrapped 2020 Food Truck for Sale
The kitchen was professional built in 2020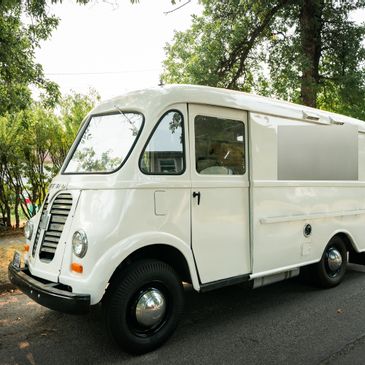 1963 International Harvester Metro Van Custom Food Truck - Turn Key
This is a completely custom food truck that was fabricated inside a rare restored metro van. The food truck was built as a non self-contained (you will need a commissary kitchen) truck, which is perfect for catering and events. It was designed as a cuban food truck to serve cubanos and hot hold beans and cuban pork-- It has currently been in operation for only 2 weeks. The van is a major head turner, and just about every customer compliments it/inquires about it. It starts and runs amazing, and it really does have that feel that the engine and power train will last forever. With the solar system, you always have working 12v lights and usb chargers without being plugged into anything! With the 4 batteries and solar panel, this system will never lose 12v power no matter when/where you are. Clean Title! The Metro Van: It is a fully restored, almost all original, 1963 International Harvester Am-120 Metro Van. - Original engine <100K miles, runs amazing. - Fuel system rebuilt - Carb rebuilt - New leaf springs - Brand new gas tank (old one was rusty) - Brand new heavy duty tires - Original wheels (not splitrims) - Original hubcaps - All headlights, taillights, brakelights, and turn signals work. - Brakes work - Original folding driver seat, newly reupholstered - Brand new custom cut glass and window seals - All doors work - Rearview mirror backup camera - Even the original winshield wipers work - Extremely minimal chassis surface rust - Brand new ivory paint job - Logos and Graphics are wraps that are easily removed - The floor, from the bottom up, is a half inch of the original ply wood, then the original sheet steel body, then a quarter inch of flexible concrete base (used in bathrooms and showers because of wetness and humidity), then a quarter in of marine ply, then sheet aluminum diamond plate. You will not get rot, mold, or mildew with this set up. - 6 foot tall is the maximum height limit if you want to stand tall without bending your neck. Food truck related items: - Custom created bumper that holds two 100# propane tanks and generator - Honda 3000IS Generator (easily powers everything that is 120v inside, super quiet) - Complete Custom Solar Charged 12v Battery System (runs everything that is 12v, lights, usb chargers, rear view camera) - 50watt solar panel - Four brand new 6v @ 230amp hour golf cart batteries that give you 12v @ 460amp hours. - 24in 4 burner CPG Propane Range - 24in CPG Propane Griddle - 2 Basin CPG Propane steam/dry heat Table (holds regular 16qt pans) - 15cup rice warmer - Free flowing water spigot with handwashing sink and modular grey water tank - Two 24in Heng Exhaust Hoods - Spare propane connection in the line that isnt used (fryer?) - Beverage Air 27in sandwich prep table - Mini fridge for drinks - Custom service window with tongue and groove wood finish and hydraulic lift - large custom storage area with 1/16in aluminum counter top - Beautiful wooden black board sign Why am I selling this? This project took 2 years from start to finish. I started another business during that time, and I can't run them both at the same time, so I am making a choice. I love this van, and I'm currently operating it 3 nights a week, but I would entertain the idea of selling it to someone who is going to treat it and use it well, whether you choose to keep it a cuban food truck or not. Please contact me for a link to a larger album and video walkthrough, startup, driving, etc. The van is currently out of state, but I will ship it at no cost if we get that far.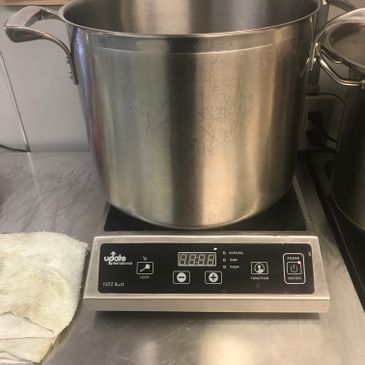 Orange Bus
Induction cookers, hot holding station, smoker
How It Works
Find the mobile food equipment you like
Inquire about the equipment and place your refundable deposit
We'll connect you with the seller and help you along the way
Read our FAQs for more information.
---
Build Your Perfect Food Truck, Trailer, or Cart
Build your menu. Determine equipment. Decide on your budget.
Get Rolling
---
Looking to Lease or Rent?
Get the support you need building a food truck business from the ground up.
Get Started
---
Resources