Food Carts For Sale in Ohio
Search below for our entire collection of new and used food carts for sale in Ohio.
Looking for a new or used food cart for sale? Find the food service equipment that's right for you.
Search below for mobile food equipment, or use the filters to narrow down your search (location, price, type, and more). Want to learn more about how our process works? Check out our FAQ page for more details.
*NOTE: The listings below are by independent sellers and NOT owned by Roaming Hunger. Make sure to examine all equipment, including getting a professional evaluation, before making any purchase or transaction.
Equipment
Cooking
---
Storage
---
Beverage
---
Extras
---
Sanitation
---
Operations
---
Food Carts for Sale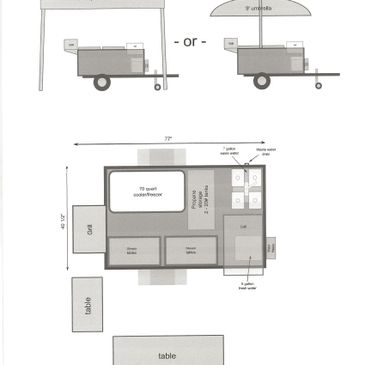 Cater Pro Concession / Food Cart For Sale
See pics for everything that is included. -CHAR GRILL (propane) -COMMERCIAL GRIDDLE (propane) -FRONT PREP SHELF -TWIN COMMERCIAL STEAM TABLES -DUAL BURNER CONTROLS FOR EACH TABLE (propane) -PRESSURIZED WATER SYSTEM -ON DEMAND WATER HEATER (propane) -LARGE BREAD BOX -WAREWASHING SINKS X 3 -HAND WASHING SINK, WITH PLEXI GLASS SPLASH GUARD- Ohio requirement. -AC/DC Powered Chest Fridge / Freezer: Your choice to freeze or refrigerate your items. Plugs into normal AC current and can be used with a rechargeable battery for operating on DC current. Digital temperature display and settings option. Also included: -Two Propane tanks -Cart Umbrella -Heavy duty 10 x 10 pop-up tent with side walls and metal frame -white. -Commercial coffee brewer -New fresh water tank -extra Waste water tank -Two pop coolers -Two folding tables -Chip clip -Napkin holder -Cash register with several rolls of tape -Locking money box -Two bread trays -LED 4 ft. light -Multiple sizes stainless steel Food pans -Dual Roll Tops -Stainless steel hot dog tray -Cold condiment keeper -Tongs/scraper/spatula/grill brush -Extra (spare) water line -Fire extinguisher
How It Works
Find the mobile food equipment you like
Inquire about the equipment and place your refundable deposit
We'll connect you with the seller and help you along the way
Read our FAQs for more information.
---
Build Your Perfect Food Truck, Trailer, or Cart
Build your menu. Determine equipment. Decide on your budget.
Get Rolling
---
Looking to Lease or Rent?
Get the support you need building a food truck business from the ground up.
Get Started
---
Resources