Food Trailers For Sale in Pennsylvania
Search below for our entire collection of new and used food trailers for sale in Pennsylvania.
Looking for a new or used food trailer for sale? Find the food service equipment that's right for you.
Search below for mobile food equipment, or use the filters to narrow down your search (location, price, type, and more). Want to learn more about how our process works? Check out our FAQ page for more details.
*NOTE: The listings below are by independent sellers and NOT owned by Roaming Hunger. Make sure to examine all equipment, including getting a professional evaluation, before making any purchase or transaction.
Equipment
Cooking
---
Storage
---
Beverage
---
Extras
---
Sanitation
---
Operations
---
Food Trailers for Sale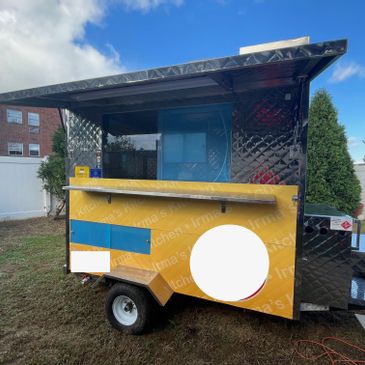 Food Trailer Ready to Use
Hot dog pan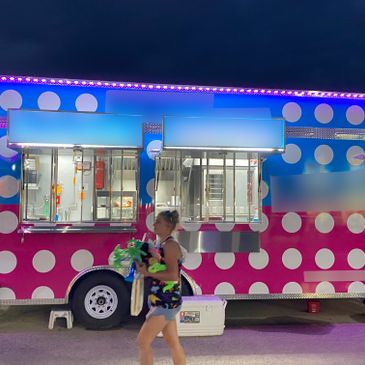 2020 Concession Nation food trailer loaded!
2020 Concession Nation 22 foot loaded trailer. Propane full size double stack American Range convection ovens, Propane Radiance 36" flatop with 2 burners Migali chef base Turbo air full size fridge Turbo air worktop freezer Cozoc proofer Hobart 30 qt mixer, extremely nice condition aluminum cabiniet next to mixer Ecotemp on demand propane hot water heater large 3 bay sing with separate hand sink Ansul system and 2 fire extinguishers 2 100 lb propane tanks(comes 75% full) 2 roof top air conditioners 2 separate hoods for ovens and grill intake fan Marquis with programmable RGB lighting Outdoor speakers Flag mounts Panasonic microwave Lots of counter space Rubberized floor 2 giant igloo coolers full size spare tire Blue Ox anti sway hitch 50 gal water tank 60 gal gray water tank Trailer comes stocked with paper plates, cups, lids straws napkins, paper towels, hand soap, dish soap, 3rd sink sanitizer test strips, knives, forks, foil sheets, measuring cups, knives, spatulas, baking sheets full and half size, silicone baking sheet liners, dry erase menu board with pens, broom, dust pan, trash can with trash bags, food surface sanitizer, first aid kit, mop bucket, nitrile food service gloves and a Blue OX anti sway hitch is also included. You can buy it today and run it tonight, its fully stocked and ready to run, fresh off 10 days at the York State Fair and meticulously clean, This trailer is easy to work out of, plenty of space, air conditioning and stands out in a crowd. weighs about 9000 lbs $76,000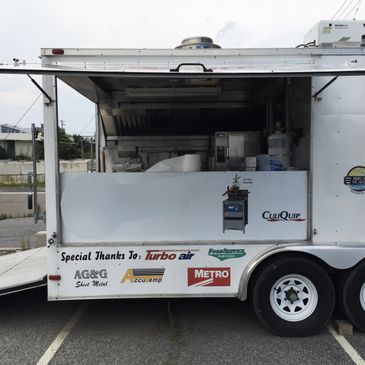 Fried Chicken Food Trailer
2 Broaster model 1800 pressure fryers, Accutemp steamer, heated holding cabinet, Refrigerator/Freezer, bottle cooler, under counter refrigerator, work tables, shelving, new ansul system, more pictures and information available on request
How It Works
Find the mobile food equipment you like
Inquire about the equipment and place your refundable deposit
We'll connect you with the seller and help you along the way
Read our FAQs for more information.
---
Build Your Perfect Food Truck, Trailer, or Cart
Build your menu. Determine equipment. Decide on your budget.
Get Rolling
---
Looking to Lease or Rent?
Get the support you need building a food truck business from the ground up.
Get Started
---
Resources