Mashallah Halal Food Indian and Pakistani
Preferred Caterer
Food Truck
San Francisco, CA
2+ Years

on Roaming Hunger
Super Great For
Family Events
Huge Events
Corporate Catering
Vegetarians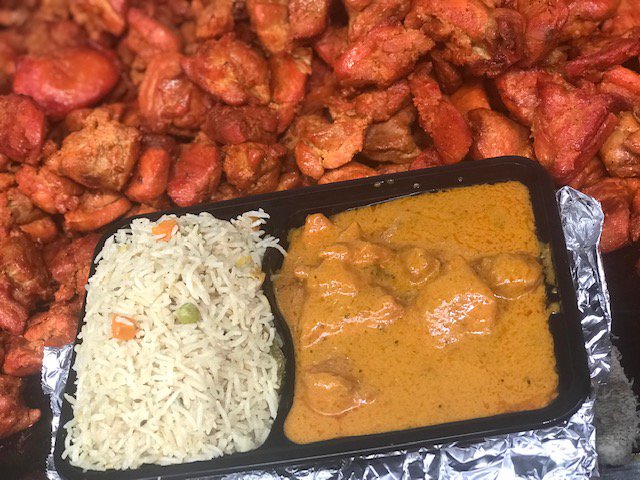 Menu
Appetizers
Samosa
Mixed vegetable filled with herbs and spices, deep fried
Main
Chicken Tikka Misala
Special blend of spices, grilled boneless chicken thigh, and cream sauce.
Lamb Korma
Leg of lamb prepared with fresh onions, garlic, different blend of house made fresh Pakistani spices and slow cooked.
Chappli Kabab
Ground beef mixed with fresh herbs and Pakistani spices, grilled
Channa Masala
Garbanzo beans cooked with fresh onions, garlic, and blend of house made Pakistani spices
CHICKEN BIRYANI
FRESH ONION GARLIC AND FRESH HOME MADE SPICES WITH BASMATI RICE
GRILL CHICKN
BONLESS THIGH MEAT MARINATED WITH FRESH GARLIC GINGER AND FRESH HOM MADE SPICES
MIX VEGITABLES(vegan)
CARROT PEAS CULIFLOWER POTATOES GREEN PEANS
Sides
Palak Paneer (Spinach with cheese)
FRESH GARLIC JINGER ONION AND HOME MADE SPICES
Veggie Fried Rice
Mixed vegetables fried with Basmati rice.
Tandoori Baked Naan
Desserts
Rice Pudding (kheer)
Dessert made with rice, milk and mixed nuts on top.
GULAB JAMAN
MILK AND SUGAR SYRUP
Drinks
Mango Lassi
Sweet, mango drink with yogurt.
About Mashallah Halal Food Indian and Pakistani
When owners Waqar and Rabia got married, they shared a dream of bringing Pakistani food to the Bay Area. As Waqar worked several years as a taxi driver to save money, Rabia supported him and kept the dream alive, and in 2018 they opened up shop at Mashallah Halal Food Indian and Pakistani. Today you'll find them serving their beloved halal fare around Alameda and beyond.
From grilled chappli kababs and palak paneer to chicken biryani and fresh-baked naan, everything is made using traditional preparation methods and just the right amount of spice. Everything is a hit, but whatever you do, don't sleep on the samosas. So why wait? Find Mashallah Halal Food Indian and Pakistani in San Francisco, or have 'em out to cater your next event.
MUST TRY
Grilled Chappli Kabob — Mixed ground beef with onion, garlic, ginger, fresh herbs, homemade spices, rice, naan, channa masala, and chutneys
Book catering for your next event
Protected by our 100% Roaming Hunger Service Guarantee