New York Tom's
Popup Catering, Food Truck
St. Louis, MO
5+ Years

on Roaming Hunger
Super Great For
Family Events
Huge Events
Corporate Catering
Weddings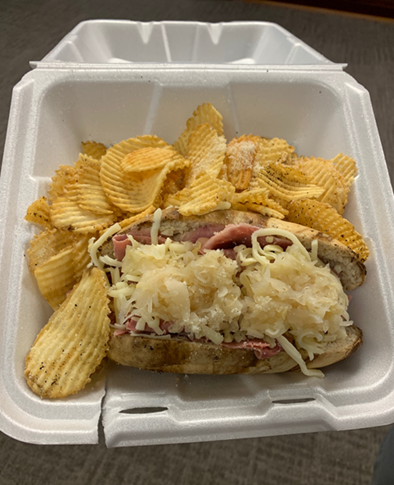 Menu
Main
Pasta Primavera (Veg)
Baked penne with assorted vegetables (broccoli, cauliflower. zucchini) in red sauce. Served with garlic buttered roll
Chicken on a Stick (GF)
New and Improved. Chicken breast marinated in Italian dressing and grilled to perfection. Gluten free. Served with garlic buttered roll which is not gluten free
NY Steak Sandwich
Our pride and joy. Prime cut beef. It's a steak. In Worchester Au Jiu Served on garlic buttered roll with mozzarella cheese. We can 'Philly it up' (onions, peppers) on request. But why?
Sausages
Brats, Sweet Italian, Hot Italian. Take your choice!
Jumbo Frankfurters
I jumbo and juicy frankfurter served with your choice of toppings
Meatball Hero Parmesan
100% beef meatballs swimming in red meat sauce
Toasted Ravioli
Eight (8) succulent T-Ravs drizzled with parmesan and red sauce on the side. The BEST IN STL!
Salad (Veg and GF)
Mixed greens with diced veggies, parmesan and a hint of red onion
Desserts
Black n White Cookie
A traditional New York City favorite. Only found on NY Tom's Foodtruck Not always available, so ask Account Manager if it's available
About New York Tom's
New York Tom's is bringing that NYC tradition to the streets of St. Louis in style. Because when hungry New Yorkers want food, it's got to be served at a fast rate to keep up with the city's hustle and bustle. And that's where New York Tom's comes in, serving up that same quality food at a rapid pace that's just bursting with full bodied flavor. New York Tom's food truck specializes in those all American classics, served alongside the staples of comfort food. Each hearty meal is made using only the freshest quality ingredients, often locally sourced, to hand craft a menu built to satisfy. From the Chicago style hot dog using a 100% all beef frankfurter to the prime cut steak sandwich on specialty garlic bread buttered to perfection, there's a myriad of ways to treat your hunger alongside your penchant for good taste. What's more, New York Tom's got pasta primavera, a big ol' meatball sub smothered in marinara sauce and oh so much cheese, and truck made potato chips. That, and toasted raviolis stuffed with beef. What we're saying is, you've got options, and New York Tom's delivers. Literally. Book 'em to get a whole lot of goodness at your next event, or find 'em cruising the streets of St. Louis. Trust us. New York Tom's won't disappoint. MUST TRY
Chili Cheese Platter - starting with a bed of crispy hand cut waffle potato chips, New York Tom's loading on homemade chili and oh so much shredded cheddar cheese for a meal that's got that stick to your ribs quality
Book catering for your next event
Protected by our 100% Roaming Hunger Service Guarantee