Stone's Throw Hash
Top Caterer
Food Truck
Baltimore, MD
2+ Years

on Roaming Hunger
Super Great For
Family Events
Huge Events
Fundraisers
Vegans & Vegetarians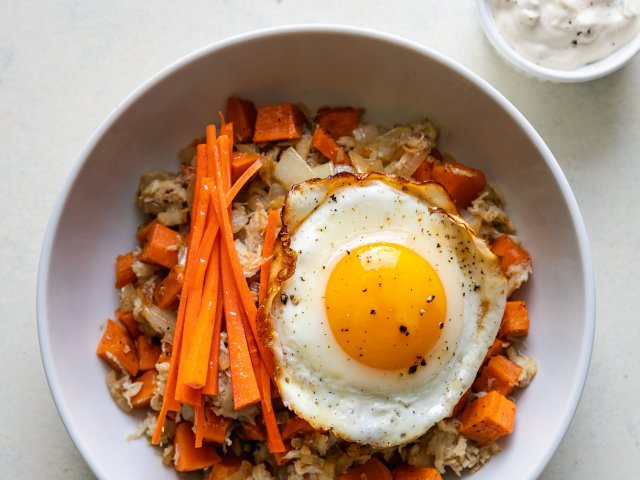 Menu
Main
Wakey Wakey Apple Bakey
Organic sweet potatoes, housemade applewood-smoked bacon, made-to-order free-range eggs, organic Gala apples, organic seasonal green, organic yellow onions, and sweet & savory seasoning
Bay Be Blue Crab
Organic sweet potatoes, local Maryland lump blue crab, made-to-order free-range eggs, organic carrot rice, organic seasonal green, organic yellow onions, and Old Bay seasoning
Chor-Iz-Good
Organic sweet potatoes, house-made Spanish-style chorizo with free-range pork, made-to-order free-range eggs, organic black beans, organic seasonal greens, organic yellow onions, and Moroccan Magic seasoning
Buddha Hash (V)
Organic sweet potatoes, organic crispy tofu, organic red beets, organic carrot rice, organic cremini mushrooms, and local honey tahini sauce
Beet That Hash
Organic sweet potatoes, house-made breakfast sausage from free-range pork, made-to-order free-range eggs, organic red beets, organic seasonal green, organic yellow onions, and "Mint Saged the Day" seasoning
Veg Out Brah
Organic sweet potatoes, made-to-order free-range eggs, organic cremini mushrooms, organic seasonal squash, organic season greens, organic yellow onions, and garam masala seasoning
Philly Me Up (Seasonal)
Organic red potatoes, free-range ribeye steak, cage-free eggs, organic green peppers, organic onions, provolone cheese, "Philly" seasoning
Sides
Crispy Tofu
Organic crispy tofu
Breakfast Sausage
Breakfast-style free-range pork sausage
Applewood Smoked Bacon
House-made, free-range pork applewood-smoked bacon
Spanish Style Pork Chorizo
Spanish-style chorizo made in house from free-range pork
Drinks
Drip Coffee
Iced Coffee
Elderberry Kombucha
Ginger Grapefruit Kombucha
Mango Peach Kombucha
Original Yerba Mate Iced Tea Kombucha
Hibiscus Yerba Mate Iced Tea Kombucha
About Stone's Throw Hash
Why the name Stone's Throw Hash? Because every ingredient used here comes from farms just a stone's throw away from this truck. The team here want to help foster employment opportunities throughout the Baltimore, MD area, which means keeping everything local. Not only do they work with independent providers, they donate 1% of their profits to local farms. You can feel good enjoying a meal here.
Given all the ingredients are farm fresh, it's no surprise the bevy of bowls here are packed with an unmatched bold flavor. Each dish features a bowl of well-seasoned diced sweet potatoes piled sky-high with a unique mix of toppings. Go for a Bay Be Blue Crab and enjoy those tots topped with ocean fresh blue crab, cage-free eggs, carrots, and onions all drizzled in melted butter and sprinkled with old bay seasoning. Vegetarians can chow down on the Buddha Hash, chock-full of farm fresh veggies plus crispy tofu all drenched in a sweet and savory blend of tahini sauce and honey. Enticed? Then we've got good news – they cater. So, go ahead and book Stone's Throw Hash for your next event. You won't just be gaining a great caterer. You'll be supporting local farmers. Sounds like a win-win to us.
MUST TRY
Beet That Hash — That beautiful sweet potato base piled with beets, pork sausage, eggs, and a mix of veggies drizzled in apple cider vinegar and olive oil and sprinkled with mint sage seasoning.
Book catering for your next event
Protected by our 100% Roaming Hunger Service Guarantee