Taco Man 512
Cart

,
Food Truck
Austin, TX
2+ Years

on Roaming Hunger
Food truck catering for your next event. Fast, easy and delicious. Book it here.
Get Started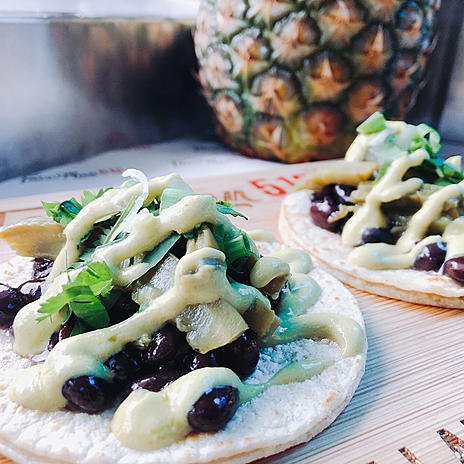 Menu
Main
Authentic Tacos Al Pastor
Our Authentic Taco Al Pastor is cut traditional style from our Trompo & gives our guest a more personal experience. The Taco Al Pastor comes with two corn tortillas, your choice of cilantro, onions, green or red salsa, & fresh limes.
Veggie Taco
Our Veggie Taco comes with two corn tortillas, black beans & nopales (sliced cactus) Your choice of cilantro, onions, green or red salsa, and fresh limes.
Al Pastor Quesadilla
Our Al Pastor Quesadilla comes with two flour tortillas, Monterey Jack cheese, and our famous Al Pastor meat. Your choice of green or red salsa, onions & cilantro.
Cheese Quesadilla
Two flour tortillas with Monterey Jack cheese. Your choice of green or red salsa, onions & cilantro.
Nadias Nachos
A warm bed of tortilla chips, Monterey Jack Cheese, Black Beans, Al Pastor, Cotija Crumbled Cheese, Green Onions, and Jalapeños.
Sides
Spicychick's Jalapeños Toreados
Our Spicychick's Jalapeños Toreados is a grilled & Sautéed jalapeño.
Bee's Cebollitas
Our Bee's Cebollitas is a grilled and sautéed onion bulb.
Drinks
Agua Frescas
Agua Frescas. Your choice of watermelon, pineapple, and mango. All of our Agua Frescas come in a TacoMan512 souvenir cup & fruit garnish. We use all natural fruit, purified water & blend to perfection.
About Taco Man 512
Taco Man 512 is giving all of Austin, TX the best Mexican eats on the streets. Not only do they have authentic meals on board, they've also updated the classics for the modern foodie scene, incorporating vegan nachos and fresh fruit aguas frescas on a full bodied menu built to satisfy.
They're just accommodating like that. At Taco Man 512, they're cutting that sweet and savory al pastor right from the trompo, loading it in hand pressed tortillas for tacos that are totally fresh. Or get it all melted together with a whole lotta cheese; Taco Man 512's quesadillas are completely irresistible. Of course, we'd be remiss not to mention their marinated black beans and nopales, making for veggie tacos that are just as good if not better than their meaty counterparts. Wash it all down with their watermelon, tart pineapple or sweet mango aguas frescas, and you've got a meal worth bragging about. So do just that, find Taco Man 512 in Austin, or have 'em out to cater your next event. Trust us. It's well worth it.
MUST TRY
Al Pastor - get it in a taco or a quesadilla, either way, this sweetly savory pork is a total treat to your tastebuds
Upcoming Locations
No upcoming events currently listed.
Book catering for your next event
Protected by our 120% Roaming Hunger Service Guarantee