Preferred Caterer
Popup Catering

,
Trailer
Los Angeles, CA
Super Great For
Huge Events
Corporate Catering
Vegans & Vegetarians
Vegetarians
On-the-go all-natural beverages made with the right blend of quality, taste, and motivation.
William & Dayana
of
The Juice Market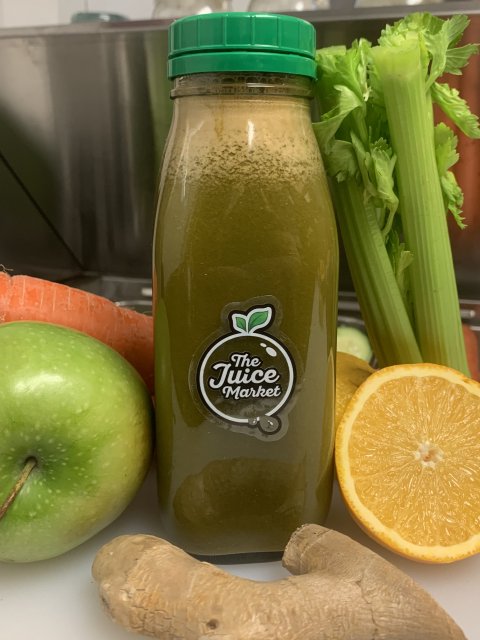 Menu
Pressed Juice
Glowing
Beets, carrots, lemon, ginger, and red apples
Spirited
Carrot, celery, orange, pineapple, cayenne pepper, and turmeric
Eccentric
Carrot, kale, orange, green apple, lemon, and ginger
Wise
Grapefruit, red apple, carrot, and lime
Decisive
Celery, cucumber, green apple, spinach, lemon, and ginger
Foxy
Yellow bell pepper, pineapple, orange, turmeric, and cayenne pepper
Upbeat
Watermelon, jalapeño, mint, and lime
Smoothies
Mindful
Fresh pineapple, dried pineapple, banana, maple, coconut oil, flax seed & coconut milk
Grateful
Mango, pineapple, avocado, almond butter, dates, coconut milk
Confident
Banana, mix berries, kale, spirulina, honey & almond milk
Empowered
Fresh mango, dried mango, lemon juice, cashew butter, vanilla, maca powder, agave, almond milk
Ambitious
Spinach, mixed berries, avocado, agave, Chia seeds, coconut milk
Optimistic
Banana, peanut butter, vanilla, maple, cacao powder, coconut milk
Inspiring
Papaya, vanilla, cinnamon, dates, matcha, almond butter, and oat milk
Wellness shot
Committed
Ginger, turmeric, and lemon
Flawless
Ginger, apple, lemon, and cayenne pepper
Coffee
Espresso Shot
Lavazza Coffee
Snacks
Filled Organic Dates
Ridiculously good
Meet William & Dayana
What is the story behind your business' name?
The farmers market was part of our life when we were kids. I'm from Puerto Rico and my girlfriend is from Colombia. It's part of our culture, The Juice Market.
About The Juice Market
The Juice Market is allowing lucky Los Angeles, CA residents the chance to quench their thirst while giving their body a boost of nutrition. How so? All-natural, organic, pressed juices. So, if you're feeling thirsty, keep your eyes peeled for this trailer.
Harnessing the rich natural flavors of fruits and vegetables alone, each drink on the menu sports a palate-pleasing taste. In addition to all things pressed juice, you can also sample some lattes, teas, and smoothies. Plus, the supplies and vehicle are all eco-friendly. What's not to love? Either find The Juice Market out on the street or have 'em out to cater your next event.
MUST TRY
Glowing — A powerfully sweet juice that mixes the taste of ginger, red apples, lemon, carrots, and beets.
Grateful — A hearty smoothie with mango, pineapple, avocado, almond butter, dates, and coconut milk.
Upcoming Locations
No upcoming events currently listed.
Book catering for your next event
Protected by our 120% Roaming Hunger Service Guarantee