Super Great For
Custom Menus
On-Set Catering
Family Events
Smaller Spaces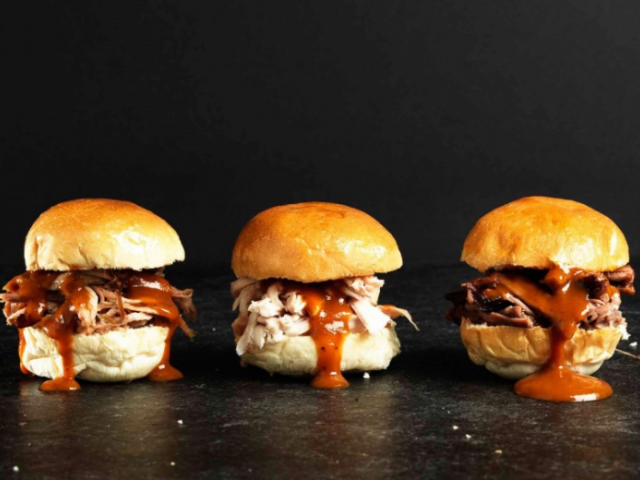 Menu
Main
CHIPOTLE –CHICKEN STREET TACOS
3 Soft Tortilla's w/ Black Cherry Smoked Chicken, Cilantro Lime Crema Pickled Jalapenos, Queso Fresco, Wigglestick Sauce
SLIDER TRIO
Competition Grade Smoked Chicken, Brisket & Pulled Pork, Cilantro Slaw, Siracha Lime Barbecue Sauce
PB & J
Fried Plantains, Smoked Competition Brisket, Hanover Tomato*, Apple Wood Bacon Jam *Seasonal
BARBECUE BAHN MI
Hickory Smoked Prime Brisket, Queso Fresco, Tomato, Pickled Jalapeno, Scallions, Blackberry BBQ & Cheddar
HICKORY SMOKED BRISKET TOTCHOS
Hickory Smoked Prime Brisket, Queso Fresco, Pickled Jalapeno, Scallions, Classic Mornay & Wigglesauce
THE MAC
Macaroni , Classic Mornay Sauce, Queso Fresco,Chives,Applewood Smoked Pulled Pork, topped with Toasted Panko
THE SUNDAE
Sm. Jalapeno Cornbread, Granny Apple Slaw*, Cheddar, Wigglestick Brisket, Maple Bacon Baked Beans, Wigglestick Sauce
Ribs
About Wigglestick Barbecue
Wigglestick Barbecue is giving Richmond, VA an abundance of BBQ on the go, a lot more than you could shake a stick at. Maybe that's the reason for the namesake, maybe not. In any case, this food trailer is providing competition grade BBQ to the hungriest of eaters, fully curbing even the biggest of appetites on the curb.
At Wigglestick Barbecue, they're sticking to old school authentic Virginian BBQ techniques while reinventing it for the modern foodie scene. Translation? This BBQ is unlike anything you've ever tasted before. From classics like ribs that practically fall off the bone to all original creations including a hickory smoked pork banh mi, rest assured your inner carnivore will find satisfaction here. So why wait? Find Wigglestick Barbecue in Richmond, or have 'em bring their custom built smoker-on-a-trailer to your next event. Trust 'em. They're called pit masters for a reason.
MUST TRY
Pork Belly Panini - this best seller is sweet and savory in the best way, featuring smoked pork belly topped with honeycrisp apple-sweet onion marmalade, with melty brie cheese and wild arugula. Can you say yum?
Book catering for your next event
Protected by our 100% Roaming Hunger Service Guarantee