Bizzle's Bistro
Top Caterer
Popup Catering

,
Trailer
Melbourne, FL
12 Months

on Roaming Hunger
Super Great For
On-Set Catering
Family Events
Corporate Catering
Weddings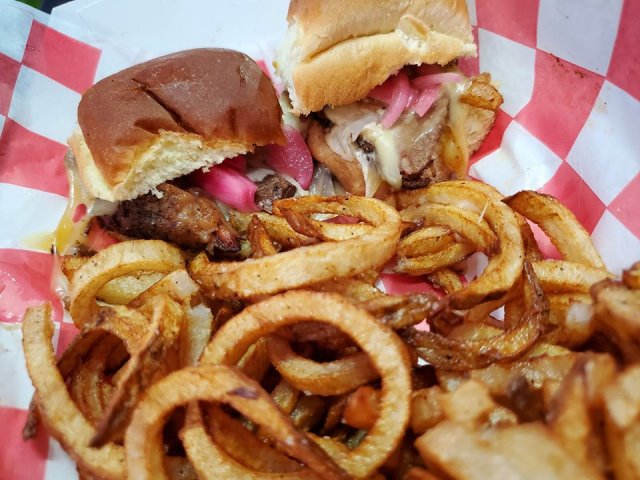 Menu
Appetizers
Pulled Pork Mac 'N' Cheese Egg Rolls
Served w/Bizzle's BBQ Sauce
Main
BBQ Pork Sliders
Smoked pulled pork with Bizzle's BBQ sauce, vinegar coleslaw on Hawaiian sweet rolls
Brisket Sliders
Tender smoked beef brisket, smoked gouda, pickled red onion, Carolina vinegar on Hawaiian sweet rolls
Southwest Fish Tacos
Topped with lettuce, tomatoes, chipotle sauce, cilantro lime crema
Chicken Gyro Tacos
Lettuce, tomatoes, pickled red onion, tzatziki sauce, oregano feta vinaigrette
Grilled Veggie Tacos
Bell pepper medley topped with lettuce, tomatoes, pickled red onion, SW vinaigrette, chipotle sauce
Make any Entree into a Salad
Looking for a healthier option? Make any main entree taco or slider into a salad!
Bizzle's Cheesesteak Sliders
Served on a Sweet Hawaiian Roll w/Peppers, Onions & Smoked Gouda Cheese
Sides
Hand Cut Curly Fries
Hand Cut Sweet Potato Chips
Side Salad
Salad w/Romaine Lettuce, Celery, Tomatoes, Cucumber, Bell Peppers & Shredded Mozzarella Choice of Dressings: Oregano Feta Vinaigrette, Southwest Vinaigrette or Ranch Dressing
Macaroni & Cheese
Kids Menu
Uncrustable Peanut Butter & Jelly
Macaroni & Cheese Bowl
Cheese Quesadillas
About Bizzle's Bistro
Erica and Jayson are pooling their collective 20 years in the catering business and putting it towards good use. Together, they whip up a variety of made-to-order street food classics endowed with a touch of gourmet flavor to up the ante on the conventional. This trailer's a must for street food connoisseurs across central Florida, so keep your eyes peeled for it rolling through the Sunshine State streets.
Street tacos and sliders are the stars of this menu. You can nab anything from a taco stuffed with paper-thin slices of gyro-style chicken slathered in a tart blend of tzatziki sauce and oregano feta vinaigrette. Or, sample a pulled pork slider enhanced with a dose of homemade BBQ sauce and vinegar coleslaw. Pair your choice of entree with some hand-cut fries and you're in business. Eager to try it all? Then have Bizzle's Bistro out to cater your next event.
MUST TRY
Brisket Sliders — Tender slices of beef brisket topped with smoky gouda cheese and pickled red onions all doused in Carolina vinegar and served on a Hawaiian sweet roll.
Book catering for your next event
Protected by our 100% Roaming Hunger Service Guarantee