BK Jerk Mobile
Popup Catering, Food Truck
New York, NY
2+ Years

on Roaming Hunger
Super Great For
On-Set Catering
Family Events
Fundraisers
Corporate Catering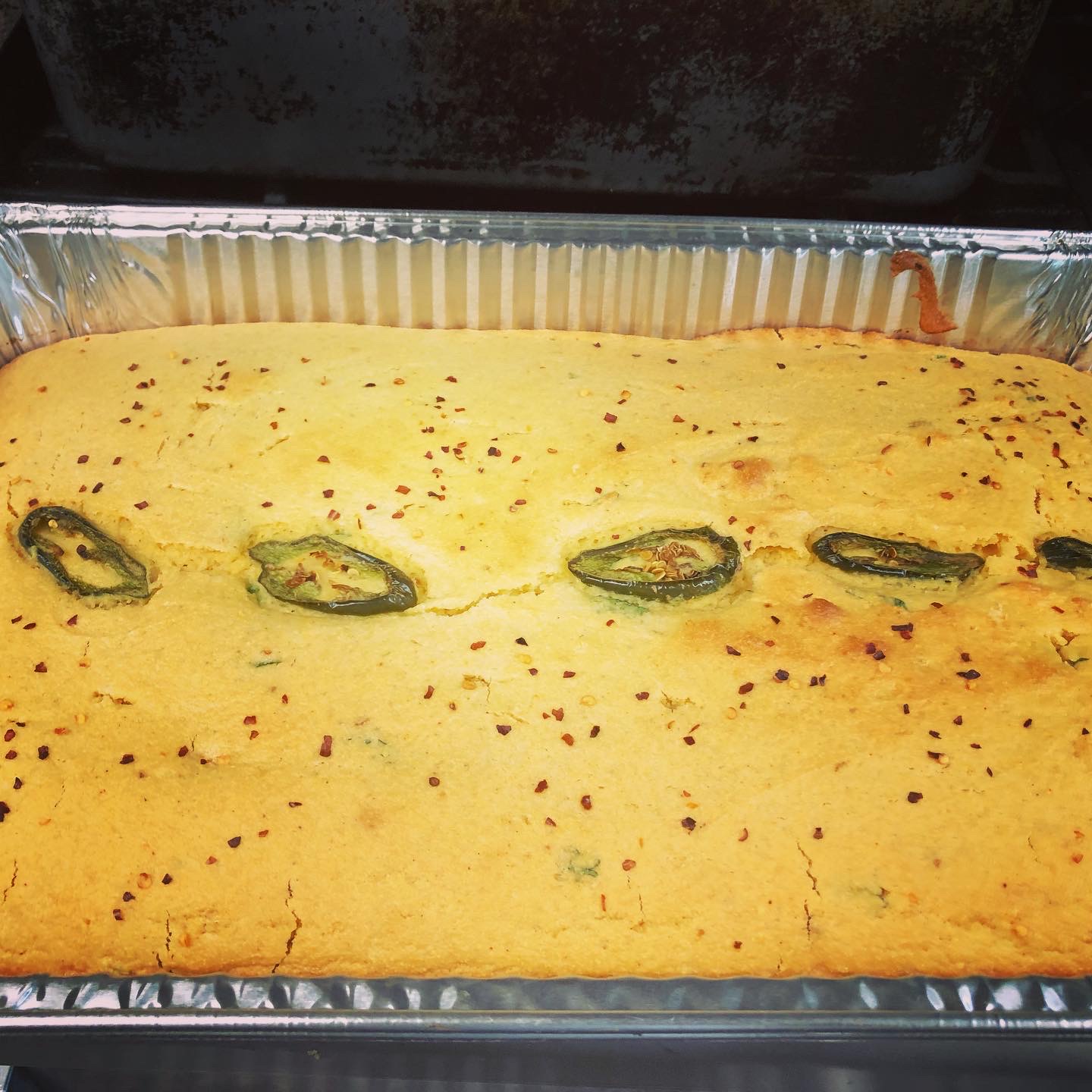 Menu
Main
BBQ Pork RIbs
Smoked and grilled pork baby back ribs.
Jerk Chicken
Chicken leg quarters marinated in our own jerk rub and marinade then smoked-grilled tender.
Flame Broiled Jerk Mane Lobster Half
Steamed whole lobster lightly grilled and brushed with green onion butter jerk sauce.
Fyah Island Grilled Jumbo Shrimp Salad
Jerk marinated Jumbo Shrimp on a bed of garden greens
Fried Fish Escovitch
Crispy fish chunks with tangy spicy pickle sauce.
Coconut Shrimp
Coconut crusted deep fried jumbo shrimp
Sides
Potato Salad
New potatoes, asparagus, corn, hard-boiled eggs and herbs.
Cole Slaw
Shredded cabbage and carrots in a tangy, creamy Cole-slaw dressing.
Mac & Cheese
Old-fashioned creamy and triple-cheesy macaroni and cheese.
Bacalao Fritters
green onions thyme and scotchbonnet peppers in eggy flour batter deep fried fritter
Rice and Peas
Rice steamed with pigeon peas/ red kidney beans and coconut cream rice pilaf.
Jasmine Rice
Steamed white jasmine rice.
Sautéed Seasonal Veggies
Seasonal veggies (cabbage, broccoli, bok choy, carrots) sautéed crispy but tender
Sweet Plantains
Fried slices of yellow-sweet plantains.
Seasoned Rice
Veggies(pumpkin, callaloo, peppers etc.) coconut cream, rice and spices all steamed for healthy vegan choice.
Corn bread
Spiced Cornbread mix of creamed corn, jalapenos or coconut flakes baked golden.
Grilled Corn
Char Grilled Corn on the cob brushed with butter then sprinkled with savory spices
Dessert
Jamaican Bread Pudding a la Mode.
Brown-rum drenched, decadent coconut bread pudding, drizzled with guava sauce. Served with a scoop of vanilla ice cream.
Tropical Fruit Crisp a la Mode.
Mango, pineapple, and guava stewed and topped with oatmeal, cinnamon and brown sugar. Topped with a scoop of vanilla ice cream.
Coconut-Mocha Mud Pie a la Mode
Chocolate, shredded coconut, caramel and pinch of coffee in a crust-less pie. Topped with a scoop of vanilla ice cream.
Veggie Mains
Veggie Wraps
Marinated and grilled bell peppers, zucchini, and eggplant smothered with pesto and wrapped in a flour tortilla.
Callaloo
Tender amaranth greens, onions, and tomatoes simmered in a light coconut broth.
Jerk Tofu Skewers
Marinated and flame grilled tofu chunks, mushrooms, onions and bell peppers on a skewer brushed with our jerk chimichurri sauce.
Lentil Stew
Lentil stew with kale and sautéed amaranth greens.
vItal Stew
Red Beans stew with seasonal veggies, tofu (optional), carrots and squash.
Coconut-Curry Chickpeas Potato and Veggies
Chunks of potato with chickpeas and seasonal veggies cooked in a mild coconut curry sauce.
BEVERAGES
STANDARD COLD DRINKS
ASSOTRED CAN SODAS AND BOTTLED WATER
TROPICAL JUICE COOLERS
AN EXOTIC BLEND OF TROPICAL FRUIT FLAVORS, SPARKLING WATER AND NATURAL SWEETNERS PROVIDES A REFRESHING THRIST QUENCHER.
About BK Jerk Mobile
We bring to the table a unique and delicious selection of classic Jamaican dishes as well as modern updates and globally influenced Bar-Be-Que inspired dishes. Faves such as our curried lamb bao buns, grilled jerk snapper/shrimp tacos, smoked jerk baby back ribs and pulled smoked jerk/bbq sliders with pickled scotch bonnet relish among a creative lineup of comfort-fusion-inspired dishes have produced many happy repeat customers who have been spreading the word through word of mouth referrals. Whether we are making food for an intimate couple's dinner party or a large gathering of celebrants we bring the same principles of excellence in quality, taste and service to all our customers.
Book catering for your next event
Protected by our 100% Roaming Hunger Service Guarantee