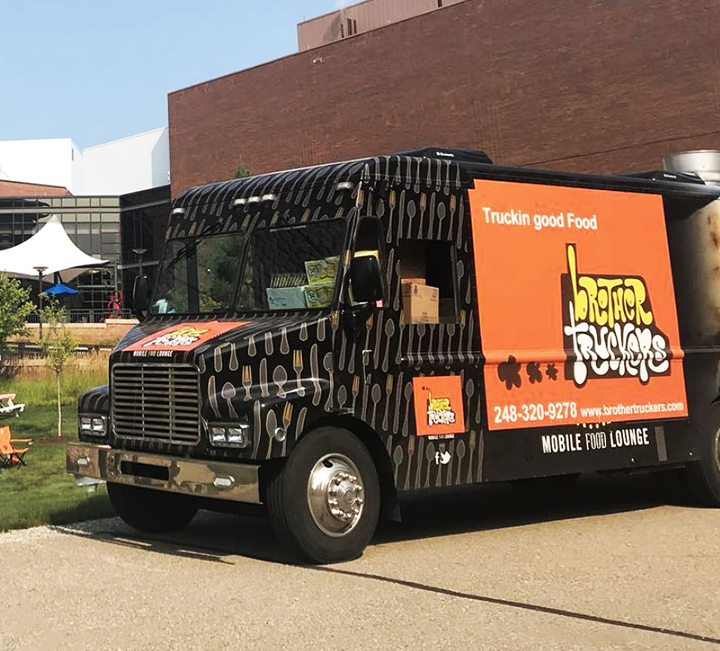 Brother Truckers
Food Truck
Ann Arbor, MI
Food truck catering for your next event. Fast, easy and delicious. Book it here.
Get Started
Super Great For
Family Events
Smaller Spaces
Huge Events
Corporate Catering
All of our entrees are made from scratch with quality gourmet ingredients.
Marc & Kevin
of
Brother Truckers
Menu
Appetizers
Mac & Cheese Bites
An amazing four cheese blend mac and cheese coated and deep fried to perfection. 6-7 bites per serving
Main
Sloppy Joes
Classic sloppy joes served on a honey white bun
Trucker Burger With Cheese
Gourmet blend of meats, specialty ingredients, and grilled onions with cheddar cheese on a grilled honey white bun with special trucker sauce.(think slider on steroids)
Fried Mac and Cheese Balls
An amazing four cheese blend mac and cheese coated and deep fried to perfection
Brother Truckers Burger Bar
build your own burger or cheese burger with a selection of delicious toppings
Sides
Twisty Fries
Seasoned and crispy
Onion Rings
Deep fried and golden brown
Lays Potato Chips
1 oz. bag of original lays potato chips
Desserts
Cheesecake
Delicious and made from scratch with an outstanding graham cracker crust
Chocolate Chip Bundt Cake
A moist, rich, deep dark, chocolate cake with chocolate chips
Meet Marc & Kevin
What is the story behind your business' name?
Started the business with my brother. Since it's a food truck, the name sounded catchy and memorable.
About Brother Truckers
If you're hangry and you know it, Brother Truckers is just the food truck for you. Here, they've got the heartiest eats on the streets, tackling your stomach's unrelenting growling with big flavors and even bigger portions. At Brother Truckers, they're grillin' up a whole lotta goodness on the go. Craving a big ol' burger? Sink your teeth into their trucker burger: a gourmet blend of meats all ground up in a hearty patty topped with grilled onions, cheese and their specialty trucker sauce. They've even got the classic sloppy joe on a sweet grilled white bun. But where Brother Truckers stands apart from the rest is in their offering of fried mac and cheese balls, along with made from scratch cheesecake and their decadent chocolate chip rum bundt cake. Mouth watering yet? Good. All the more reason to find Brother Truckers cruising in Ann Arbor, MI, or have 'em out to cater your next event. These Brother Truckers know what's up. MUST TRY Fried Mac 'N Cheese Balls — If there's one thing that can make mac 'n cheese better it's offering it battered and deep-fried.
Book catering for your next event
Protected by our 100% Roaming Hunger Service Guarantee