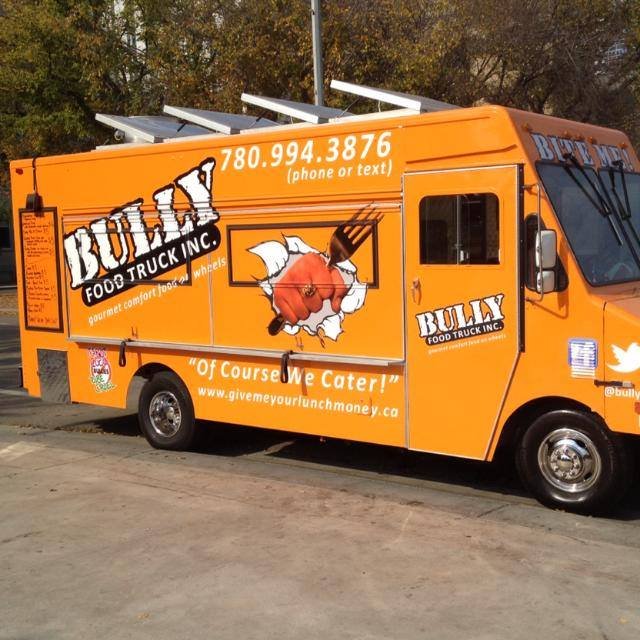 Bully Food Truck
Food Truck
Edmonton, AB, Canada
3+ Years

on Roaming Hunger
Food truck catering for your next event. Fast, easy and delicious. Book it here.
Get Started
Menu
Main
Philly Beef
AAA Alberta Beef Brisket, slow Roasted and dry rubbed with Organic Doi Chaang Coffee. Sliced thin and combined with Onions, Peppers, nestled in a Cradle Dog topped with Bully Cheese Sauce then drizzled with Aioli
The Craziest Philly Beef Ever!!
Indian inspired!! AAA Alberta Beef Brisket Marinated with Lemongrass and Ginger topped with White Onion Gravy and served on fresh Naan Bread with Paneer Cheese, Pickled Red Onion and Crispy Fried Onions
Chicken Philly
Fresh Local Hutterite Chicken with Tex Mex Seasoning Roasted and Pulled combined with Peppers, Onions, nestled in a Cradle Dog topped with Bully Cheese Sauce then drizzled with Chipotle Aioli
Un Philly Beef
Indian inspired!! AAA Alberta Beef Brisket Marinated with Lemongrass and Ginger topped with White Onion Gravy and served on fresh Naan Bread with Paneer Cheese, Pickled Red Onion and Crispy Fried Onions
Beef Mushrooms and Swiss
AAA Alberta Beef Brisket slow roasted and dry rubbed with Organic Doi Chaang Coffee, Chef's blend of Spices and combined with Mushrooms and Onions, nestled in a Cradle Dog then covered with Swiss Cheese and Rich Au jus
Italian Pizza Hoagie
Beef Salami, Beef Pepperoni, Ham, and Marinara Sauce covered with Mozzarella and Fennel Slaw, served on an Italian Roll
Roasted Turkey Sandwich
Fresh Local Hutterite Turkey Roasted, Seasoned and Sliced. Served on a Chef made Cornbread Buttermilk Biscuit, topped with Bruschetta, Spinach, 4 Cheese blend, Crispy Bacon and Lemon Vinaigrette
Chorizo Turkey Burger
Fresh Local Hutterite Turkey, ground and seasoned with Chorizo spice and Red Wine, served with lettuce, bruschetta, and sour cream on a pandas all bun
B.L.T.B
Bacon, Lettuce, Tomato and Brie served with a light Pesto Aioli on toasted Sourdough Bread
Weaved Whitefish and Salmon Burger
Lightly seasoned grilled and served on a fresh Pandasal bun with Spinach, Tomato, Pickled Onions and Lemon Aioli
Veggie Pita Burger
House made Veggie Burger made with Fresh Veggies, Brown Rice, Potato, Sautéed Mushrooms, Roasted Garlic, fresh Basil, topped with a 4 Cheese blend, Bruschetta, Fresh Greens and Pesto Aioli served in a Fresh Pita
Bullied Banh Mi
If you're going to have a Bahn Mi why not try one with a Kick? Ginger Chicken made from Fresh Local Hutterite Chicken, House Made Sriracha Cured and Smoked Pork Belly with sweet Sautéed Onions, Asian inspired Slaw with Sesame Dressing, Picked Red Cabbage and served on a Soft Italian Roll
Turkey Ruben Kaiser
Chef Cured and Smoked Fresh Local Hutterite Turkey, with Cave Aged Swiss and Mozzarella, House Made Sauerkraut, Onion, Dijon Mustard all on a Marble Rye Kaiser
French Quarter
Cajun Pork Burger wrapped in Smoky Bacon topped with French Quarter Peppercorn Sauce, 4 Cheese blend and Chef made Pesto Mayo served in a Pandasal Bun
Sides
Bully Mac
A Blend of 6 different Cheeses all Married together to make our Signature Cheese Sauce, on top of our already creamy Baked Mac n Cheese
About Bully Food Truck
Let's get one thing straight. Bully Food Truck is going to take your lunch money. But not in a bully way. This time, you're going to give it over willingly. It's a food truck that's got great grub on the go, encouraging you to throw out that brown paper lunch bag and indulge in something worth your dough. At Bully Food Truck, it's not cool to be cruel. Their words, not ours, but really we're apt to believe 'em. They're out to treat all of Edmonton, AB nicely, utilizing high quality ingredients in gourmet comforts to tantalize your tastebuds. Take, for example, their double bacon burger featuring a handcrafted all beef patty topped with two different types of bacon on a warm bun. Or their Bully Mac: the cheesiest of all with a blend of six cheeses. They've even upgraded the classic lasagna, infusing it with locally sourced ground chicken layered with Mexican spices, queso, salsa and sour cream. Mouth watering just reading this? Imagine what a visit'll do. Find Bully Food Truck in Edmonton, or better yet, book 'em to cater. Either way, this is one foodie experience you don't want to miss. MUST TRY BBQ Beef in a Cradle - baby your hunger with this hearty meal, featuring Alberta beef brisket dry rubbed and smothered in St. Louis style BBQ sauce, topped with sauteed onions and chipotle aioli in a cradle bun
Book catering for your next event
Protected by our 100% Roaming Hunger Service Guarantee