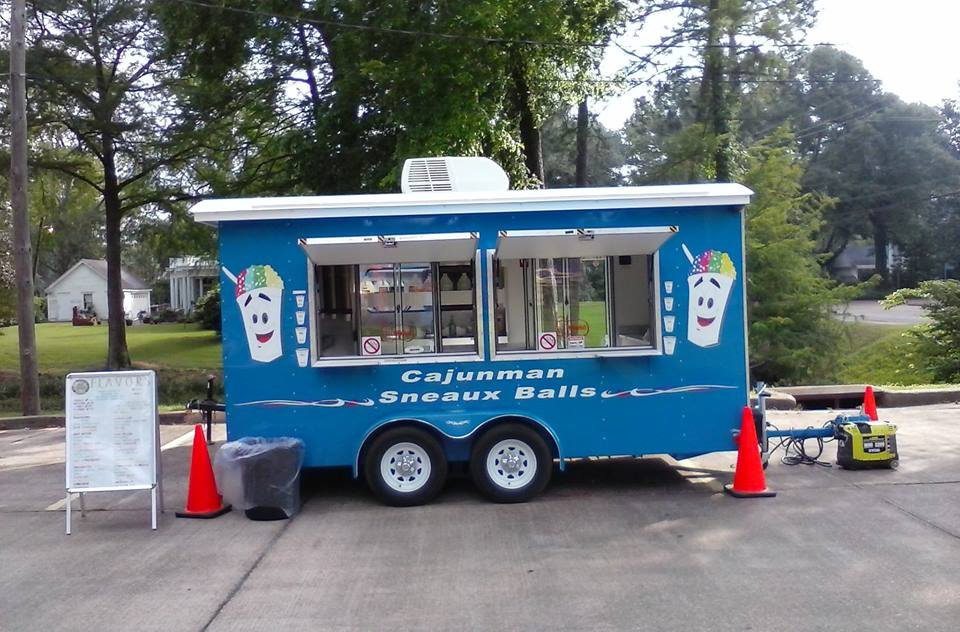 Cajunman Sneaux Balls
Popup Catering, Cart, Trailer
Alexandria, LA
2+ Years

on Roaming Hunger
Food truck catering for your next event. Fast, easy and delicious. Book it here.
Get Started
Super Great For
Family Events
Smaller Spaces
Fundraisers
Weddings
Menu
Flavors
Clear Blue Bubble Gum
Bubble Gum flavor with no added color.
Banana
Yellow - A true taste of banana. - Kosher
Blackberry
Blackberry taste so true you'll wonder if there are seeds in the bottle!
Blueberry
Outstanding, true–to–life Blueberry flavor.
Blue Bubble Gum
Original New Orleans Bubble Gum flavor. Strong Bubble Gum taste.
Blue Raspberry
Light Blue - Sweet raspberry taste. - Kosher
Butter Beer
Brown - Taste like Butterbeer, the drink of wizards.
Cake Batter
True Yellow Cake Batter flavor–for those cake lovers that can't get enough of that sweet taste!
Cherry
Fruity, full Cherry taste. Medium dark in color.
Clear Strawberry
Strawberry flavor with no added color.
Coconut
Rich, well rounded, smooth Coconut flavor.
Cotton Candy ( Blue & Pink )
Vanilla base with a sweet, "sugar spun" Cotton Candy flavor.
Creole Cream Cheese
Real New Orleans style Cream Cheese flavor. Mix with other flavors to make flavored cheesecakes.
Dill Pickle
Zowie! Real Dill Pickle juice that will make your lips pucker.
Dreanscile
Tastes like an Orange push–up ice cream bar. Creamy and smooth taste.
Georgia Peach
Peach flavor so true that you can taste the "fuzz". Really!!!
Grape
REAL, true Grape taste with a true Grape tartness.
Green Apple
VERY TART Apple taste
Hurricane
Dark Red - Famous tropical rum drink which originated at Pat O'Briens in New Orleans (no alcohol).
Ice Cream
Creamy, rich Vanilla ice cream flavor.
Lemonade
Fresh–squeezed, true Lemonade taste.
Lemon-Lime
Refreshing combination of Lemon and Lime flavors, strong tartness.
Mardi Gras King Cake
A unique blend of cake flavoring, rum, butter, and pure vanilla extract to taste like the traditional Mardi Gras cake. Made with Pure Vanilla Extract.
Margarita
Tastes like a REAL Margarita cocktail. Can be mixed with various other flavors to make flavored margaritas.
Nectar
Creamy vanilla–almond flavor with faint Peach overtones. The original old–time New Orleans Nectar Soda flavor made popular at the drug store soda bar.
Orchid Vanilla
Rich creamy flowery vanilla flavor. Unique fluorescent color.
Peach
Orange / Pink - A true taste of a juicy peach. - Kosher
Pina Coloda
Just like a real Pina Colada from a bartender's blender. Made with cane Rum flavor for a true taste.
Pink Bubble Gum
Tastes like Bazooka® brand Bubble Gum.
Pink Lemonade
Same great taste as our great tasting Lemonade, but with a light pink color.
Red Velet
Like the real thing! Rich cake flavor with vanilla, cocoa, coconut and other flavors.
Rootbeer
A real, strong homemade Root Beer taste. Made with Pure Vanilla Extract.
Strawberry
Like biting into a delicious, ripe Strawberry. Our most popular flavor!
Strawberry Cheesecake
Unbelievable REAL Cheesecake flavor bursting with fresh Strawberries.
Strawberry Shortcake
Creamy Strawberry taste with a shortcake background.
Sour Apple
Green - A very tart apple.
Spearmint
Creamy Almond and Vanilla combination.
Tiger's Blood
Fresh fruit berries with a hint of coconut. Delicious!
Tutti Fruitti
A scrumptious potpourri of fruits and berries. Full fruity taste. Contains Pure Vanilla Extract.
Watermelon
Just like biting into a ripe Watermelon, but with no seeds to fight.
Wedding Cake
Has that unique taste that only a slice of Real Wedding Cake has. Excellent as a cream flavor.
Toppings & Stuffing
Condense Cream Topping
Borden's Eagle Brand Condense cream
About Cajunman Sneaux Balls
Cajunman Sneaux Balls is rolling out a frosty favorite in Woodworth, LA and throughout the Alexandria area. Make your next event both delicious and memorable with 45 flavors of their classic Louisiana treat!
Book catering for your next event
Protected by our 100% Roaming Hunger Service Guarantee