Cochinita
Top Caterer
Food Truck
San Francisco, CA
Super Great For
Custom Menus
Huge Events
Corporate Catering
Weddings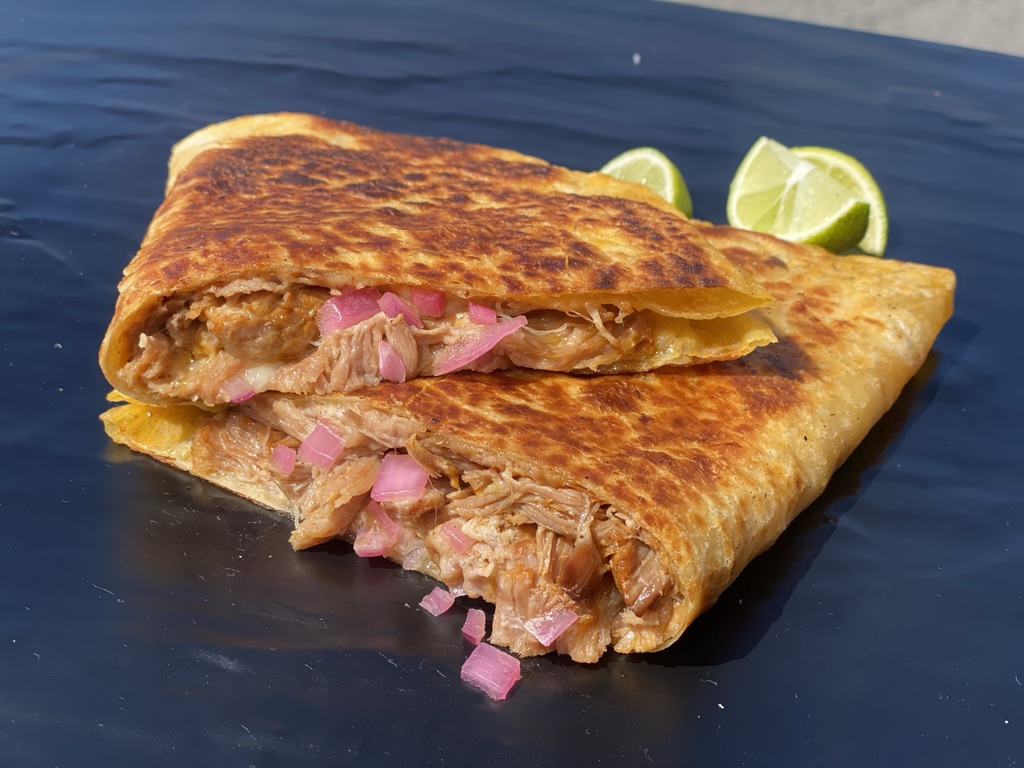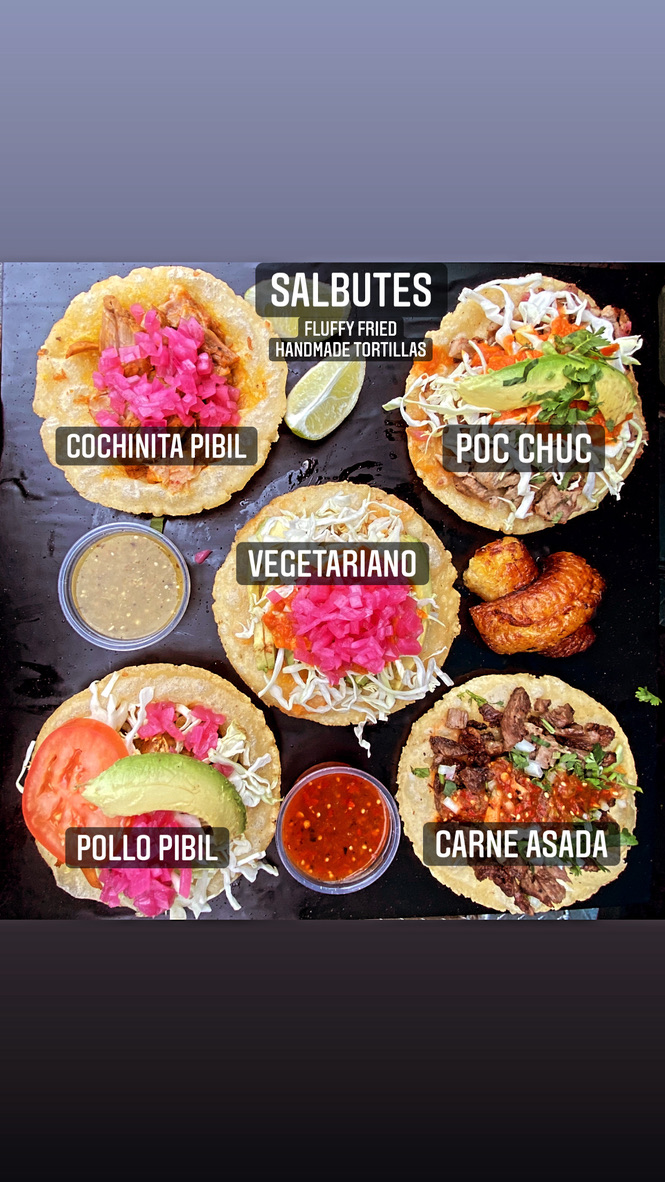 Menu
Appetizers
Plátano con crema
Fried Sweet plantains with a side of sour cream
Elote Tots
Mexican street corn (mayo, cotija cheese, cilantro, Chile and lime) on a bed of tater tots. —Available for special events/upon requests!
Main
Panucho
Yucatan Fried handmade corn tortilla stuffed with refried, lard free black beans and topped with your choice of meat. (Pictured is Panucho de Pollo Pibil)
Salbut
Yucatan Fluffy Fried handmade tortilla topped with Cochinita Pibil and pickled onions or choice of meat/vegetarian
Burritos
Flour tortilla with melted cheese, Mexican Rice, beans, mild guajillo sauce, choice of meat and garnishes. Available with Cochinita Pibil, Pollo Pibil, Carne Asada, or Vegan (with plantains).
Quesadilla
Locally soured flour tortilla with cheese and choice of meat or vegetarian
Tacos
Locally sourced soft corn tortillas topped with choice of meat or vegetarian. Gluten free!
Traditional
Yucatan handmade fried tortillas (Panucho- Yucatan fried handmade tortilla stuffed with beans and Salbut- Yucatan fried handmade tortilla) topped with Cochinita Pibil and Pollo Pibil
Bowl
Mixed greens, Mexican Rice, Black beans, avocado slices, served with your choice of meat or vegetarian
Sides
Rice & Beans
Chips & Salsa
Fresh chips and salsa
Plantains
Fried Sweet Plantains
Chips and Guacamole
Desserts
Churros
Sugar and cinnamon fried Mexican dessert
Flan
Baked Mexican custard dessert topped with caramel
Drinks
Drinks
Bottled water and assorted soda
Aguas Frescas
Aguas Frescas, several different flavors available!
Jarritos
Mexican Imported Flavored Soda
Past Catering Events
28 event organizers have booked Cochinita using Roaming Hunger
Birthday Catering
January 2019 * San Francisco, CA
45+ attendees
Birthday Catering
January 2020 * San Francisco, CA
35+ attendees
Other Catering
February 2020 * San Francisco, CA
150+ attendees
Meet Sergio Albornoz and Karen Gonzalez
What is the story behind your business' name?
The name "Cochinita" comes from Yucatan's most well known Dish-- Cochinita Pibil. Co-owner Sergio Albornoz was born in Merida, Yucatan before immigrating to San Francisco.
About Cochinita
Women Owned
Minority Owned
Immigrant Owned
Family Business
Latin Owned
Since 2017, Cochinita has been bringing the flavors of the Yucatan to the streets of San Francisco, CA. Grab a panucho full of cochinita pibil or asada, and top it with cabbage or pickled onions, and munch on all the tamales you can. The menu is incredibly approachable, with less traditional dishes like carne asada all the way to more traditional dishes like poc chuc and their namesake cochinita pibil. If the spicy, piquant, and umami flavors of the Mayan cooking world are what you need for your next catered event, booking Cochinita should be a no-brainer. MUST TRY Cochinita Pibil Panuchos — Pulled pork marinated in achiote paste, citrus juices, and baked in banana leaves, topped with pickled onions and stuffed into fried handmade corn tortillas with black beans
Frequently Asked Questions
Does Cochinita do catering, and are they available on my date?
Yes, Cochinita is registered for catering and/or vending events on Roaming Hunger. In terms of availability, we don't manage their calendar. The best way to find out if they're available is to fill out your event information and see if they respond.
Is Cochinita available in my city?
Cochinita has a home base in San Francisco and surrounding areas. Keep in mind that for catering, they may add a travel fee if it's outside of their normal travel radius.
What type of food does Cochinita serve?
Cochinita serves the following cuisine types: Latin Fusion, Savory, Mexican
What types of services (equipment) does Cochinita have?
Cochinita has the following types of services: Food Truck
Book catering for your next event
Protected by our 100% Roaming Hunger Service Guarantee