Crock & Roll
Trailer
Paynesville, MN
2+ Years

on Roaming Hunger
Food truck catering for your next event. Fast, easy and delicious. Book it here.
Get Started
Super Great For
On-Set Catering
Family Events
Huge Events
Vegans & Vegetarians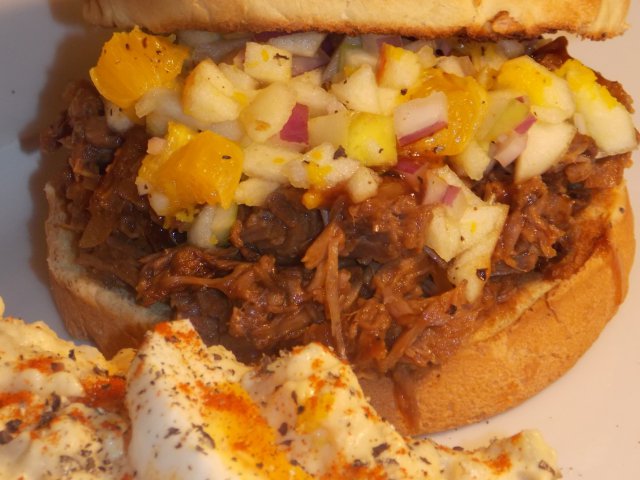 Menu
Main
Zeppelin
Shredded, juicy, never dry, Thanksgiving turkey breast laced with our savory roasted turkey gravy, topped with stuffing, corn and a Triple Berry sauce on a toasted seasoned roll. Served with potato chips.
Jimi
Slow cooked super tender Sweet Smokey BBQ Beef topped with a magnificent apple, red onion and orange relish on a toasted seasoned roll. Served with potato chips.
Mamma's
Mamma's famous spaghetti with meat sauce. A robust tomato sauce with diced tomatoes, onions, garlic and hearty ground beef over a bed of spaghetti and topped with fresh Parmesan cheese. Served with a toasted garlic roll.
Fab 4-bean Chili
A hearty, medium-spicy four-bean chili with ground beef, diced tomatoes, peppers, onions and garlic topped with fresh onions, cheddar cheese and sour cream served with a toasted garlic roll. Also available as a vegetarian option which would replace ground beef with zucchini, yellow squash, broccoli florets, cauliflower florets and sliced carrots.
Rockin' Avocado Toast
Sweet and Spicy Avocado Toast topped with tomatoes/onions and drizzled with our balsamic glaze, then sprinkled with flax seeds. Served on a bed of sweet cranberry quinoa rice. Vegan
Green Day Veggie Pasta
Super Greens pasta loaded with veggies, quinoa and flax seeds tossed in our special zesty Italian dressing. Vegan
Stairway to Heaven
Sweet potatoes, onions, peppers, broccoli, peas and garbanzo beans, loaded atop a bed of sweet cranberry quinoa rice. Drizzled with our house made maple tahini dressing. Vegan
Presley's Papaya Bowl
Bananas and seasonal fruit served inside a ripe papaya with a maple almond butter glaze, flax and chia seeds. Vegan
Cilantro Lime Chicken Tacos
Slightly spiced chicken breasts slow cooked with cilantro and lime. The chicken is tender and shredded. Topped with shredded lettuce, diced tomatoes, cheddar cheese, a drizzle of ranch, and even more cilantro!
Ozzy
Tender, slow-cooked Sweet Chili Pulled Pork topped with our homemade coleslaw on a seasoned toasted roll. Served with potato chips.
Rolling Stones
Warm Italian meatballs coated in our "mamma's" meat sauce; yes that's right, meatballs in meat sauce, with melted mozzarella & provolone cheese on a toasted seasoned roll. The perfect comfort food. Served with potato chips.
GooGoo Dolls
Spicy Buffalo shredded chicken breasts topped with a gooey cheesy mac and cheese, jalapeno cheetos crumble and drizzled with ranch dressing on a seasoned toasted roll.
GooGoo Mac
A gooey and cheesy mac & cheese topped with cheddar jalapeno Cheetos crumble and drizzled with ranch! Served with a toasted garlic roll.
Sides
Crocked Beans
Sweet and Spicy BBQ beans with bbq beef and onions
Potato Salad
Deviled Egg potato salad
Coleslaw
Creamy, crunchy coleslaw made with freshly chopped cabbage, onions and carrots blended with Crock & Roll's own delicious dressing made everyday. It's a great pairing with our perfectly seasoned "Ozzy" (pulled pork), or anything for that matter.
Desserts
The Greatest Hit
Mom's World Famous chocolate chip cookie cups made from scratch with a Reese Peanut Butter Cup inside
So Grateful
A New York cheesecake with strawberries and whipped cream that is more sinful than Sin City!
Guest Star
A headliner cheesecake of the Day that you will not want to miss!
Drinks
Water
Soda
Cherry Lemonade
20 oz. cup of sweet cherry Lemonade garnished with a cherry and lemon slice
Slow cooked Hot Chocolate
It's like a smooth, creamy hot brownie in a cup! Topped with marshmallows
Hot Apple Cider
Cinnamon, Spice and all that is Hot and Nice!
About Crock & Roll
Crock & Roll is rockin' and rollin' in Little Falls, MN, serving crock pot inspired eats on the streets. Yup, you read that right. It's a food truck that's got a bevy of slow cooker recipes on board, a surefire way to curb your hunger on the curb.
At Crock & Roll, you're being treated to homemade meals stewed over a number of hours, making for a robust flavor from first bite to last. Take, for example, their smoky BBQ beef in a sweet apple, red onion and orange relish. Or their roasted turkey breast smothered in gravy and stuffing. They've even curated an "alternative rock" menu, featuring vegetarian, vegan and superfoods that'll keep you rockin' all night long. Their words, not ours, but really we're apt to believe 'em. If all this sounds good to you, why wait? Find Crock & Roll in Little Falls, or have the food truck cater. Whichever way you choose, it's sure to be rockin'.
MUST TRY
The Greatest Hit - the perfect sweet finish to your wholly savory meal, these decadent chocolate chip cookie cups are made from scratch with an entire Reese's Peanut Butter Cup inside
Book catering for your next event
Protected by our 100% Roaming Hunger Service Guarantee