Danibelle's Lebanese Cuisine
Top Caterer
Food Truck
Fort Worth, TX
6+ Years

on Roaming Hunger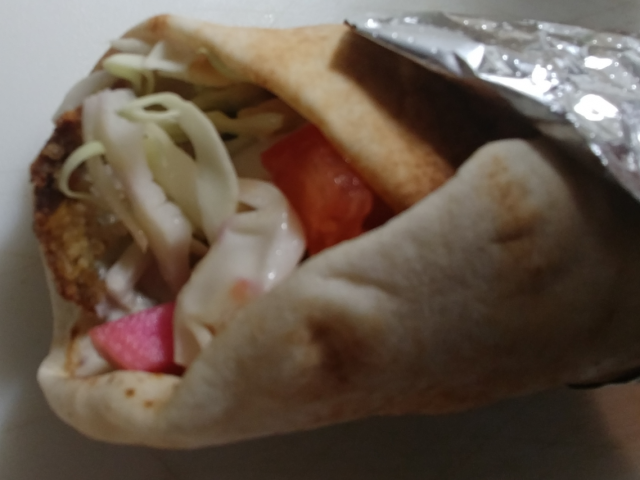 Menu
Main
Chicken Shawarma
Pita sandwich: spread of garlic including grilled marinated chicken, fries, veggies, pickles and tomato
Beef Shawarma
Pita sandwich: Beef Rib eye marinated and grilled, tahineh sauce, tomato, veggies and pickles
Falafel
Pita sandwich: spread of Hummus, Falafel (chick peas base), tahineh sauce, tomato, pickles and veggies
Lahm B Ajeen
Lebanese pizza: ground beef mixed with onion, tomato and spices baked and served with fries, pickles and garlic sauce
Cheese Burger
Sirloin burgers served with cheese, tomato and pickles
Lamb Shawarma
roasted leg of lamb marinated and filled with garlic, served with hummus, tahineh sauce, tomato and pickles
Sides
Tabouleh Salad
Lebanese salad: parsley, tomato, onion, burgul, lemon juice and olive oil with salt and pepper.
Hummus with Pita Chips
chick peas mixed with tahineh sauce, lemon juice served with Pita chips
Baba Ghanooj
Roasted Egg plants mixed with tahineh sauce and served with pita chips
Fries
French fries deep fried on demand for a fresh golden crisp
Hot Dogs
Nathan's Hot dogs served plain with buns
Fettoush
this is a garlicky Lebanese salad: lettuce, cabbage, tomato, cucumber, green onion, peppers, radish, carrots mixed with a garlicky sauce. so refreshing
Lentil Soup
Swiss chard, lentils, potatoes, onion, garlic, chinese parlsey, lemon juice, olive oil, salt and pepper served in small container
Desserts
Baklavah
Lebanese desert: filo pastry filled with almond and cashew and glazed with special made syrup
Ice Cream
your choice of fruit bar (grape, mandarine, pineapple, strawberry) or drumsticks (vanilla fudge, caramel or vanilla)
Drinks
Soft Drinks
Water, Gatorade, Sunkist, Gingerale, Sprite, Coke, diet Coke and Coffee
About Danibelle's Lebanese Cuisine
Danibelle's Lebanese Cuisine is giving Dallas-Fort Worth a whole host of unique eats on the streets. The food truck is importing tradition in a wide variety of savory dishes, keeping with Lebanese tradition but updating it to the modern palate. What's that mean, exactly? Well, you're getting authentic Middle Eastern cuisine served alongside those all American classics, ensuring Danibelle's Lebanese Cuisine is palatable to all.
Just what's cooking at Danibelle's Lebanese Cuisine? Lebanese cuisine. Bet you didn't see that one coming. From shawarma of the beef and chicken variety and hummus all wrapped up in warm pitas and topped with tzatziki to homemade hummus, tabouleh and specialty stuffed grape leaves, all the exotic flavors from the east are available on a menu built to satisfy. But Danibelle's is also accommodating to all, serving up hot dogs, hamburgers, and fried favorites that take comfort food to a whole new level of delicious. So don't delay. Find Danibelle's Lebanese Cuisine cruising all through the DFW Metroplex. Trust us. It won't disappoint.
MUST TRY
Lentil Soup - tender lentils swim in homemade broth, complemented with boiled potatoes and Swiss chard
Book catering for your next event
Protected by our 100% Roaming Hunger Service Guarantee