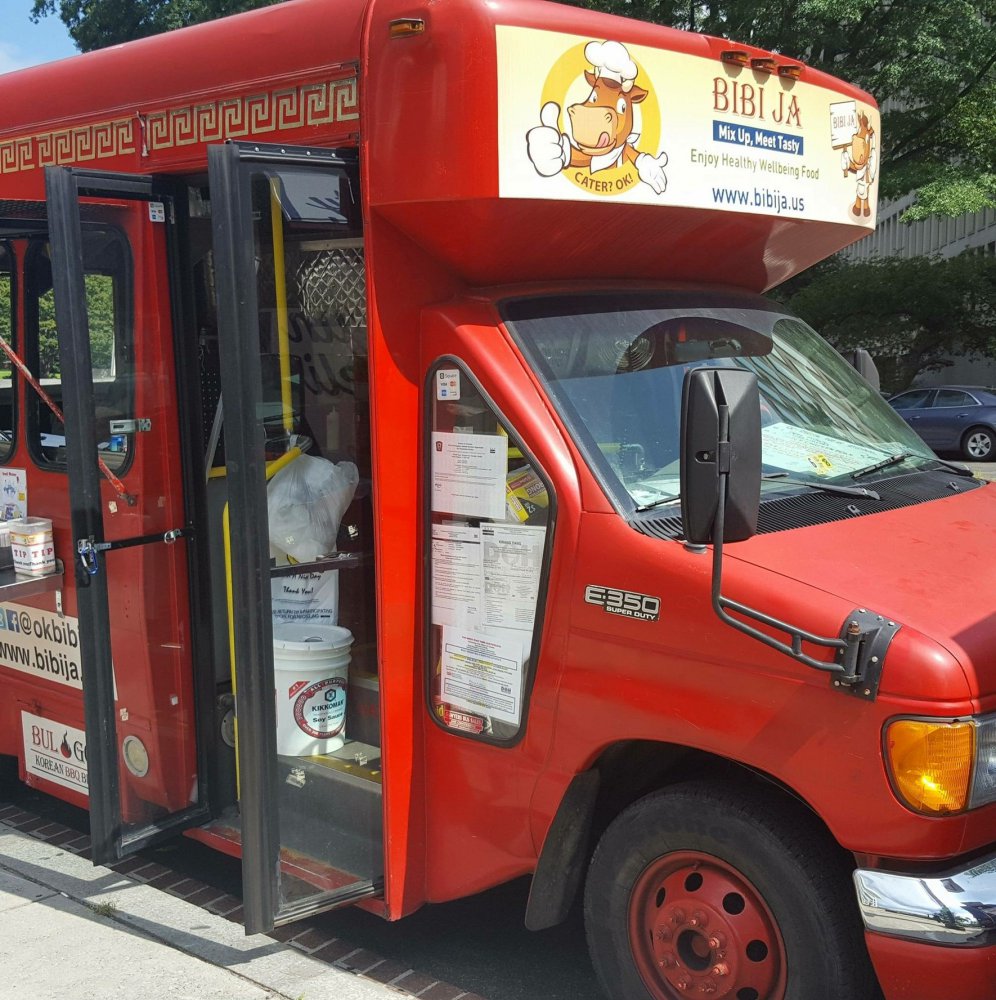 Dosi Rock
Food Truck
Washington DC, DC
20 Months

on Roaming Hunger
Food truck catering for your next event. Fast, easy and delicious. Book it here.
Get Started
Super Great For
Huge Events
Fundraisers
Corporate Catering
Weddings
Menu
Main
Bibimbap- Korean Mixbowl
Served with choice of meat, rice, sweet potato noodles, pickled radish and carrots, napa cabbage kimchi, kimchi radish, cucumber, sautéed red cabbage, mung beans, cilantro, toasted sesame seed, seaweed, Korean Gochu Jang sauce, creamy white sauce and sriracha
Jap Chae - Noodle bowl
Rice, sweet potato noodles, lettuce, sautéed cabbage, napa cabbage kimchi, pickled radish & carrots, cucumber, fresh mung beans, roasted seaweed, cilantro, sesame seeds, Gochu Jang sauce (traditional Korean sweet chili), white creamy sauce, sriracha
Korean BBQ Tacos (3)
Choice of meat served on corn or flour tortilla soft shell, with lettuce, sliced onion, pickled radish and carrots, Gochu Jang aioli, creamy sauce and cilantro
Beef Pho
Slow cooked beef broth, include chicken-beef meatballs, sliced flank steak, rice noodles, cilantro, basil, lime, sliced fresh onion, scallions, jalapeño and sriracha
Korean BBQ Bahn Mi
Served on white sun roll, with choice of meat, cilantro, pickled radish and carrots, jalapeños, sliced onion, fried egg and Gochu Jang aioli
Korean BBQ Over Rice
Choice of Korean BBQ meat served over rice with sweet potato noodles, salad and kimchi
About Dosi Rock
Dosi Rock is rockin' and rollin' down the streets of Washington, DC, giving locals and visitors alike the delicious opportunity to indulge in Korean fusion cuisine. It's a food truck that knows that lunchtime is an appointment that's hard to keep. Thankfully, all this goodness is available on the go, ensuring a fulfilling experience and an even fuller tummy.
At Dosi Rock, they're keeping to traditional preparation methods and authentic spices and seasonings to ensure the most flavorful food in town. Get a bowl full of goodness in their bibimbap featuring thinly sliced beef, pickled veggies and a fried egg, or slurp your way to satisfaction with their japchae noodles. Oh, and you just have to try their bulgogi banh mi on fresh baked bread. Honestly, there are no wrong choices here, only delicious ones. All the more reason to check out Dosi Rock in Washington, DC, or have 'em out to cater your next event. You won't be disappointed in this rockin' selection of eats on the streets.
MUST TRY
Korean BBQ Tacos - spicing up the classic taco is Dosi Rock's Korean BBQ variant, featuring bulgogi beef and the tastiest toppings around
Upcoming Locations
No upcoming events currently listed.
Book catering for your next event
Protected by our 120% Roaming Hunger Service Guarantee