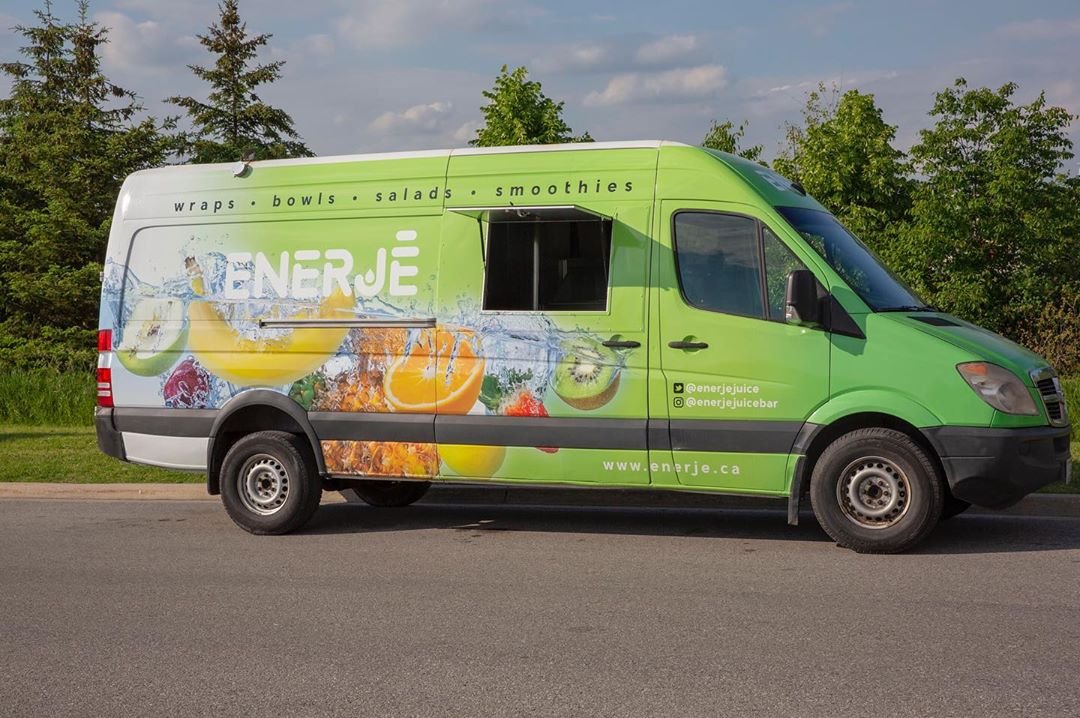 Enerje Juice and Salads
Food Truck
Toronto, ON, Canada
2+ Years

on Roaming Hunger
Food truck catering for your next event. Fast, easy and delicious. Book it here.
Get Started
Super Great For
Family Events
Corporate Catering
Vegans & Vegetarians
Weddings
Menu
SMOOTHIES
TROPICAL SMOOTHIE
MANGO, STRAWBERRY, BANANA, PINEAPPLE JUICE
MANGO MANIA SMOOTHIE
MANGO, BANANA, ORANGE JUICE
SUNRISE SMOOTHIE
STRAWBERRY, BANANA, ORANGE JUICE
BERRY GOOD
STRAWBERRY, RASPBERRY, BLUEBERRY, BLACKBERRY, COCONUT MILK
ENERJIZER
KALE, SPINACH, CARROT, GINGER, PINEAPPLE JUICE
ROOTS SHAKE
BEETS, CARROTS, COCONUT MILK, CINNAMON, RAW COCOA NIBS
MANGO COLADA
MANGO, PINEAPPLE, COCONUT MILK
VERT
AVOCADO, KALE, SPINACH, COCONUT MILK
SALADS
CARIBBEAN SALAD
Crisp Romaine Lettuce, Green Mango, pineapple, Red Peppers, Red Onion, poppy seed dressing
BERRY GREEN SALAD
Spinach, Strawberries, Blueberries, Cucumber, Pecans, Berry Vinaigrette
GARDEN SALAD
Romaine Lettuce, Grape Tomatoes, Carrots, Sweet Peppers, Red Onion, Ranch Dressing
CLASSIC CAESAR
Romaine Lettuce, Garlic Croutons, Shaved Parmesan Cheese, Caesar dressing
WRAPS
JERK CHICKEN WRAP
Jerk Chicken Breast, Mango, tomatoes, Lettuce, Cheddar Cheese, Mayo
TURKEY AVOCADO WRAP
Oven Roasted Turkey Breast, Avocado, Lettuce, Tomatoes, Cheddar Cheese, Mayo
SWEET CHILLI SALMON WRAP
Sweet Chilli Salmon, Sweet Peppers, Spinach, Feta Cheese, Mayo
VEGGIE WRAP
Romaine Lettuce, Spinach, Kale, Avocado, Tomato, Cucumber, Carrots, Sweet Peppers, Italian Dressing
CHICKEN RANCH WRAP
Chicken Breast, Lettuce, Tomatoes, Cheddar Cheese, Ranch dressing
JERK CHICKEN TACOS
Soft Shell Tortillas filled with Jerk Chicken Breast, Coleslaw and Mango
ACAI BOWLS
BERRY ACAI BOWL
Acai Sorbet topped with Strawberries, Blueberries, Banana, Granola, Almond butter drizzle
TROPICAL ACAI BOWL
Acai Sorbet topped with Mango, Pineapple, Banana, Coconut, Chia Seeds, Almond Butter Drizzle
About Enerje Juice and Salads
Enerje Juice and Salads started off as a humble juice bar operating out of a gym in Woodbridge, ON. It didn't take long for these sweet, nutritious beverages to catch on. Before long, public enthusiasm inspired the owners to open their own food truck. Now, they're bringing a bounty of healthy eats to the streets of Toronto, ON. Enerje Juice and Salads is a welcome respite for those seeking an alternative to fast food when grabbing a meal on the go. And don't think healthy is synonymous with bland either. Your sweet tooth will be enchanted by the smoothies and acai bowls, sweetened with all-natural fruits in lieu of cane sugar. As for the savory side of the spectrum, there are hearty salads that are a meal in their own right plus wraps stuffed with delectable fillings like jerk chicken and sweet chilli salmon. If the promise of delicious and nutritious eats isn't enough to entice you, maybe this will – they cater. So, book with Enerje Juice and Salads to bring all this deliciousness to you and your guests. You won't regret it. MUST TRY Tropical Smoothie - A tangy, saccharine blend of strawberry, mango, banana, and pineapple juice. Yum.
Book catering for your next event
Protected by our 100% Roaming Hunger Service Guarantee