Flaming Grill Barbecue
Top Caterer
Trailer, Food Truck
Dallas, TX
5+ Years

on Roaming Hunger
Super Great For
Indoor Events
On-Set Catering
Corporate Catering
Weddings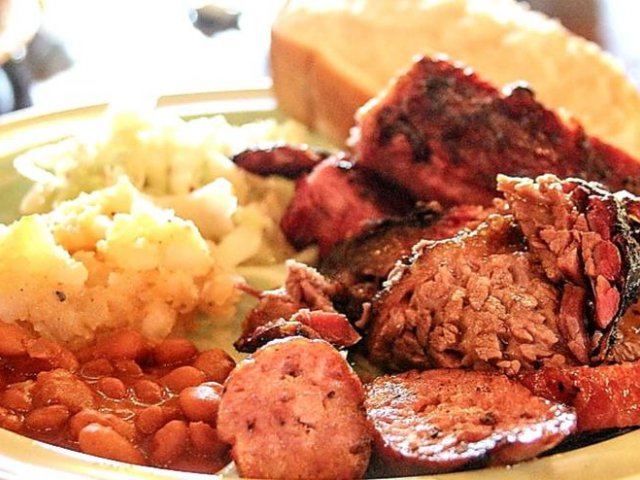 Menu
Main
Meat Plates
Includes your choice of meat, 2 sides, dinner roll, pickles, onions, jalapeños, and BBQ sauce
Wild Salads
Includes your choice of meat, lettuce, shredded cheese, cherry tomatoes, croutons, jalapeños, ranch or Italian dressing
Sandwiches
Include pickles, onions, jalapeños, and barbecue sauce
Nachos
Includes your choice of meat, nacho cheese, roasted salsa, sour cream, and jalapeños
Loaded Fries
Includes your choice of meat, nacho cheese, roasted salsa, sour cream, and jalapeños
Fried Jalapeño Peppers
6 fried jalapeño peppers with cream cheese and a side of ranch
3 Tacos Plate
Includes your choice of meat, lettuce, roasted salsa, shredded cheese, and sour cream
2 Quesadillas Plate
Includes your choice of meat, mozzarella cheese, roasted salsa, and sour cream
Chicken Wings
6 wings, spicy garlic parmesan sauce and a side of ranch
Baked Potato
Idaho baked potato topped with choice of one meat, shredded cheddar cheese, roasted tomato salsa, sour cream, sliced jalapeños, chives and butter
Brazilian Burger
Toasted brioche bun, Angus beef party, provolone cheese, chipotle spread, spring mix lettuce, 1 fried onion rings, grill pineapple.
Longhorn
6" toasted bread, 2 choices of meat (chopped brisket, pulled pork, smoked sausage or grilled chicken), American cheese, pickles, onions, jalapenos & bbq sauce
Rib Plate
includes 4 smoked pork ribs, 2 sides, pickles, onions, jalapenos, dinner roll & bbq sauce
Sides
Creamy Coleslaw
Barbecue Beans with Bacon
The real secret of these beans comes from a dash of liquid smoke, which adds a smokiness that traditionally comes from bacon. Mustard is added for a little tanginess, tomato paste for a hearty tomato flavor, coconut sugar for natural sweetness, and chili powder for heat. Next come salt and pepper to taste and an optional dash of hot sauce for a little heat to balance the sweetness
Potato Salad
The perfect side dish! Boiled potatoes are mixed with crunchy celery, cooked eggs, and a creamy mustard dressing in this classic southern recipe. This twist on Classic potato salad includes, red pepper and Brazilian inspired seasonings
Fried Mozzarella Sticks
Fried Okra
Fried Onion Rings
French Fries
Seasoned shoestring French Fries
Mac & Cheese
Everyone has their favorite baked mac and cheese recipe… and this is mine. It uses a combination of cheeses, layered in the dish as well as melted into a rich and creamy cheese sauce, for the ultimate in cheesy deliciousness!
About Flaming Grill Barbecue
Flaming Grill Barbecue is giving Dallas, TX the heartiest BBQ eats on the streets. It's a food trailer that's outfitted with a flaming grill on board, smoking up meats over fire and wood as the pit masters of yore intended. At Flaming Grill Barbecue, they've hand crafted a full bodied menu built to satisfy. Here, they're smoking meats over a number of hours to tender, juicy perfection, and you've got a myriad of mouthwatering forms to enjoy them in. Get a full platter of fall off the bone ribs, or enjoy a meaty plate with your choice of chopped brisket, pulled pork, grilled chicken or hearty Polish sausage with baked beans, creamy potato salad and a roll. Of course, they've got sammies and loaded baked potatoes. But where Flaming Grill Barbecue stands apart from the rest is in their offering of street food BBQ fusions, including tacos, quesadillas and loaded fries with that same meaty goodness. Drool worthy? Absolutely. Find Flaming Grill Barbecue to satiate your inner carnivorous cravings, or have 'em out to cater your next event. Trust us. They won't disappoint. MUST TRY Brazilian Burger — This sweet and savory burger features a grilled angus patty topped with provolone cheese, romaine lettuce, fried onion rings and a grilled pineapple slice, plus spicy chipotle spread. Can you say yum?
Book catering for your next event
Protected by our 100% Roaming Hunger Service Guarantee