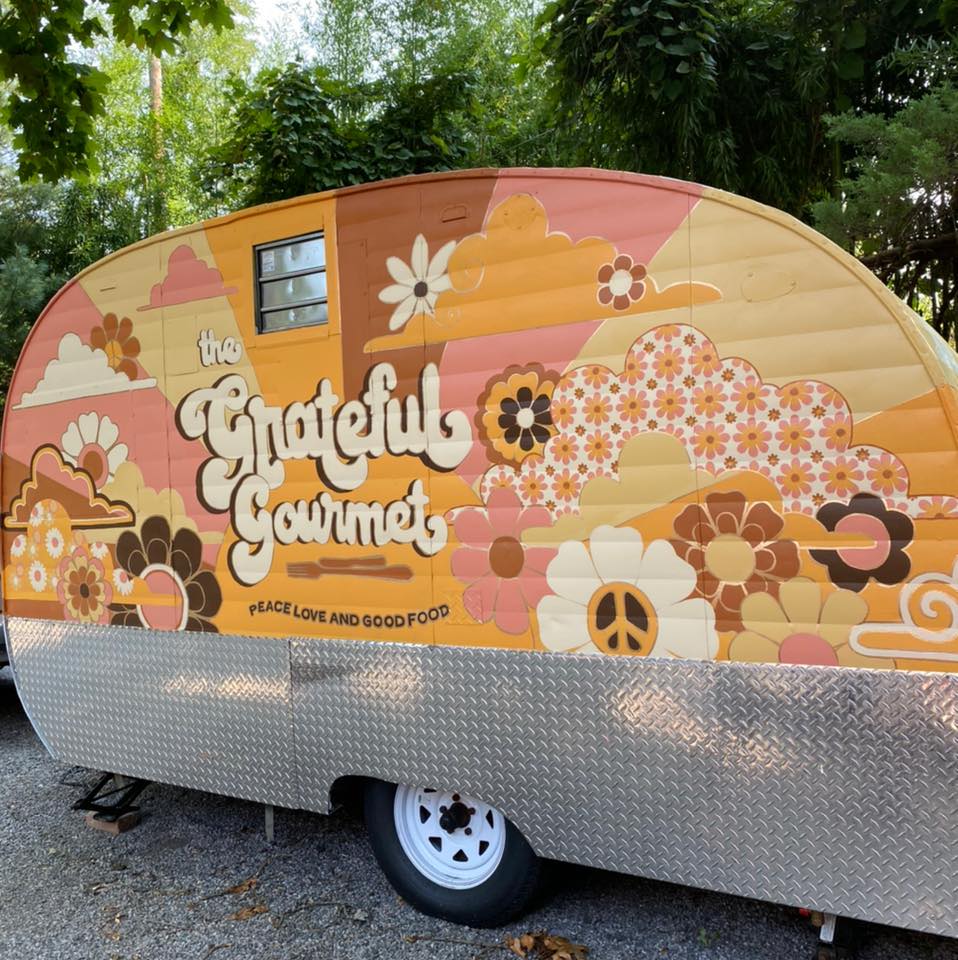 Grateful Gourmet
Food Truck, Full Service Catering, Trailer
Trenton, NJ
Food truck catering for your next event. Fast, easy and delicious. Book it here.
Get Started
Super Great For
Custom Menus
On-Set Catering
Family Events
Corporate Catering
Peace, love, and good food!
Desiree Bagnell
of
Grateful Gourmet
Menu
Appetizers
Friend of the Deviled Eggs
Delicious deviled Eggs topped with candided bacon
Peace, Love and Pimento Spread
Southern classic with a little philly kick.. Proprietary blend of cheeses and pimento and special ingredient. Served with Fire Crackers
Peggy O Pork and Collard Egg Rolls
BBQ pulled pork and tender collards stuffed into a crispy eggroll served with Alabama white sauce.
Fried Brussels tossed in a tangy sauce
Brussels and peppers fried crispy tossed in a tangy sauce
Grateful Balls of Stuffing
homeade stuffing, fried to crispy perfection and tender inside served with cranberry aioli
Lime Shrimp Ceviche
Fresh Shrimp in citrus, tomato and other veggies. So fresh and served with Tortilla chips to dip
Southwestern Eggrolls
Stuffed with black beans, corn, salsa and more
assorted Dips with Chip of Choice
Choose from Rueben, Caramelized Onion, Israeli Hummus, Martini, Tzatziki
Going back To Cauli
Fried Cauliflower tossed in Buffalo Sauce and sprinkled with Blue Cheese and Green onion
Chicquetti
Mini crostini assorted - Bruschetta, white bean with arugula, pimento spread, caramelized onion, broccoli rabe and more!
Charcuterie Boxes
filled with cheeses, meats, crackers and all the fixings! Feeds 2-4 people
Mezze Boxes
Filled with Hummus, Baba ghanouj and tzatziki with veggies and pita wedges. Feeds 2-4
Tennesse Tots
Crispy Tatertots finished with Truffle Parm, Buffalo, dilly or Disco
Fried Tomatoes with Buttermilk Ranch
Market Availability of Green tomatoes, or Red with Buttermilk Ranch - panko breadcrumbs
Main
Bertha's Burger
2 fresh angus patties with American Cheese Griddled onion with Special Sauce served on a martin's potato roll
Hell in a bucket Nashville Hot Chicken
Crispy buttermilk and spiced juicy chicken breast in a special nashville hot sauce served with thin sliced pickles on a martins roll
Shrimp and Grits - extra charge
cheesy grits topped with spicy shrimp, crispy bacon, corn and green onion. This one will stick to your ribs and make a grits lover out of you!
Little Dreamer
cheddar and fontina with thick sliced bacon on Maple Brown Sugar bread grilled to perfection
Gettin Figgy with it
Procsciutto with fontina and fig jam on Artisan Sour Dough Bread
Scarborough Fare
Pesto made with parsley, sage , rosemary and thyme and garlic, spread on Sour dough bread with cheddar and havarti grilled to perfection
Morning Dew Mac and Cheese
Corkscrew pasta with 5 cheeses served regular, crabby or loaded with bacon, sour cream and green onion
Friendsgiving Sandwich
Homeade fresh roasted turkey in gravy with stuffing, cranberry aioli, fried stuffing on a fresh soft roll
Dilly Dilly Philly Chicken Salad
Delicous hand made chicken salad made philly dilly style with fresh dill, pickles and greens served on a martin's roll
Mr. Fantasy Crab Cake Sandwich
Jumbo Lump Crab cake Sandwich served with house made tartar sauce and greens on a martins roll
Charcoots Sando
Hand Selected Charceuterie along with Chefs choice of cheese and apricot preserves on artisan Bread grilled to perfection
Nashville Nugs
Everything you love about Spicy Nashville Chicken, but in a nugget and served with a pickle dipping sauce
Love me Tender Chicken and Waffle
Buttermilk Chicken over crispy waffle with a hot sweet syrup
Sunshine Cuban Sammy
Cuban sandwich classic with a twist, pulled pork, Ham and a swiss mustard pimento spread pressed on the grill
Peace, love and pimento and tomato grilled cheese
Famous pimento spread with fresh ripe tomato grilled on Sourdough bread
Seasons Change Quiche with Greens
Seasonal chef's choice of quiche served with a dressed side of greens
Iko Iko Shrimp Roll
Fresh jumbo Shrimp steamed and lightly dressed served on a griddled New England Style Roll. Simple and Delicious
Pulled Peach Chicken
Sweet and tangy peach pulled chicken piled atop a Martins Potato Roll.
Born to Run Burger
double burger with american cheese, banana peppers and pork roll
Italian Meatloaf Sando
Italian style meat loaf served with sautéed spinach and melted provolone with a red pepper aioli on a potato roll
Apple Butter Pork or chicken sliders
slow braised meat with apple butter served on hawaiian rolls drizzled with special apple butter bbq sauce
Fried Tomato BLT with pimento on Texas Toast
Fried tomato, thick sliced bacon, lettuce and pimento cheese on Thick sliced Texas Toast
Sides
Grateful Grits
signature creamy and cheesy grits
Cassidy Collards
Slow Cooked Greens seasoned to perfection
Easy Wind Beans
Sweet southern style calico beans slow cooked for 12 hours
Mustard Slaw
Crispy coleslaw with a delicous Mustard dressing
Seasonal Salad Side
Homeade Potato salad , mac Salad, hawaiian mac, german potato salad or baked potato salad or red white and blue potato salad
Goddess Green Beans
Green Beans with Bacon, Fire roasted tomatoes. Pairs excellent with BBQ
Chop Chop Veggie Salad
Fresh seasonal Veggies - tossed in a lemon basil vinaigrette
Goddess Green Beans
Green Beans with Fire Roasted Tomatoes
Loaded Potato Salad
Baked Potato Salad with bacon, Cheese and sour cream
Desserts
Althea Apple Pie Egg rolls
Everything you love about apple pie in a crispy egg roll, dusted with powdered sugar
Bananas Foster Cups
vanilla pudding, Fresh Bananas, whip, Prailine in between layers with Vanilla Wafers
Strawberry Basil Shortcake
Sweet strawberries, basil layered with Biscuit and cream
Meet Desiree Bagnell
What is the story behind your business' name?
I'm a huge Grateful Dead, concert, and music fan in general, trying to spread my love of feeding people, listening to music, and having fun!
About Grateful Gourmet
Grateful Gourmet was born from a can-do attitude in a tough time. Serving sliders, salads, and other savory goodies throughout western New Jersey, this groovy ham camper called Bertha offers a casual, fun, and approachable vibe with a little Southern flair. Look up Grateful Gourmet in Haddon Township, NJ, and you'll thank your lucky stars you did.
Book catering for your next event
Protected by our 100% Roaming Hunger Service Guarantee