Super Great For
Family Events
Smaller Spaces
Fundraisers
Corporate Catering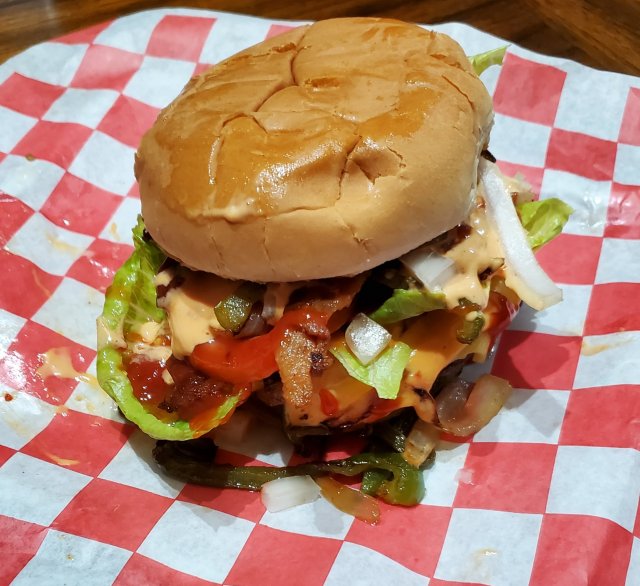 Menu
Burgers
Hamburger
Made as you like with a toasted bun
Lil Bro
1/3lb cooked to perfection patty comes with: candied bacon, crispy onion strings, pepper jack cheese, jalapenos, lettuce and our homemade BBQ sauce
Trashcan Burger
This one isn't for the faint of heart! 1/3lb patty with bacon, grilled onions, raw onions, grilled green peppers, pepperjack and american cheese, lettuce, tomato, may, ketchup and special sauce
BBQ
Ribs
1/3 rack of fall of the bone ribs - have them dry rubbed or sauced, both are great! Comes with fries
Chopped BBQ Sandwich
Chopped pork BBQ, with a sweet and tangy sauce - topped with coleslaw and hot sauce on a toasted bun
Chopped BBQ Fries
Imagine this - crispy season fries, topped with queso, chopped BBQ, jalapenos, green onions and a cilantro lime sauce! Mmm mmm good
Sausage Sandwich
Smoked (then lightly fried) sausage, topped with pepperjack cheese, grilled veggies and our homemade BBQ sauce on a toasted bun
Wings
Wings
Sweet heat dry rub, sauced, ranch, or lemon pepper. They're just darn good!! Nothing else to say about that! 6 or 10 pieces with fries and a drink
Dirty Legs
Dirty Legs
Giant turkey leg garlic and herb roasted, and topped with a honey glaze. Served with baked beans and dirty rice.
Desserts
Lady B's Sweet Potato Pie
Our award winning (or should be at least!) mini sweet potato pies! Not for sharing!!
Lady B's Pecan & Walnut Pie
What more do we need to say about this little creation? Crab you one ans find out why it's a hit!
About Lil Bros' Food Truck
For over 4 decades its been James "Lil Bro" Warren's ambition to share his delectable cuisine with the public. Now, foodies in Humble, TX and throughout the Houston area can treat themselves to Lil Bros' Food Truck. Tuck into their sweet and spicy dry rub wings, fall-off-the-bone ribs, or signature Trashcan Burger. It's H-Town taste with a Jersey Flair, so look up Lil Bros' Food Truck today!
Book catering for your next event
Protected by our 100% Roaming Hunger Service Guarantee