Top Caterer
Food Truck
San Diego, CA
4+ Years

on Roaming Hunger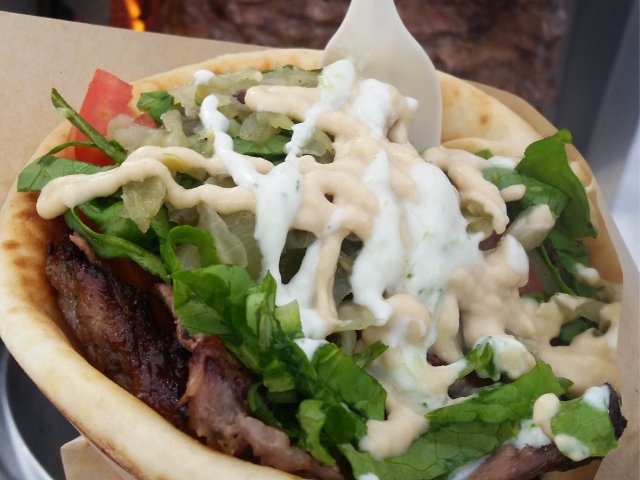 Menu
Main
Lentil Rolls
Hand rolled red lentil and bulgur rolls served on crunchy lettuce or wrapped in pita bread and topped with veggies (V)
Falafel
Hand rolled and fried in canola oil served in warm pita bread, topped with sauce and veggies
Chicken Döner Kebab
Savory chicken served with your choice of toppings, tomato, lettuce, sumac-onions, cabbage, hummus, and tzatziki sauce
Beef and Lamb Döner Kebab
Seasoned beef and lamb served with your choice of toppings, tomato, lettuce, sumac-onions, cabbage, hummus, and tzatziki sauce
Local Kebab plate
Döner kebab meat served in a plate with toppings like lettuce, cabbage, onions and sauces like hummus and tzatziki and spice (smoked paprika from Istanbul, Turkey) plus 2 sides: pita bread and hummus, lentil and bulgur roll (that's Chef's mom's recipe).
Breakfast
Green olives, black olives from Turkey, feta cheese from Turkey, pita-hummus, lettuce topped with olive oil, boiled egg, Turkish tea.
Sides
Pita Bread
Soft, slightly leavened flatbread baked from wheat flour
Lentil and Bulgur Roll
Flakey, buttery pastry encased with a hearty bulgar and lentil filling
Desserts
Simmered Pumpkin
Fresh pumpkin brought to a boil served with walnuts and Tahini sauce
Drinks
Turkish Tea
Homemade Turkish style tea
About Local Kebab
Everyone in San Diego loves Local Kebab for its authentic and flavorful Turkish street cuisine. How could they not when everything on the menu is handcrafted with fresh, local ingredients. Then to top it off, ordering is simple and you're served pretty fast. You get your choice of tender, seasoned chicken or lamb & beef döner kebab, sliced and served over a bed of rice or stuffed in a warm pita with veggies and traditional Turkish sauces. Oh yeah, it's good.
With plenty of vegan, vegetarian, and gluten free options on the menu, Local Kebab is an incredible choice to cater all events. The aromas are enticing, each specialty is a feast for your eyes and a gift to your taste buds, and the service is as quick and friendly as can be. There's something good for everyone and your guests will thank you for this unique and delicious experience.
MUST TRY
Lamb & Beef Döner Kebab - their signature specialty that you can't stop craving
Book catering for your next event
Protected by our 100% Roaming Hunger Service Guarantee