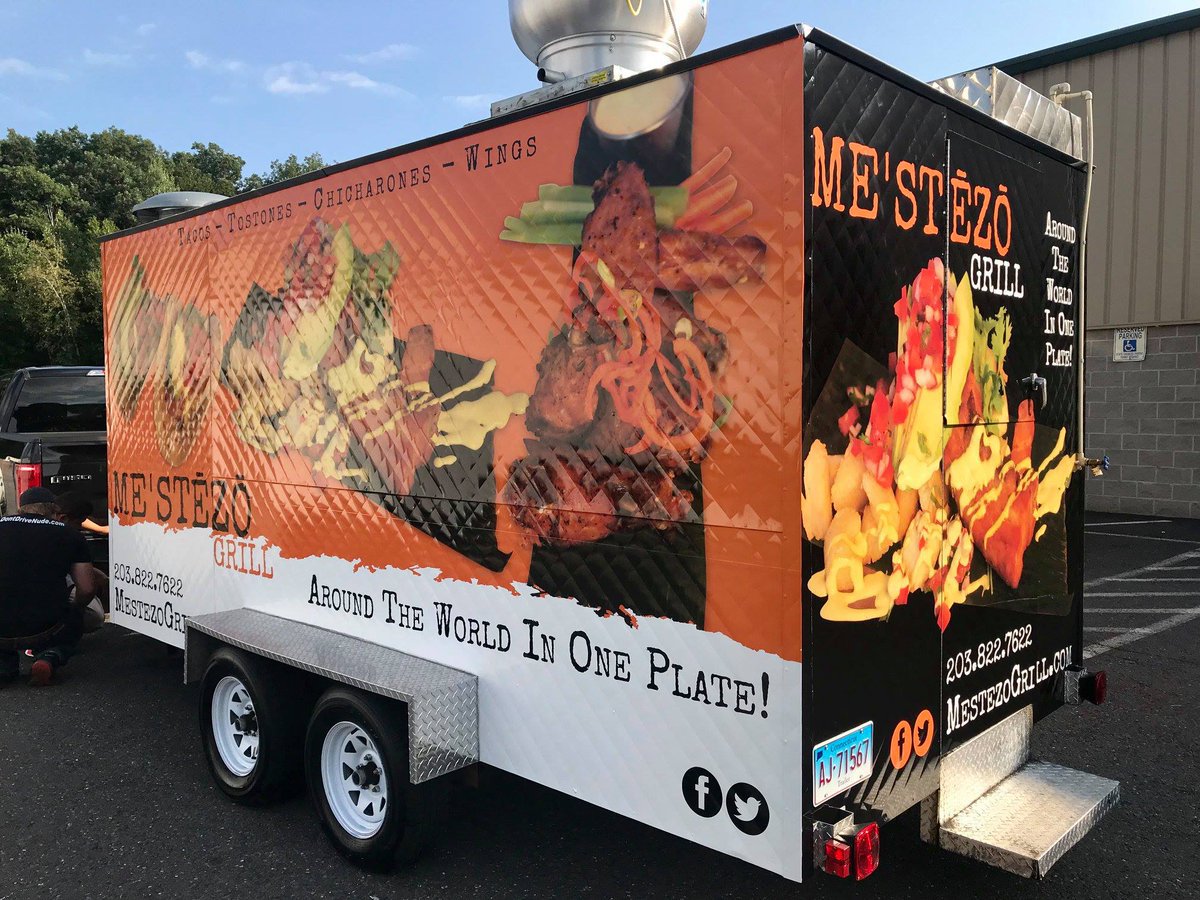 Me'stezo Grill
Trailer
Norwalk, CT
3+ Years

on Roaming Hunger
Food truck catering for your next event. Fast, easy and delicious. Book it here.
Get Started
Super Great For
Custom Menus
Fundraisers
Vegans & Vegetarians
Menu
Appetizers
Smoked Wings
Dry-rubbed wings with a side of white barbeque sauce
Chicharones
Crispy yucca, avocado, aji, and pico de gallo
Empanada
Stuffed with housemade black bean chili and cheddar cheese
Mix "n" Match Me'stēzō Tacos
Pork Belly Habanero Jam Tacos
Slow-roasted pork belly, sweet and spicy jam
Jerk Chicken Tacos
Jerk glazed chicken and green onion
Beef Brisket Tacos
Green mango papaya slaw and chipotle vinaigrette
Veggie Hash Tacos
Butternut squash, green plantains, corn
Chaufas - Family Style Fried Rice
Gallo Pinto Chaufa
Rice, black beans, sweet plantain, scallion, and cilantro fried rice
Peruvian Chaufa
Rice, peas, egg, scallion, cilantro, chicken, soy sauce,and aji marillo fried rice
Island Chaufa
Rice, peas, eff, scallion, cilantro, pork belly, soy sauce, and aji amarillo fried rice
Rice Bowls -
Rice Bowl
Individual sized meals: rice, beans, cheese, napa cabbage, aji amarillo, salsa, avocado and your choice of protein
About Me'stezo Grill
Me'stezo Grill is bringing a unique mix of eats to the streets of Norwalk, CT, the likes of which have never been seen before. That's because it's all coming to you from Chef Jon Flores, a chef that is dually inspired by heritage and a true love of good food. Thus, he created Me'stezo Grill's menu to feature tasty multicultural Latin fusion dishes.
The best part? It's all available to you on the go, out of a food truck roaming the streets in style. Here, you're getting Chef Jon Flores' unique creations, sure to tantalize your tastebuds and curb your hunger on the curb. Take, for example, his stacked tostones, featuring those fried delights loaded with such goodness as pork belly, shrimp, beef brisket and jerk chicken with rice, beans, a fried egg and pico de gallo. Or his twisted tacos topped with an exotic mix of meats and homemade hot sauces, jams and pickles. And honestly too much grilled goodness to list out here. You'll just have to find Me'stezo Grill in Norwalk, or hire 'em to cater your next event. Trust us. This is Chef Jon Flores we're talking about. He won't disappoint.
MUST TRY
Jonny's Nachos - a bed of crispy house made tortilla chips is loaded with black bean chili, napa cabbage, pico de gallo and sour cream for a flavor you won't soon forget
Book catering for your next event
Protected by our 100% Roaming Hunger Service Guarantee