Mezoco Mexican Taqueria
|
Top Caterer
Food Truck
Jersey City, NJ
Super Great For
On-Set Catering
Huge Events
Corporate Catering
Weddings
"...hand-held, tortilla hugged, splendor!" AZ
Gregory Cuoco
of
Mezoco Mexican Taqueria
Mezoco Mexican Taqueria Menu
Main
Carnitas (pork) Taco
Slow simmered pork shoulder with orange rind, cinnamon, garlic and herbs
Chipotle Crusted Steak Taco
Spicy chipotle crusted steak with honey lime glaze and tangy orange salsa
Chicken Tinga Taco
Spicy shredded chicken in a delicious sauce of tomatoes, jalapenos, and chipotles
Spicy Beef Taco
This is not your Old El Paso taco mix! Ground beef seasoned with garlic, onions, tomatoes and an amazing blend of spices. Definitely has a little kick, but you'll be coming back for seconds.
Chorizo Taco
Spicy chorizo (Mexican sausage) served with onions, cilantro, and house salsa
Quesadilla
Corn tortillas with our Mexican blend of cheeses topped with caramelized onions. Add any available taco filling you like! Served with salsa and crema
Burrito
Rice, beans, choice of meat, tomatoes, cheese, onions, cilantro, and salsa. A serious meal!
Cilantro Lime Chicken Taco
Chicken marinated in cilantro, lime, garlic and spices. Topped with salsa roja and chipotle crema
Roasted Veggies Taco
Roasted corn, zucchini, poblano peppers, and red peppers with just the right amount of our house spice blend
Tacos
All tacos made to order, served with onions, cilantro, salsa, and limes on the side. Additional toppings available to really load them up.
Blackened Mahi Mahi Taco
Delicious, meaty mahi mahi, blackened to perfection with our special spice mix and topped with fresh citrus slaw, tomatoes, and chipotle crema
Sides
Chips and Salsa
Guacamole
Fresh, vibrant guacamole served with our delicious homemade tortilla chips
Blackened Roasted Veggies
You've gotta eat your vegetables! A side of roasted veggies.
Past Catering Events
31 event organizers have booked Mezoco Mexican Taqueria using Roaming Hunger
On-Set Catering
January 2020 * Greenpoint, NY
100+ attendees
Wedding/Rehearsal Dinner Catering
June 2018 * New York, NY
160+ attendees
Other Catering
July 2018 * Far Hills, NJ
60+ attendees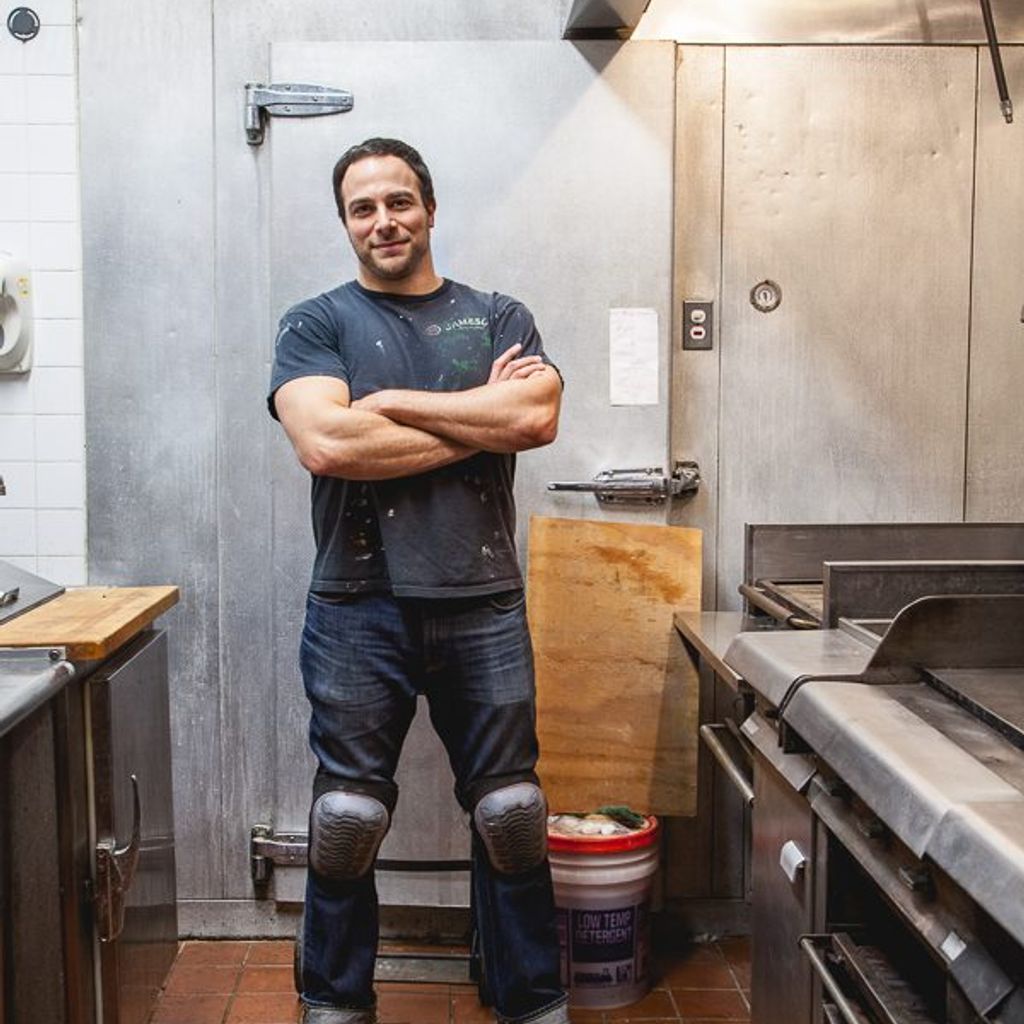 Meet Gregory Cuoco
What is the story behind your business' name?
We had been working on a name for months when a friend of our suggested combining my last name, Cuoco, with my wife's last name, Gomez and BOOM!!! There you have Mezoco.
About Mezoco Mexican Taqueria
Mezoco Mexican Taqueria is doing a very important service for hungry eaters in Jersey City and all of New York and Northern New Jersey. No longer chained to sitting in a restaurant, Mezoco Mexican Taqueria is a taqueria on wheels. We know, shocking right? This food truck, in our opinion, is doing Mexican food right, offering up authentic cuisine on the go. Just what sets Mezoco Mexican Taqueria apart from your regular old food truck? Simple. They're committed to using only the freshest quality ingredients, making everything from scratch and to order for your enjoyment. Yes, you read that right. With salsas made in house and all of their offerings being gluten free, this is Mexican food you can feel good about eating. Choose between tacos and quesadillas, and get ready to taste the difference in their gourmet meats. Chicken is marinated in zesty cilantro lime, while hearty steak stakes its flavor claim with spicy chipotle crusted on top. But that's not all. Here, they're serving mahi mahi and tofu on tacos as well as amazing traditional Mexican rice and the best black beans you've ever had. If all this sounds good to you, head on out to the streets of Jersey City. Either that or invite Mezoco Mexican Taqueria to cater your next fiesta. It's a surefire way to some spicy satisfaction. MUST TRY
Mezoco Bowl - a bowl full of goodness starts with traditional Mexican rice loaded with black beans and topped with your choice of chicken, carnitas, veggies or tofu
Frequently Asked Questions
Does Mezoco Mexican Taqueria do catering, and are they available on my date?
Yes, Mezoco Mexican Taqueria is registered for catering and/or vending events on Roaming Hunger. In terms of availability, we don't manage their calendar. The best way to find out if they're available is to fill out your event information and see if they respond.
Is Mezoco Mexican Taqueria available in my city?
Mezoco Mexican Taqueria serves Jersey City and surrounding areas. Keep in mind that for catering, they may add a travel fee if it's outside of their normal travel radius.
What type of food does Mezoco Mexican Taqueria serve?
Mezoco Mexican Taqueria serves the following cuisine types: Tacos, Mexican, Burgers, Savory, Vegetarian
What types of services (equipment) does Mezoco Mexican Taqueria have?
Mezoco Mexican Taqueria has the following types of services: Food Truck
Book catering for your next event
Protected by our 100% Roaming Hunger Service Guarantee