Moooseum Ice Cream
|
Preferred Caterer
Popup Catering, Food Truck
Houston, TX
Super Great For
Custom Menus
Indoor Events
Huge Events
Corporate Catering
Smile - everything is better with ice cream.
Danielle Forget Shield
of
Moooseum Ice Cream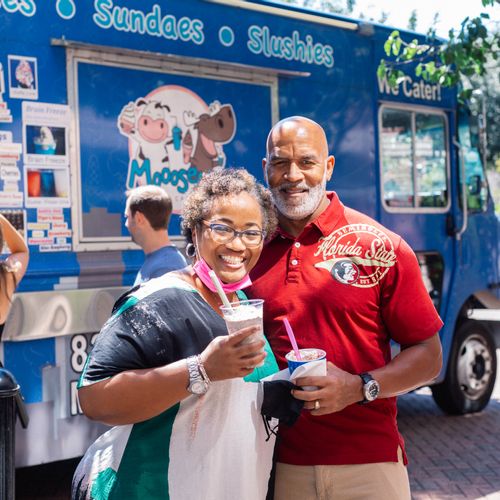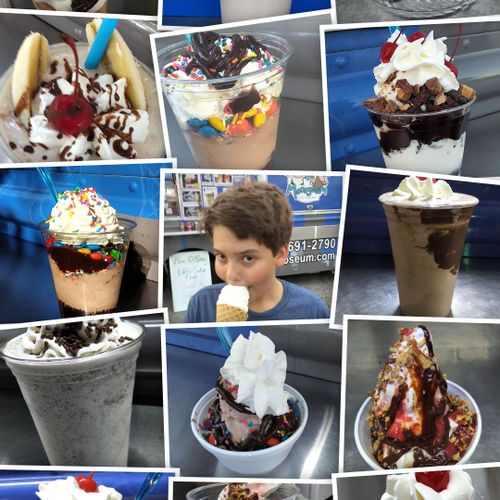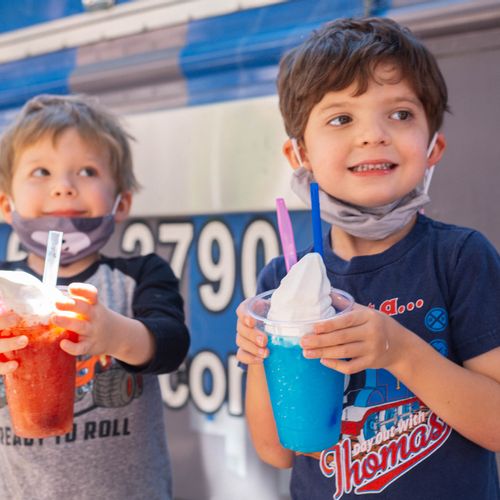 Moooseum Ice Cream Menu
Desserts
Cake Balls - choose 2
Choose up to 2 from our seasonal flavors that generally include Cookies & Cream, Birthday Cake, Red Velvet, Lemon, Strawberry, Chocolate, Vanilla, Italian Cream, and German Chocolate.
Banana Split
Our signature vanilla layered with bananas, Hot fudge, strawberry, and pineapple. Topped with pecans, whipped cream and a cherry. Customers come back regularly for our banana splits.
Waffle Cone
A generous portion of rich and creamy soft serve ice cream. Includes a topping. Ice cream flavors are vanilla, chocolate, or both twisted together. Top with rainbow or chocolate sprinkles.
Strawberry Shortcake
A strawberry lovers delight. Our signature vanilla on top of a warm sweet bread with lots of strawberries, whipped cream and a cherry.
Turtle Sundae
The roasted and salted pecans that we source from the TX Hill Country are why the Turtle Sundae is our owner's favorite treats. Our signature vanilla topped with Hot fudge, caramel & lots of pecans. Finished off with whipped cream and a cherry.
Milkshake
At Moooseum, you can choose whatever you want in your milkshake. That's why this is the #1 item we serve on the truck. A 20 ounce cup filled with a rich and creamy milkshake made from soft serve ice cream. Milkshakes are topped with whipped cream and a cherry. Milkshakes are made with choice of vanilla or chocolate ice cream with toppings blended in. Standard toppings include chopped Oreos, hot fudge, caramel, rainbow sprinkles, strawberry, pineapple, marshmallow topping, and chopped Reese's peanut butter cups, and chopped Girl Scout Thin Mint cookies. Additional toppings are available upon request.
Brain Freeze
20oz. slushie in any flavor with ice cream on top. When you can't decide between ice cream or a slushie, choose the Brain Freeze for a refreshing treat. This signature item is a fan favorite.
Ice Cream Cone
Choose from vanilla, chocolate or twist creamy soft serve ice cream. Choose sprinkles or dips. We generally have chocolate, cherry and peanut butter dip on the truck.
Frozen Banana
Frozen banana dipped in your choice of chocolate, cherry or peanut butter dip top. Other flavor dip tops can be requested prior to event. Bananas can also be coated in candy toppings.
Floats
Fans have noted on our facebook page that we have the best Root Beer Float in Houston. Our signature vanilla ice cream topped with an ice cold root beer or coke.
Fresh Fruit or Traditional Slushie
A frozen drink that refreshes immediately. Slushies are offered in fresh fruit such as lime, lemon, strawberry and pineapple, and flavors. We generally have cherry, blue raspberry, watermelon, mango, bubblegum, and tigers blood.
Sundae
Your choice of Vanilla, Chocolate or Twist soft serve with sauce and toppings of choice served in a 10oz dish. Choose from a wide variety of toppings such as Oreo, Hot Fudge, Strawberry, Pineapple, Nutella, Caramel, Peanut Butter, Rainbow Sprinkles, M&M's, Chocolate Sprinkles, Girl Scout Thin Mint Cookies and Reese's PB Cups.
Brownie Sundae
Our signature vanilla on top of a warm brownie, topped with hot fudge, pecans, whipped cream and a cherry. For a different twist, try it with caramel topping.
Ice Cream Dish
A generous portion of creamy soft serve ice cream in Vanilla, Chocolate or both twisted together. Includes toppings such as Oreos, Strawbery, Pineapple, Hot Fudge, Nutella, Girl Scout Thin Mint Cookies, M&M's, Rainbow Sprinkles, Caramel, Peanut Butter, Chocolate Sprinkles, and Reese's PB Cups.
Past Catering Events
21 event organizers have booked Moooseum Ice Cream using Roaming Hunger
Other Catering
February 2020 * Shenandoah, TX
120+ attendees
Other Catering
February 2020 * Shenandoah, TX
20+ attendees
Corporate Catering
August 2018 * Houston, TX
200+ attendees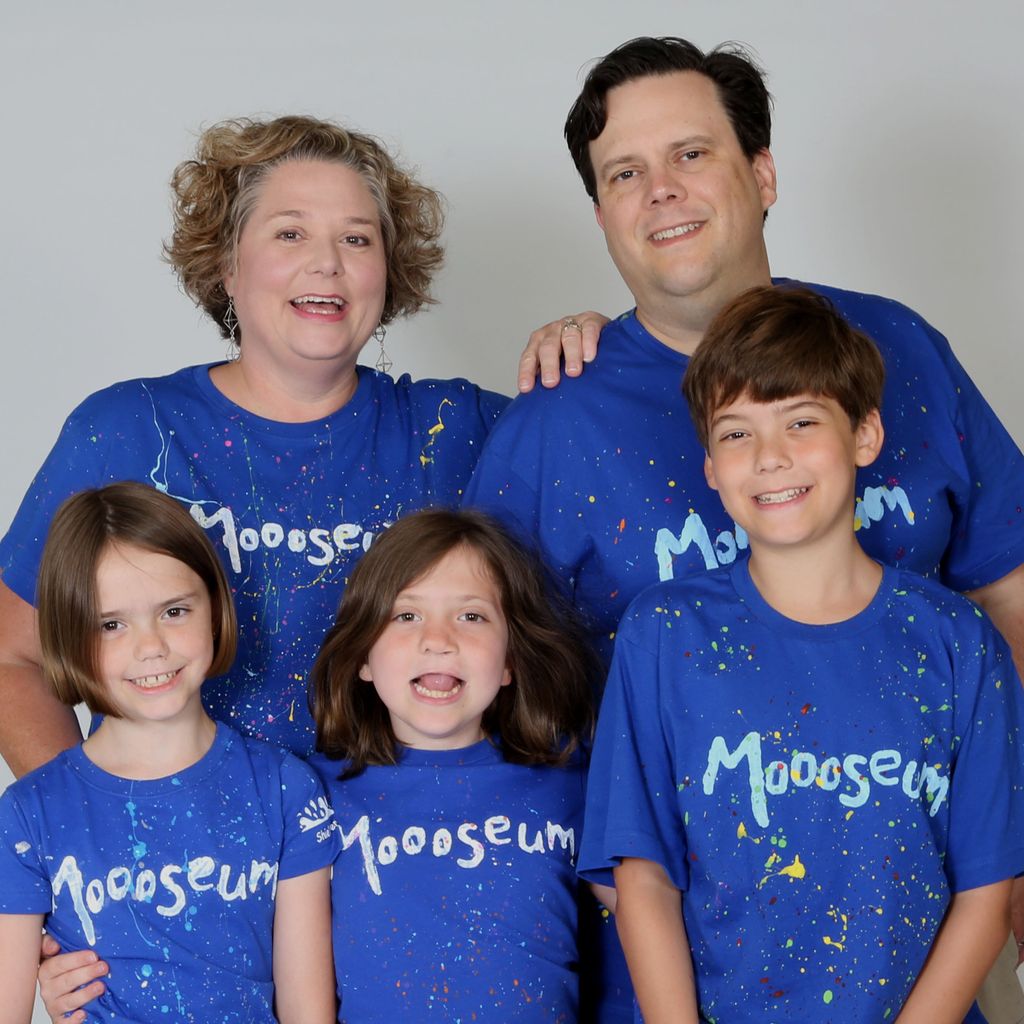 Meet Danielle Forget Shield
What is the story behind your business' name?
We started in Houston's Museum Area and it's where our truck lives. So, Moooseum is an homage to ice cream (mooo) and our area (museum.)
About Moooseum Ice Cream
Women Owned
Family Business
Mom & Pop Business
For the folks behind Moooseum Ice Cream, it's all about spreading joy. Since joy and ice cream are practically synonyms, they've has mastered the art of bringing joy to the streets of Houston with their selection of all-natural soft serve ice cream, topped with and dipped in all sorts of deliciousness. The Moooseum crew will happily serve you cones, sundaes, fresh fruit slushes, and brain freezes (a blissful mix of ice cream and slush) with your choice of sprinkles, fruit, candies, and more. For all this and much more, find Mooseum on the streets of Houston, or book them to spread the joy at your next event.
Frequently Asked Questions
Does Moooseum Ice Cream do catering, and are they available on my date?
Yes, Moooseum Ice Cream is registered for catering and/or vending events on Roaming Hunger. In terms of availability, we don't manage their calendar. The best way to find out if they're available is to fill out your event information and see if they respond.
Is Moooseum Ice Cream available in my city?
Moooseum Ice Cream serves Houston and surrounding areas. Keep in mind that for catering, they may add a travel fee if it's outside of their normal travel radius.
What type of food does Moooseum Ice Cream serve?
Moooseum Ice Cream serves the following cuisine types: Ice Cream, Frozen Treats, Sweet, Dessert
What types of services (equipment) does Moooseum Ice Cream have?
Moooseum Ice Cream has the following types of services: Pop-Up, Food Truck
Book catering for your next event
Protected by our 100% Roaming Hunger Service Guarantee