Neat Meat DC
Top Caterer
Full Service Catering, Food Truck
Washington DC, DC
Super Great For
Custom Menus
Huge Events
Corporate Catering
Vegans & Vegetarians
We know you will #enjoe!
Menu
Main
Stay Classy Joe
Ground beef brisket in our special tomato-based sauce
Joey Melt
Stay Classy Joe topped with honey caramelized onions and classic American cheese
Thanksgiving Joe
Pulled white and dark meat turkey Joe in light gravy, topped with fresh cranberry sauce
Club Joe
Pulled white and dark meat turkey Joe in light gravy, topped with spiced brown sugar bacon, lettuce, and tomato
El Jefe
Pulled spiced pork Joe in a Cerveza chipotle sauce, topped with a pineapple pickled onion relish and cotija cheese
Miso Joe
Vegan Joe full of tofu, eggplant, and button mushrooms, finished off with a spicy carrot slaw
PesJoe
Chopped Chicken Joe marinated in an Italian Pesto Sauce Topped with a Zesty Sundried Tomato Spread & Mozzarella Cheese
Irie Joe
Pulled Chicken Joe in an island inspired Jerk Sauce. Topped with a cool red cabbage mango slaw
It's All Greek to Joe
Ground lamb Joe filled with classic Greek flavors topped with feta, fresh cucumber, and pickled onions
Sides
Baked Beans
BBQ baked beans
Potato Salad
Baby red potato salad
Chips
Assortment of chips
Mac-N-Cheese
Cheesy homemade mac-n-cheese
Desserts
Joe Crispy Bar
Classic rice crispy treat with salty pretzels and gooey fudge brownies! This is one bar you won't have to study for!
Drinks
Lemonade
Sweet Tea
Joe's 50/50
Joe's 50/50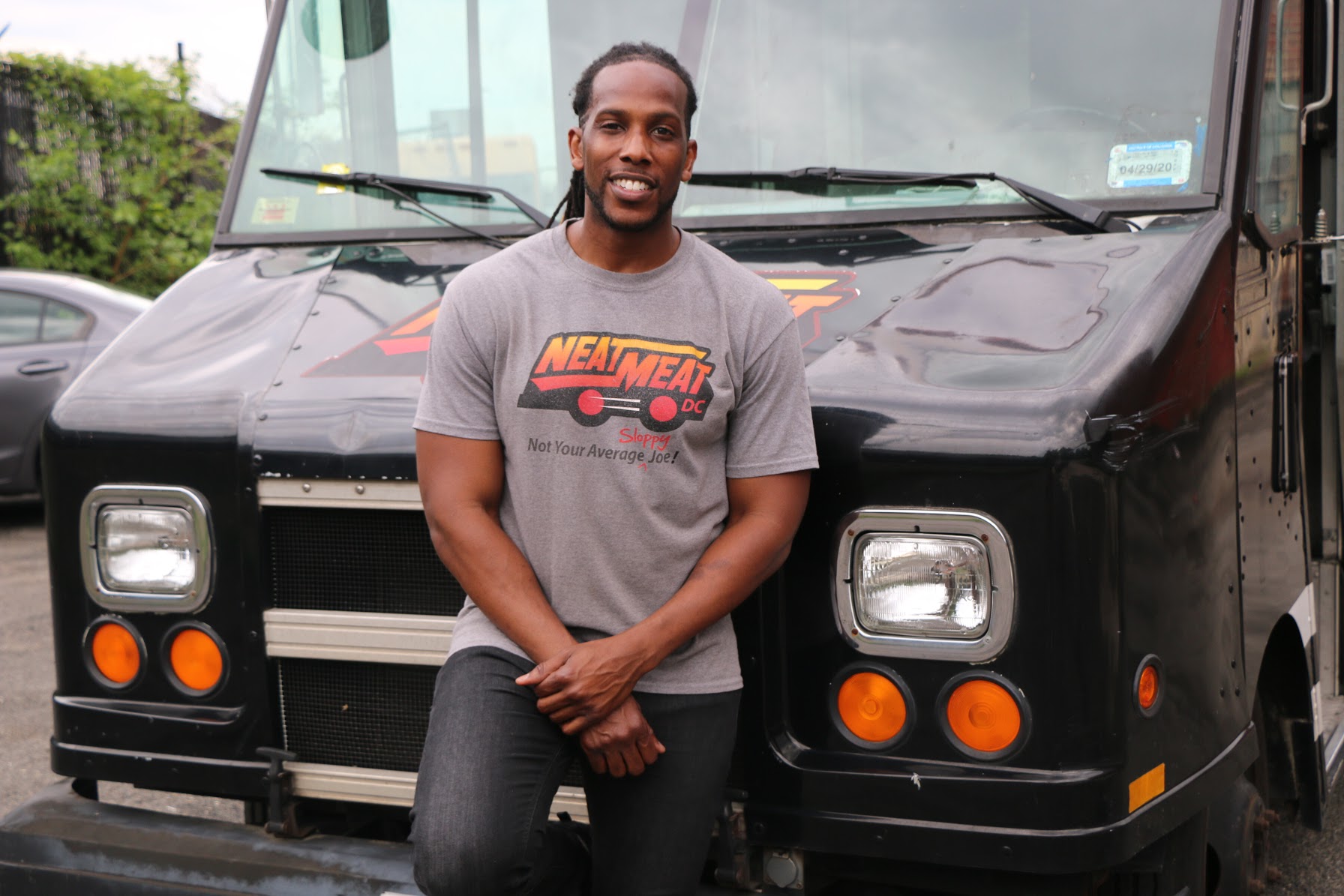 Meet Chef Joe
What is the story behind your business' name?
Neat encompasses our view of our sandwich varieties as far as orderliness, unique flavors, an overall positive dining experience.
About Neat Meat DC
Nnamdi Nwaneri and Na'Im Moses first met in law school back in 2017 where they instantly struck up a friendship. Nnamdi eventually told Na'Im a dream he had unrelated to his aspirations to become an attorney. He wanted to open up his very own restaurant serving gourmet takes on the sloppy joy. Rather than scoff at the notion, Na'Im thought this was an incredible idea. The pair spent the ensuing years learning anything and everything they could about the Washington DC food scene. After a few years of diligent planning, Neat Meat DC was born. Now, Nnamdi and Na'Im spend their days rolling across the city in their own food truck dishing out all things sloppy joe. The joes here aren't just made with the traditional ground beef. Instead, you'll find everything from pulled spice pork to ground lamb to well-seasoned tofu gracing these sammies. Enjoy some sweet-and-savory action by sinking your teeth into Joe Goes To Thanksgiving, a sloppy joe stuffed with ground turkey topped off with cranberry sauce. Enjoy some tropical flavor via a sandwich stuffed with pulled chicken smothered in jerk sauce. Don't forget a side to round out your meal, like a gooey serving of mac 'n cheese or some crispy, crunchy coleslaw. This is but a brief preview of the decadent options whipped up here, so you'll have to head on out and peruse the menu yourself. Or, bring all this straight to you by booking Neat Meat DC for your next event. A hearty spread of sammies is bound to be a crowd-pleaser. MUST TRY PesJoe — Chopped chicken marinated in a full-bodied Italian pesto topped off with mozzarella and sun-dried tomatoes.
Book catering for your next event
Protected by our 100% Roaming Hunger Service Guarantee