Nicky's Philly Cheese Steaks and Funnel Cakes
Top Caterer
Popup Catering
Riverside, CA
10 Months

on Roaming Hunger
Super Great For
Family Events
Huge Events
Fundraisers
Corporate Catering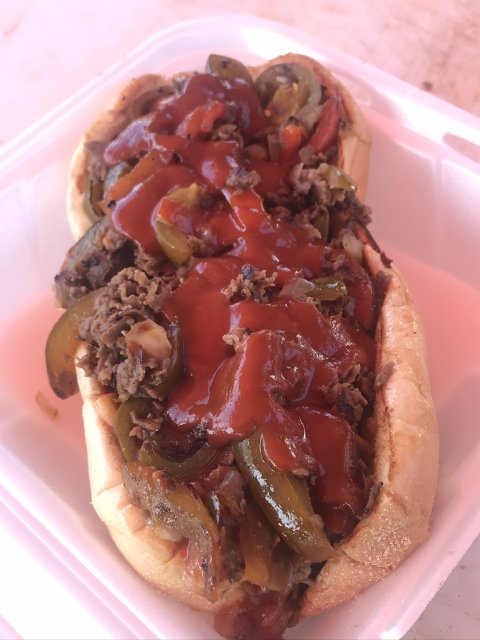 Menu
Fries
Philly Cheese Steak Fries
Fries topped with creamy cheese sauce, your choice of meat, grilled onions, and hot/sweet peppers
Garlic Fries
Cheese Fries
Fries topped with creamy cheese sauce
Regular Fries
Nachos
Loaded Philly Nachos
Chips topped with your choice of meat, creamy cheese sauce, grilled onions, and hot/sweet peppers
Nachos with Cheese Sauce
Hot Dogs
Philly Cheese Dog
A jumbo all-beef hot dog topped with grilled sirloin steak, white American cheese, grilled onions, and hot/sweet peppers
Hot Dog Combo
Served with fries and a drink
Jumbo All-Beef Hot Dog
Served with your choice of shredded cheese and grilled onions
Signature Philly Cheese Steaks
Authentic Philly Cheesesteak
Thin-sliced tri-tip sirloin, chopped on the grill, and served on a soft Italian roll with white American cheese, grilled onions, and hot/sweet peppers
BBQ Philly Cheesesteak
The classic Philly cheesesteak topped with smokey BBQ sauce
Buffalo Chicken Philly Cheesesteak
The classic Philly cheesesteak topped with Buffalo sauce
Bacon Philly Cheesesteak
The classic Philly with hickory-smoked bacon
Original Vegetarian Cheesesteak
Tacos
3 Philly Tacos
Your choice of meat, shredded cheese, grilled onions, cilantro, salsa, and hot/sweet peppers
Funnel Cake
Loaded Funnel Cake
Topped with powdered sugar, whip cream, fresh strawberries, and your choice of sauce
Original Funnel Cake
Topped with powdered sugar
About Nicky's Philly Cheese Steaks and Funnel Cakes
Nicky's Philly Cheese Steaks and Funnel Cakes is here to delight folks across Riverside, CA with a myriad of classic down-home fare. Using ingredients flown in straight from Philadelphia, the chefs here hand-craft dishes that bring a taste of the City of Brotherly Love straight to the Golden State.
Of course, you'll find the two eponymous items on the menu. You can sink your teeth into a classic philly or try one suited up with barbecue sauce. Enjoy an old-fashioned funnel cake sprinkled with powdered sugar or get one suited up with decadent toppings like fresh strawberries and caramel sauce. There are even vegetarian options, ensuring the meat-free don't go hungry. Sound enticing? Then delight your guests by booking Nicky's Philly Cheese Steaks and Funnel Cakes for your next event.
MUST TRY
Nicky's Philly Loaded Funnel Cake — A warm, flaky funnel cake piled sky-high with powdered sugar, strawberries, whipped cream, and your choice of strawberry, chocolate, caramel, or white chocolate drizzle.
Book catering for your next event
Protected by our 100% Roaming Hunger Service Guarantee