Pie Oh My Wood Fired
|
Popup Catering, Trailer, Food Truck
Jersey City, NJ
Super Great For
On-Set Catering
Huge Events
Corporate Catering
Weddings
Enjoy, it's hot! Just came out of the oven!
Jed
of
Pie Oh My Wood Fired
Pie Oh My Wood Fired Menu
Appetizers
Wings
Crispy, buffalo chicken wings
Meatball Slider
Delicious meatball in between a fresh baked slider bun
Main
Verde
Grandma's basil pesto, fresh mozzarella, pecorino Romano (not nuts)
Joey Pepperoni
Our Margherita topped with pepperoni and love
Sauzeeg
Sausage, peppers, onions
Arty
Aritchokes, pesto, mozzarella, best seller!
Richard Simmons
Roasted peppers, onions, artichokes, garlic, basil
Margherita
Plum tomato, fresh mozzarella, basil, olive oil, pecorino Romano
Tito
Vodka, sauce, fresh mozzarella, pecorino Romano
Specialty Pizza
Create Your Own Pasta
Guests choose the type of pasta that is cooked, tossed, and plated
Bianco
Ricotta impastata, garlic, basil
Sides
Specialty Salads
Choose one to be available on-site
Past Catering Events
13 event organizers have booked Pie Oh My Wood Fired using Roaming Hunger
On-Set Catering
January 2021 * null, NY
80+ attendees
Corporate Catering
February 2022 * Budd Lake, NJ
50+ attendees
Graduation Catering
May 2019 * Middletown, CT
50+ attendees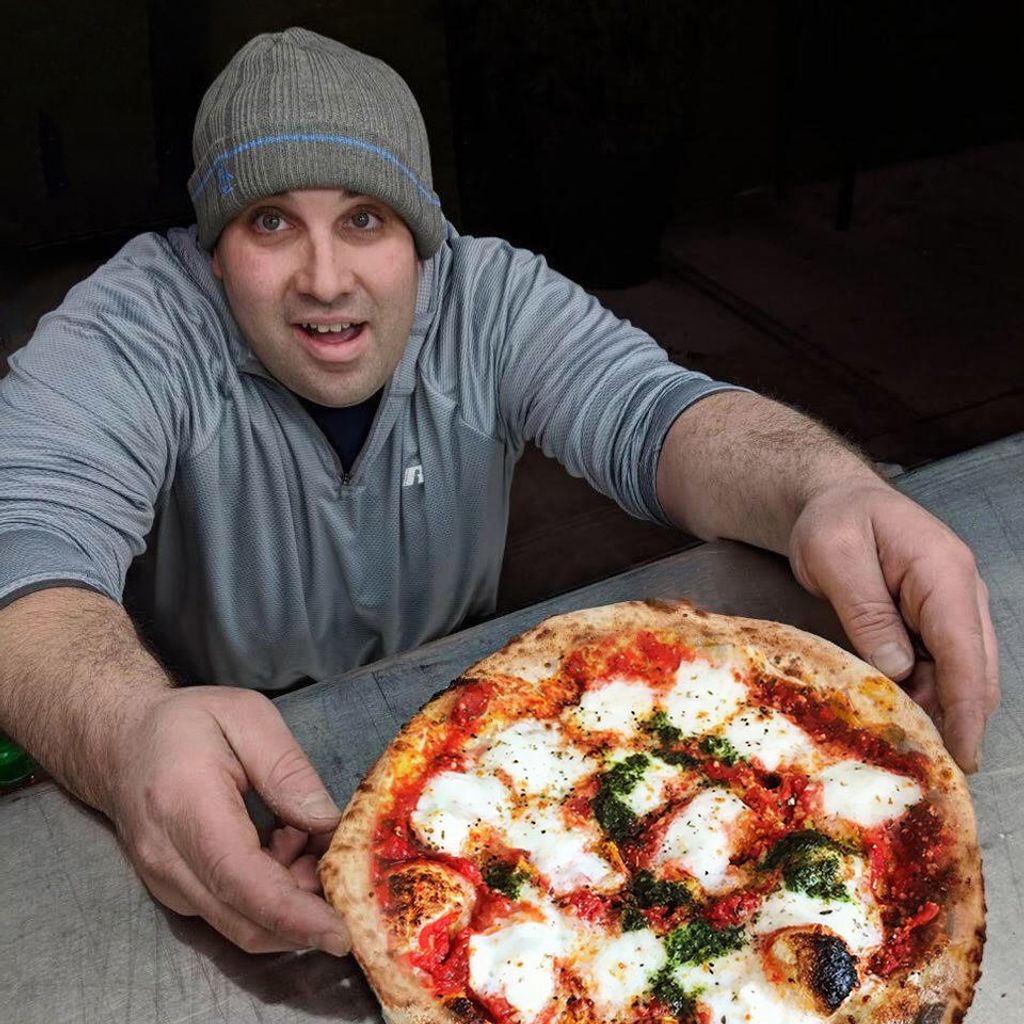 Meet Jed
What is the story behind your business' name?
I couldn't think of a name and my brother just shouted out "Pie Oh My!" and I loved it.
About Pie Oh My Wood Fired
Fresh, wood-fired pizza pie? Oh my! Let's be honest. When it comes to pizza, wood fired is pretty much the bee's knees of cooking methods. The high temperatures and short cooking times result in crisp-on-the-outside, chewy-on-the-inside crust plus bubbly, melty cheese. At Pie Oh My, not only is every pizza wood fired, they're all handmade using all-natural organic ingredients. When you bite into a slice here, you'll taste each and every ingredient individually for a delectable medley of flavor. Pizza aficionados across Jersey City need to stop by this food truck ASAP. If you're hankering for pizza, Pie Oh My sports a menu that'll please every palate. You have your standards like the margherita and the bianco. If you're feeling adventurous, however, there are plenty of specialty pizzas worth sampling. Shrimp scampi in pizza form? A pizza smothered in smoked salmon? Yes, please. And for dessert? Who can say no the decadent wonder of tiramisu or a cannoli? If you're in need of a crowd-pleasing vendor, book with Pie Oh My. No one fails to enjoy a pizza party, so guests are sure to love it. MUST TRY The Margherita - The classic medley of tomato, mozzarella, basil, and olive oil made with quality ingredients that bring out all that robust taste.
Frequently Asked Questions
Does Pie Oh My Wood Fired do catering, and are they available on my date?
Yes, Pie Oh My Wood Fired is registered for catering and/or vending events on Roaming Hunger. In terms of availability, we don't manage their calendar. The best way to find out if they're available is to fill out your event information and see if they respond.
Is Pie Oh My Wood Fired available in my city?
Pie Oh My Wood Fired serves Jersey City and surrounding areas. Keep in mind that for catering, they may add a travel fee if it's outside of their normal travel radius.
What type of food does Pie Oh My Wood Fired serve?
Pie Oh My Wood Fired serves the following cuisine types: Pizza, Pasta, Savory, Vegetarian
What types of services (equipment) does Pie Oh My Wood Fired have?
Pie Oh My Wood Fired has the following types of services: Pop-Up, Trailer, Food Truck
Book catering for your next event
Protected by our 100% Roaming Hunger Service Guarantee