Rhody Roots
Popup Catering
Providence, RI
3+ Years

on Roaming Hunger
Food truck catering for your next event. Fast, easy and delicious. Book it here.
Get Started
Super Great For
Family Events
Huge Events
Vegans & Vegetarians
Weddings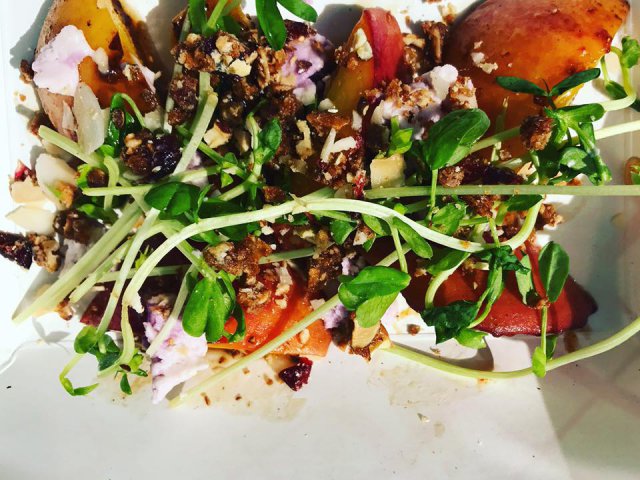 Menu
Appetizers
Grilled Peaches
Tossed in agave topped w/ blueberry goat cheese, cinnamon, popped quinoa & pea shoots (gf/v)
Sweet Potato Hash
Roasted sweet potato, caramelized onion & kale with a spiced drizzle topped with a fried quail egg (gf/v)
Curd you Dare?
Fresh made citrus curd topped with a spicy bacon crumble & dusted with salty pistachios
Spicy Carrots
Roasted carrots with honey ginger tahini cream, a shaved pickled fennel salad, chives & pistachios (gf/v)
Autumn Sprouts
Sautéed brussel sprouts, crisp apples & dried cranberries topped with crumbled bacon & pecans (gf/v)
Squash It
Delicata squash, apples, maple oat crumble. salted caramel & pea shoots (gf/v)
Main
Beet It Salad
Roasted seasonal beets, greens, oranges, candied walnut goat cheese, popped quinoa, and house dressing
Grilled Cheese
Gooey gouda cheese on grilled multigrain (gf)
Thanksgiving
Farm fresh roasted turkey, homemade stuffing & cranberry sauce served on a slider bun
Meatless Buffalo
Cauliflower based patty topped with buffalo, ranch, greens, tomato & onion on a slider bun (gf/v)
Green Goddess
Apples, cucumber, sprouts, crispy marinated tofu, homemade green herbed hummus on multigrain (gf/v)
Chicken Salad
Regular or Buffalo chicken salad served with lettuce, tomato & onion
Braised Short Rib Slider (1)
Pickled radish, shaved local cheese, and sun dried tomato spread with a kick
The Tastiest Turkey
Cold fresh braised turkey with a sweet jalapeno cranberry relish, gouda cheese, apples, greens and honey mustard.
Jerked Duck Taco
Confit duck with a jerk seasoning , scallion aioli and a jicama slaw (gf)
Lobstah Salad
Fresh cold lobster with a lemon tarragon aioli and a jicama slaw
About Rhody Roots
Rhody Roots is giving Providence a higher class of street food, one delicious stop at a time. Inventive specialties are doled out by the beloved Chef Lou, with over 15 years experience cooking in some of Rhode Island's finest institutions. He specializes in healthy and hearty forms that'll fill you up without ever weighing you down. From sandwiches to salads to rotating specials, everything here is sourced ethically, and whenever possible, locally, feeding the best of Providence with the best of Providence. Even vegan and gluten-free diners have a bounty of beautiful options waiting. Check out Rhody Roots to get a taste of it all for yourself, or even better, book them yourself to share it with your friends. Weddings, festivals, business lunches, movie nights...he's done it all and he's done them best. Even on the move, these roots run deep and they connect you straight to bliss every time you visit. MUST TRY
Meatless Buffalo Sandwich
- A Buffalo cauliflower sandwich topped off by greens and heirloom tomato on a multigrain bun, giving you the fiery taste you want with none of the fiery guilt.
Sweet Potato Hash - A fried quail egg envelops roasted sweet potato, caramelized onion and Tuscan kale finished with Cajun seasoning.
Book catering for your next event
Protected by our 100% Roaming Hunger Service Guarantee