Smashed Eats
Food Truck
Memphis, TN
20 Months

on Roaming Hunger
Food truck catering for your next event. Fast, easy and delicious. Book it here.
Get Started
Super Great For
On-Set Catering
Family Events
Smaller Spaces
Corporate Catering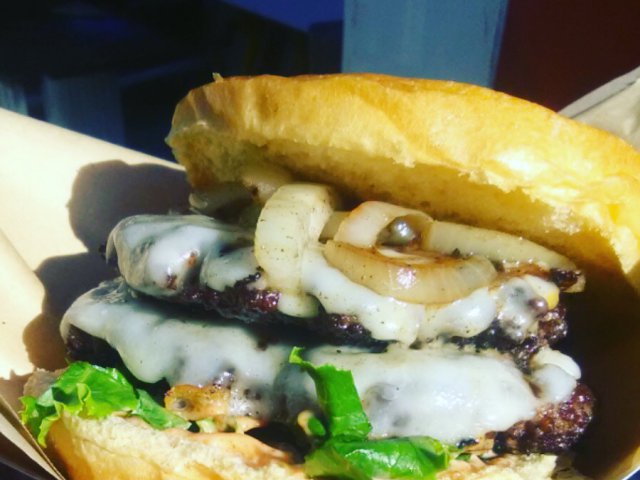 Menu
Main
Chipotle Jack Burger
With caramelized onions, pepperjack/cheddar, and chipotle aioli
Southwest Chicken Panini with Fries
Grilled seasoned chicken, melted cheese, grilled red peppers, avocado, and a southwest aioli
Gouda Mac
Three cheese cheesy mac topped with smoked brisket
Spicy Fried Chicken Mac
Spicy mac & cheese with seasoned fried chicken bites
Fried Bird
Marinated chicken, fried and seasoned on a brioche bun w/lettuce shreds, & gochujang aioli.
Smashburger
Double beef patty, white/yellow cheddar, grilled onions, & smoked/seasoned aioli on a brioche bun
Blazin Cailiflower
Buffalo Cauliflower served with ranch & celery/carrots
Brisket Melt
Smoked brisket on buttered Texas toast, grilled onions, Gouda, & a smoked & seasoned aioli
Chicken Quesadilla
Grilled chicken, peppers, cheese served w/salsa
Smashburger
Two all beef patties, lettuce, double cheddar (white/yellow), caramelized onions, a smoked & seasoned aioli
Beef Tacos (3)
Seasoned ground beef, lettuce, cheese, pico
Beef BBQ Sandwich
Slow, Smoked bbq brisket & a house made bbq slaw.
901 Hash
Grilled and perfectly seasoned potatoes, diced and grilled peppers & onions, cheese, topped w/our signature smoked brisket.
Grilled Chicken Tacos
Grilled chicken, cheese, lettuce, pico, verde on side
Smoked BBQ Chicken Sandwich
Juicy, smoked chopped bbq chicken, served w/ chips.
Smoked BBQ Chicken Sandwich
Juicy, smoked chopped bbq chicken, served w/ chips.
Smoked Sausage
Fried and grilled smoked Sausage, w/cheddar, slaw, and chili.
Beef Taco
(3)Flavorful beef taco, lettuce, cheese, tomatoes, sauce on side. Hard shell or soft. Served w/refried beans and Spanish rice.
Chicken Tacos
(3)grilled chicken tacos, lettuce, pico, cheese. Served w/refried beans and Spanish rice.
Veggie Tacos
(3)Fajita Black Beans, lettuce, cheese, pico, avocado. Served w/refried beans and Spanish rice.
Harvest Sandwich
Dresses arugula, cucumber slices, tomatoes, red onions, avocado, herbed vegan aioli, grilled tempeh.
Plantchos
Tortilla chips, lettuce, vegan queso, flavorful pintos, black beans, pico, meatless grounds.
Spiced Grilled Cheese
Buttery, toasted bread(vegan), beefsteak tomatoes, spinach, vegan cheddar.
Blackened Salmon Tacos
Blackened salmon on a flour tortilla w/ lettuce, avocado salsa, creama
Sides
Fire Rings
Onion rings fried in a spicy season mix and served with sriracha ketchup
Veggie Rollup
Peppers, jack, spicy cheddar, black beans, butternut squash, and spiced tempeh fried in a tortilla
Fries
Hand-cut french fries
Chips
Plain Lays/Plain Ruffles or similar variety
About Smashed Eats
Smashed Eats is smashing expectations in Memphis, TN, serving street food that's a cut above the rest. This dynamic husband and wife team were so driven by their love of food that they decided to make a business of it, making homemade meals available on the go via food truck.
To much success, we might add. That's because they're committed to sharing their family recipes, making everything using the highest quality ingredients around. Sink your teeth into their ginormous mac and cheese burger with crispy bacon strips, or bite into their crispy taco shells encasing a whole lotta meat. The best part? At Smashed Eats, you're able to enjoy any of these meals plus breakfast, any time of day, so you always have a whole lot of deliciousness to look forward to. So why wait? Find Smashed Eats in Memphis, or have 'em out to cater your next event. You won't be disappointed.
MUST TRY
Fried Green Tomato BLT - the classic gets a gourmet upgrade with fried juicy slices of green tomato topped with lettuce, crispy bacon strips and avocado. Can you say yum?
Upcoming Locations
No upcoming events currently listed.
Book catering for your next event
Protected by our 120% Roaming Hunger Service Guarantee