Tailgater44
Top Caterer
Food Truck
Sacramento, CA
3+ Years

on Roaming Hunger
Super Great For
Custom Menus
Fundraisers
Corporate Catering
Weddings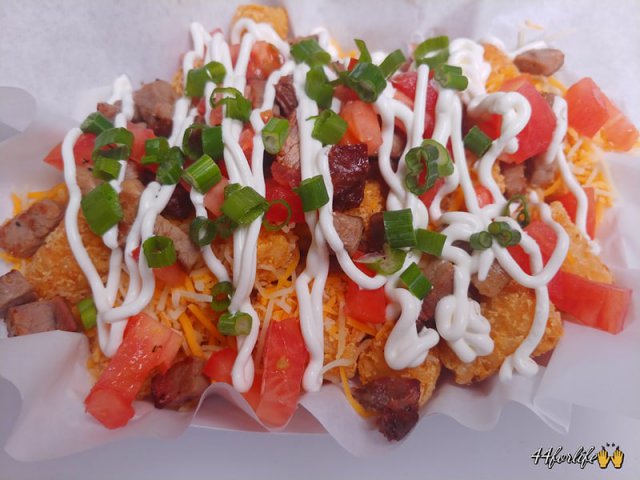 Menu
Appetizers
Wing-T
Original Adobo Marinated chicken wings (Filipino style) fried crispy outside with a rich tendered flavor inside.
QB Option
Traditional Filipino Shanghai Lumpia with ground pork with assorted minced vegetables fried to a crispy golden brown and served with a sweet chili sauce.
Onion Rings
Beer battered Golden delicious
Main
Touchdown
TG44 #1 selling sandwich: Marinated Smoked Tri-tip with grilled onions, Garlic Aioli in a Bolillio Roll
Pork Banh Mi Bowl
Grilled marinated sweet/spicy Pork with Banh Mi salad tossed in an Asian dressing and a side of Jasmine Rice.
Tri-Tip Totachos
Crispy Tater Tots topped with two types of cheese, signature tri-tip, roma tomatoes, sour cream and chives
Angus (Cheese)Burger
Angus burger (with Colby Jack or Pepper Jack if desired) and produce (Lettuce, tomato and/or butter pickle)
Turkey Burger
with produce (Lettuce, tomato and/or butter pickle)
Grilled smoked kielbasa sausage
with deli mustard, sliced kosher pickle and grilled onions
GOURMET CHICKEN BOWL
Grilled marinated boneless skinless chicken with steamed rice topped with sesame seeds superbowl food
BBQ Filipino Chicken
BBQ Filipino chicken in award winning gourmet sauce
Korean BBQ Short Ribs
Sliced shorts marinated in tangy teriyaki based sauce and grilled to perfection
Asian Grilled Chicken Sandwich
Marinated grilled Filipino Asian burger
Bahn Mi Fries
Crinkled Fries topped layered with Korean Mayo, Grilled Bahn Mi Pork, Asian Slaw (cucumbers, carrots, green onions and daikon) topped with a Spicy Korean BBQ sauce.
TG44 Plate Special
Choice of grilled chicken or pork with vegetable pancit (rice noodles), steamed rice and 3pcs. of shanghai lumpia (pork)
tg44 chicken sandwich
Grilled marinated chicken with TG44 sauce ,tomato, lettuce, spicy bbq sauce, on a brioche bun with fries!
Superbowl plus
Grilled marinated chicken over vegetable PANCIT
Sides
Baked Beans
Baked Potato Casserole
Twice baked potato casserole
Tater Tots
Crispy and golden.
Caesar Salad
romaine lettuce, croutons, parmesan cheese and caesar dressing.
Brisket Baked Beans
Spring Salad
with croutons and vinaigrette dressing
Mac n Cheese
Hawaiian Macaroni Salad
Pancit
Rice Noodles w/fresh vegetables
Shanghai Lumpia
Ground pork and mixed vegetables wrapped in a lite pastry and deep fried
steamed rice
Crinkle Fries
Golden delicious crinkle fries
Onion Rings
Beer battered golden onion rings
Desserts
Turon (Banana Lumia)
Plantain, Jack Fruit, butter and brown sugar wrapped in a Lumpia wrapper topped with powdered sugar
About Tailgater44
Tailgater44 serves tailgate inspired food with an authentic Filipino twist. This popular food truck is owned and operated by a loving family that shares a passion for serving the Sacramento communities. They touch down all over town to serve authentic homestyle recipes including crispy Filipino Adobo wings, Lumpia (Filipino spring rolls), chicken teriyaki rice bowls, smoked sausage sandwiches, and their famous "Sauceless" tri tip. This beef is smoked for over 10 hours and is so perfectly seasoned, marinated and juicy, no sauce is needed.
Oh boy, does Tailgater44 serve some tasty grub. Just ask the locals and everyone will tell you how phenomenal the food and service is at Tailgater44. Good thing it's so easy to find them serving a curbside or festival near you. Weddings, craft breweries, corporate events, the list could go on. They're a hit everywhere they go. If you want to bring these wonderful Filipino flavors to your own party, book Tailgater44 to cater. Your guests will thank you with mouths full.
MUST TRY
Grilled Honey Spiced Chicken — Boneless, skinless, and oh so delicious.
Book catering for your next event
Protected by our 100% Roaming Hunger Service Guarantee