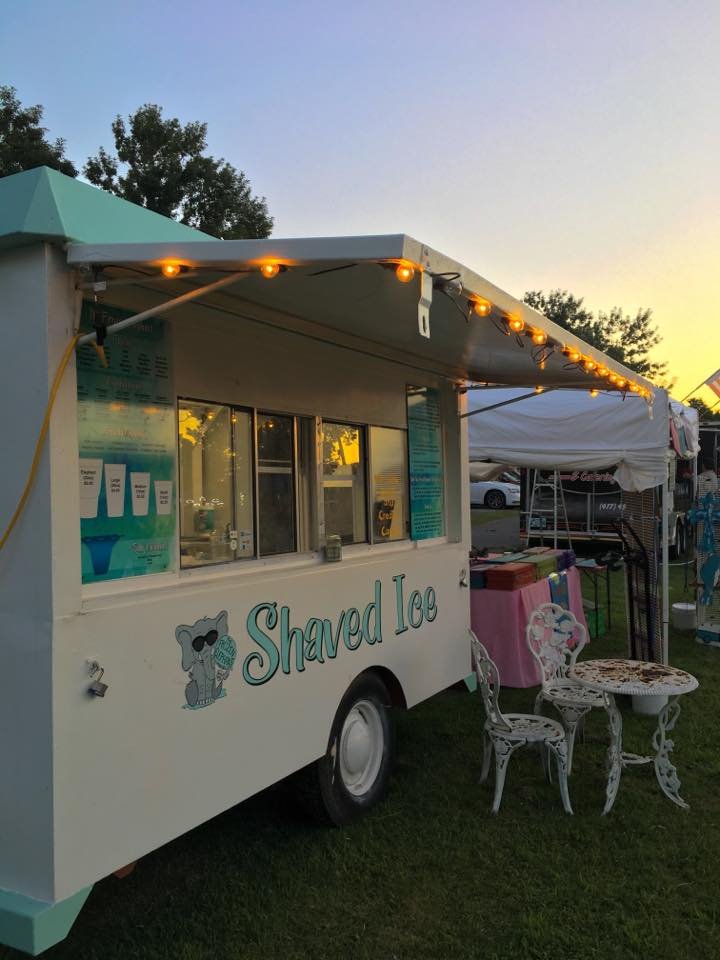 The Frozen Elephant
Trailer
Stillwater, OK
2+ Years

on Roaming Hunger
Food truck catering for your next event. Fast, easy and delicious. Book it here.
Get Started
Menu
Flavors
Tiger's Blood
Fan favorite blend of watermelon, strawberry & a hint of coconut!
Pineapple
Much like the tropical fruit our pineapple is perfectly tart and sweet!
Silver Fox
A sweet mixture of vanilla and coconut that's bound to have you hooked!
Bahama Mama
A different take on the fruity piña colada but the sweet taste and attractive color will have you hearing waves..
Banana
B is for Bananas - B.A.N.A.N.A.S
Blue Cotton Candy
As one of the sweetest flavors on the menu, our delectable Blue Cotton Candy is guaranteed to satisfy your sugar craving!
Blue Raspberry
An excellently simple flavor that one can't resist
Blueberry
Bold and refreshing is the way to describe, not only the flavor, but the appearance of our BLUEberry.
Cherry
Perfectly delicious! One spoon of our bold Cherry will have your mouth-watering.
Coconut
Rich, sweet, creamy coconut.
Daiquiri
A refreshing blast of citrus with a hint of mint.
Grape
Loyal and true, you wont be disappointed with our sweet grape.
Green Apple
Wonderfully tart and sweet - add a little sour spray for lip puckering fun!
Kiwi
As sweet and tasty as the real thing, just without the seeds.
Lime
Delicate and delicious, our lime isn't tart; however, you can request fresh lime for your own Salty Frog.
Mango
Bright, delicious and crave-able! Tango anyone?
Birthday Cake
As a sweet tooth satisfier, it's everything you want of a birthday cake, even optional sprinkles!
Guava
The ice will be soft and the flavor will sure to be sweet. You are going to love our guava!
Orange
Beautiful color and a ripe taste, you can't go wrong with this staple.
Peach
Soft in texture and fresh in flavor, as if you plucked one off a tree yourself.
Piña Colada
If you listen closely you can hear the waves .... of people lining up to order this fantastically creamy flavor.
Pink Lemonade
Not a fan of the overwhelmingly sweet? Give pink lemonade a try for a refreshing, summer-time getaway.
Strawberry
Imagine eating a fresh, frozen strawberry only much softer, light and without the seeds.
Vanilla
A crowd-favorite mixer, our authentic vanilla is rich and delicious.
Watermelon
Consistently sweet and delicious. Plus you never have to worry about eating a seed!
Wedding Cake
Resembling most to a Wal-Mart sugar cookie, each bite gets more and more delectable.
Combinations
Barney
Grape, Blueberry, Green Apple
Bananaberry
Banana & Strawberry
Blood Monkey
Banana & Tigers Blood
Cake By The Ocean
Birthday Cake & Wedding Cake
Casper
Vanilla & Hint of Grape
Cherry Limeade
Cherry, Lime & Daiquiri
Creamsicle
Orange & Vanilla
Earth
Blue Raspberry & Green Apple
Frozen Fusion
Banana & Blue Cotton Candy
Fruit Fusion
Strawberry, Kiwi & Watermelon
Let's Tango
Tigers Blood & Mango
Maui
Strawberry, Mango & Piña Colada
Miami Tornado
Mango & Guava
Mickey Mouse
Cherry, Banana & Vanilla
Ocean Freeze
Blue Cotton Candy & Silver Fox
Oh Baby!
Pineapple & Blue Raspberry
Okie Sunset
Strawberry, Peach & Orange
Peachberry
Peach & Strawberry
Pineango
Pineapple & Mango
Pink Raspberry
Pink Lemonade & Blue Raspberry
Rainbow
Any choice of RED BLUE GREEN
Rock N' Roll
Grape, Blueberry & Blue Raspberry
Smurfette
Blue Raspberry & Blue Cotton Candy
Star Wars
Blueberry & Vanilla
Starburst
Cherry, Strawberry & Orange
Strawberry Daiquiri
Strawberry & Daiquiri
Strawberry Shortcake
Strawberry & Vanilla
Sweet-Tart
Grape & Pink Lemonade
Tongue Twister
Green Apple & Watermelon
Wardog
Blue Raspberry & Silver Fox
About The Frozen Elephant
Eli Chenoweth has been an entrepreneur since his teenage years, opening up The Frozen Elephant when he was only 15. Named after an elephant statue he kept at his former flea market booth, this shaved ice trailer is now a staple for residents across the four state area hankering for a cool, sweet treat. Shaved ice is a perennial favorite of the dessert world due in no small part to its light, fluffy texture. This allows it to thoroughly sap up flavored syrups, resulting in a sweet taste you won't get from a run-of-the-mill snow cone. The melt in your mouth sensations sold here come in a wide array of flavors you can mix and match. Either create your own concoction or try one of the custom blends like a delicate medley of peach and strawberry or the saccharine taste of birthday and wedding cake combined. Sound delicious? Then we've got good news. The Frozen Elephant caters, so feel free to book 'em for your next event. A shaved ice dessert table? Sounds like a winner to us. MUST TRY Northern Lights — A tart mix of blue raspberry, sour apple, and sour cherry.
Book catering for your next event
Protected by our 100% Roaming Hunger Service Guarantee