Top Caterer
Popup Catering
Portland, OR
Super Great For
Huge Events
Corporate Catering
Vegans & Vegetarians
Weddings
The Local Grind Menu
Main
Vegan Jack Fruit
We prepare and shred our jack fruit in a traditional kalua style so good meat lovers would never know and vegans rave about the flavor.
Grilled Chicken Teriyaki
Marinated in our house Teriyaki and grilled to perfection.
Grilled Teriyaki Tofu
Fresh extra firm tofu marinated in our house Teriyaki and grilled with a perfect sear.
Shredded Garlic Ginger Chicken
Simmered with our blend of spices, garlic, ginger and lemon then shredded to mouth watering bites.
Traditional Kalua Pork
Prepared with traditional Kalua spices and slow cooked to melt in your mouth.
TLG Original Plate Buffet Style
Plate includes your choice of meat, white or brown rice and our signature macaroni salad.
Sides
TLG Signature Macaroni Salad
Our Customer favorite, Creamy and delicious with house blend seasonings. Dubbed "crackaroni" by our fans.
SueChef Kimchi
Locally made kimchi, spiced and aged to perfection.
Yakisoba Noodles
Our locally hand made noodles tossed with our TLG house sauce and veggies.
Sauteed Vegetables
Medley of Sauteed Veggies in our TLG house made sauce.
Grilled Teriyaki Pineapple
Fresh pineapple spears marinated in our house Teriyaki Sauce and grilled to perfection.
Mixed Greens
Hand Selection of mixed greens with cabbage and carrots, served with our sesame & ginger dressing.
Hawaiian Style Kettle Chips
Real potatoes sliced and slow cooked in the old Hawaiian tradition in a select blend of oils for a crispy, crunchy potato chip.
Hawaiian Sweet Rolls
Soft with just a hint of sweet, these are a perfect accompaniment to your bowl or pop it open and make you own slider.
Catering Packages
The Local Grind has 2 public catering package(s) and can also offer custom catering packages. Pricing will depend on the event date, number of eaters, travel distance, and other factors such as tax.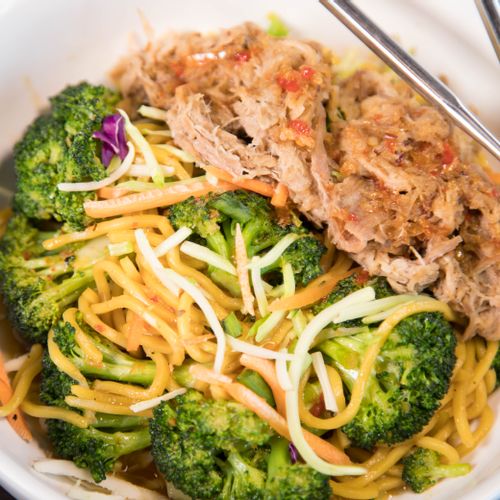 Bento Bowls (vegan and gluten free items added on request)
Each guest will receive a bowl with their choice of mains, sides and beverage.
Bento Bowls- Main: Grilled Chicken Teriyaki, Shredded Garlic Ginger Chicken, Traditional Kalua Pork
Side: Brown or White Rice, TLG Signature Macaroni Salad, Sauteed Veggies in TLG house sauce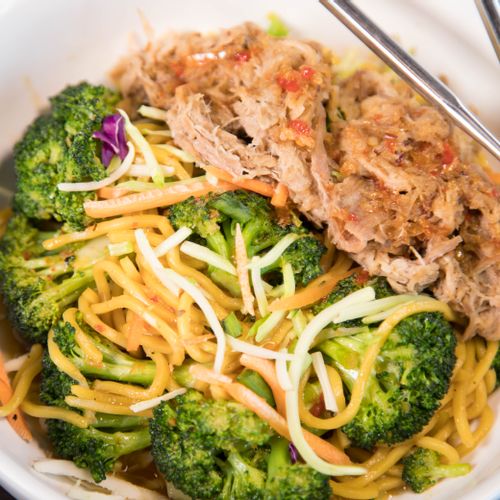 Island Breakfast Pacakge
Guests are allowed to choose one option
Breakfast Burritos: The Bacon Burrito, The Hawaiian Burrito, The Veggie Burrito
Breakfast Bowls: El Portugues, The Hawaiian
Past Catering Events
32 event organizers have booked The Local Grind using Roaming Hunger
Birthday Catering
July 2019 * Portland, OR
80+ attendees
Corporate Catering
July 2018 * Clackamas, OR
150+ attendees
Marketing Event Catering
December 2020 * Portland, OR
80+ attendees
About The Local Grind
The Local Grind is bringin' a little taste of the islands to Portland, OR. The cart has become a local staple for their primo Island style BBQ, so if you haven't gotten on board yet, now's the time. Their catering is going buffet style, so choose from any of their different types of chicken (like teriyaki and garlic honey), kalua pork, beef, and tofu alongside their homemade macaroni salad (a dish so popular that TLG fans have dubbed it "crackaroni"). Really, it's all good at The Local Grind, so why wait? Find 'em in Portland, or have 'em out to cater your next event. They won't disappoint. MUST TRY Garlic Honey Chicken — Chicken marinated overnight in a blend of fresh garlic, honey, and sesame
Frequently Asked Questions
Does The Local Grind do catering, and are they available on my date?
Yes, The Local Grind is registered for catering and/or vending events on Roaming Hunger. In terms of availability, we don't manage their calendar. The best way to find out if they're available is to fill out your event information and see if they respond.
Is The Local Grind available in my city?
The Local Grind serves Portland and surrounding areas. Keep in mind that for catering, they may add a travel fee if it's outside of their normal travel radius.
What type of food does The Local Grind serve?
The Local Grind serves the following cuisine types: Hawaiian, Asian Fusion, Bowls, Savory
What types of services (equipment) does The Local Grind have?
The Local Grind has the following types of services: Pop-Up
Book catering for your next event
Protected by our 100% Roaming Hunger Service Guarantee