The Lunch Bag
Top Caterer
Food Truck
Houston, TX
Super Great For
On-Set Catering
Family Events
Corporate Catering
I hope that you're hungry. You'll be right back.
Arthurene
of
The Lunch Bag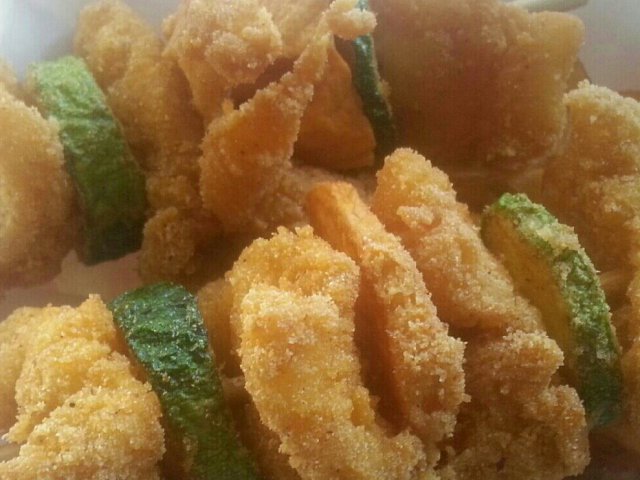 Menu
Appetizers
Boudine Balls
Deep fried boudine balls made with pork and rice sausage
Catfish Pole
Golden fried catfish pieces and zucchini on a skewer
Veggie Tacos
Bacon Cheesy Potato Balls
Golden potatoes folded with bacon pieces and cheddar cheese then rolled in seasoned bread crumbs and deep fried
Boudine Balls
Deep fried boudine balls made with pork and rice sausage
Chili Sweet Potato Fries
Fried sweet potato fries rolled onto a chili powder sauce topped with diced red onions and feta cheese crumbles
Main
Monterey Jack Jalapeno Burger
Spinach Chipotle Chicken Quesadilla
Jerk Chicken Tacos
grilled chicken spiced with special jerk seasonings, drizzle with jerk sauce and placed into toasted taco shell with lettuce, diced tomatoes and onions.
Blackened Tilapia Tacos with Sweet Potato Fries
Catfish Poboy
Crispy golden fried catfish filets placed into French bread with tartar sauce, lettuce, onions, tomatoes and pickles
Mushroom Bacon Grilled Chicken Sandwich
Chicken breast grilled with creole spices., layered with Monterey cheese. Mushrooms and hickory bacon. Placed onto bun with whipped mayo, lettuce, tomatoes and pickles.
Turkey Bacon Turkey Flatbread Sandwich
Turkey slices grilled and topped with provolone cheese and turkey bacon. Placed onto flatbread with special sauce , spinach and red onions.
Bacon Stuffed Jalapeno Meatball Sub
100% ground beef seasoned to perfection then mixed into a bacon, jalapeno and cheese mixture. Rolled into a light crumb then pan grilled. Topped with bell peppers and placed into french bread with drizzle of. Sriracha sauce.
Corn Beef Hash Muffin
Corn beef, diced potatoes, onion bits, eggs folded, seasoned and grilled. Placed onto toasted english muffin and topped with blended cheese.
Fish
Golden, deep fried beer battered fish
Potato Salad
Spinach Chipotle Chicken Quesadilla
Grilled chicken breast seasoned and shredded then placed into a tortilla filled with grated cheese, spinach, diced tomatoes and onions, drizzled with chipotle sauce
Chorizo Quesadilla
Flavorful chorizo, peppers, blended cheese folded into browned quesadilla
Brats Sausage
Brats pork sausage grilled the smothered with sauerkraut and green onions layered into flat bread with brown mustard
Spiced Pork Tenderloin
Tenderloin slow cooked to perfection with special spices and apple slices poured onto bed of brown rice
Bavarian Meatball Pocket
Pork meatballs slow cooked then smothered with pineapple juice, chili sauce, and brown sugar then placed into french bread topped with green onions, diced beets and sauerkraut.
Stuffed Pork Chops
Pork chops seasoned to perfection, stuffed with a german potato hash of bacon, green onions and cloves
Loaded Chicken Cheese Fries
Seasoned fries topped with shredded lettuce, diced onions and tomatoes. creole grilled chicken. cheese sauce and avocado sauce
Mexican Skillet Potatoes
Pan fried potatoes loaded with cilantro, diced onions, sweet jalapenos, shredded beef fajita and queso
Chili Sweet Potato Fries
Fried sweet potato fries rolled in a chili sauce powder, diced red onions and feta cheese crumbles.
Loaded Chicken Cheese Fries
Seasoned fries topped with shredded lettuce, diced onions and tomatoes, creole grilled chicken, cheese sauce and drizzled with avocado sauce.
Potato Cakes
Seasoned shredded potatoes, bacon pieces, green onions, and diced tomatoes, blended and grilled to a golden crisp.
Bacon Jalapeño Potato Bites
Potatoes chopped with spices, cheese, jalapeños and bacon folded in. Then molded and rolled into bread crumb batter and deep fried.
Mexican Skillet Potato Hash
Skillet fried potatoes, grilled onions, cilantro, beef fajita, queso cheese.
Chicken Empanada
Special seasoning grilled chicken shredded along with cilantro, onions and chipotle beans
Roasted/Cajun Fried Turkey
Slow roasted turkey basted with special seasonings and sauces. And Cajun fried turkey, deep fried to perfection injected and rubbed with creole seasonings.
GRILLED CHEESE SANDWICH
Sourdough bread lightly buttered filled with blended cheeses and grilled to crisp, golden perfection
Veggie Burger
Sides
Cheesy Bacon Potato Bites
Cheesy bacon with potato made into small bites
Spinach Mushroom Bacon Salad
Fresh spinach, mushrooms, red onions and bacon crumbles. Served with raspberry vinagerette
Cheesy Mac Bacon Balls
Coleslaw
Shredded colorful cabbage blended with carrots and special dressing
Fries
POTATO CAKES
Red potatoes mashed and folded with bacon and green onions , then pan fried
PICKLED BEETS
Dinner Rolls
Honey butter rolls
Desserts
Red Velvet Cream Cheese Cake
Very Chocolate Cake
Teacakes
Old fashioned, homemade buttermilk teacakes
Blueberry Muffin
Funnel Caked
Special batter mix poured into fryer until golden crisp then sprinkled with powdered sugar
IICE CREAM
Chocolate or vanilla ice cream
Drinks
Options
Lemonade Raspberry tea Coke Sprite Water
Peach Tea
Hot Coffee
Morning Brew
Coffee, hot chocolate or tea. Also orange juice.
Soft Drinks
Lemonade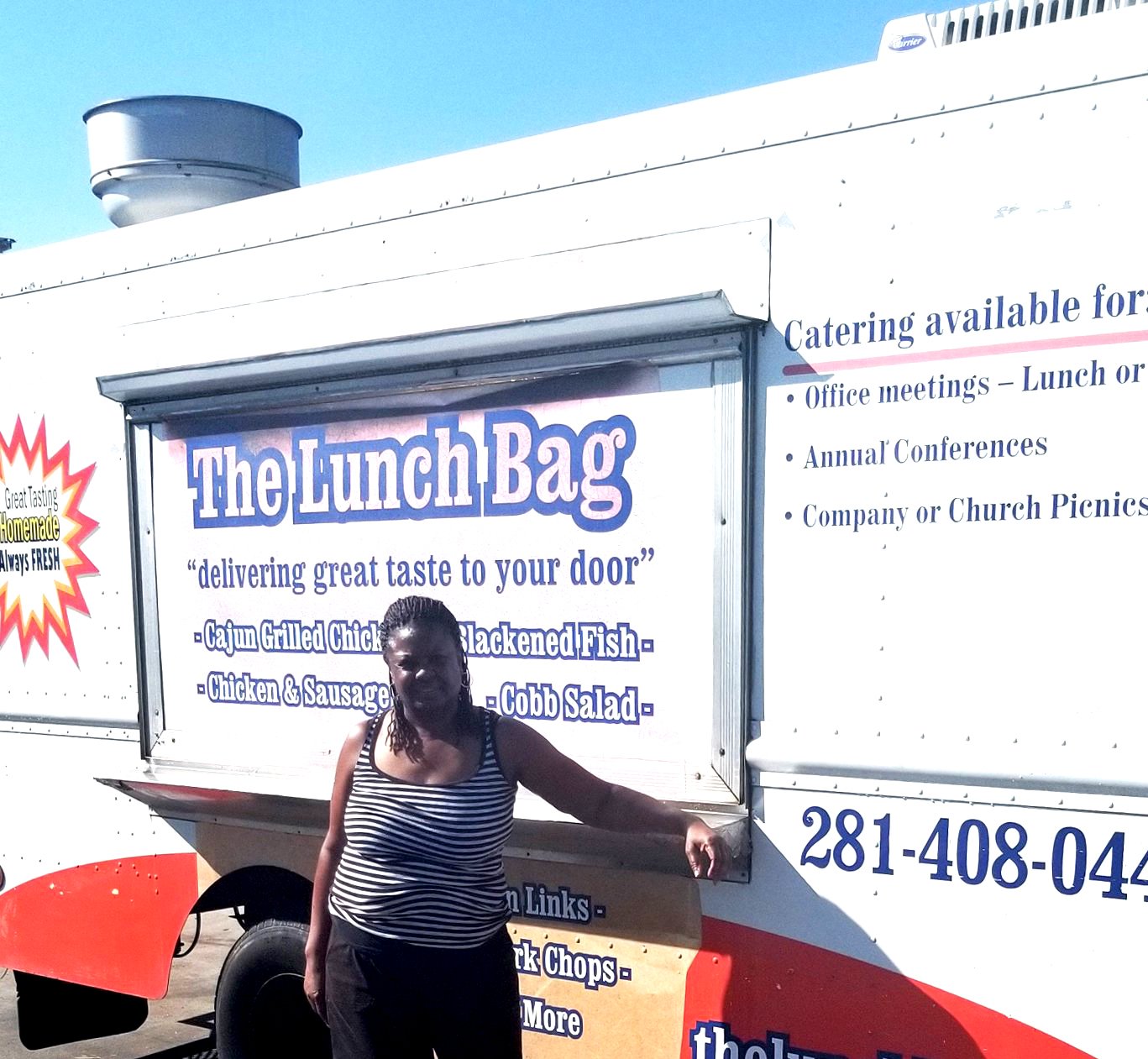 Meet Arthurene
What is the story behind your business' name?
The Lunch Bag got its name from taking my lunch to work. Lunch became a quick, tasty, convenient bite like that of school days carrying a lunch bag.
About The Lunch Bag
The Lunch Bag is packing in a whole lot of goodness in Houston, serving up inspired meals outside of the classic brown bag lunch. The truck has handcrafted an eclectic variety of savory eats, ranging from all-American classics to down-south Cajun and Creole fare.
You a burger fiend? Grab yourself a bacon cheeseburger, featuring an all-beef patty accented by thick cut crispy strips of bacon. More in a po'boy mood? They've got a few, in addition to fried boudin balls and loaded steak fries. Despite the namesake, The Lunch Bag's got a bountiful breakfast menu, too, including classics like a bacon, egg and cheese sammie alongside breakfast tacos. Find The Lunch Bag in Houston, or have 'em out to cater your next event.
MUST TRY
Fried Catfish Skewers — Tender chunks of catfish are battered and deep fried to golden brown perfection, served with crispy fried zucchini
Book catering for your next event
Protected by our 100% Roaming Hunger Service Guarantee