Wurstbusters
Preferred Caterer
Popup Catering

,
Food Truck
Jacksonville, FL
4+ Years

on Roaming Hunger
Super Great For
Corporate Catering
Vegans & Vegetarians
Vegetarians
Weddings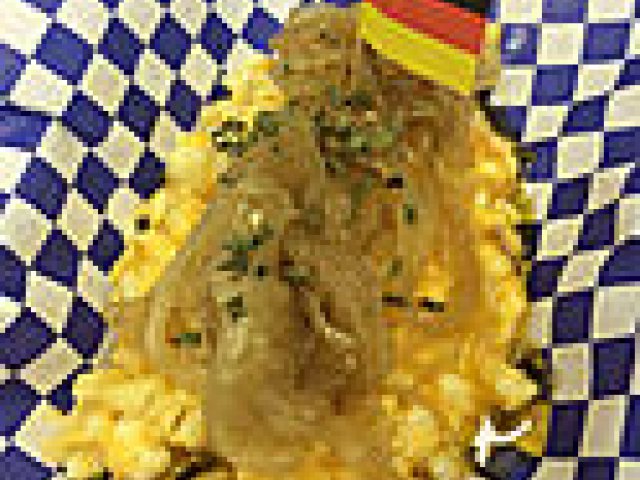 Menu
Main
Spaetzle (Entree size)
A southern german delicacy made of homemade pasta with cheese and caramelized onions - Lovers call it " German Mac'n'Cheese"
2 Tacos / 2 Tacos with 1 side
Pork chop, pounded very thinly, breaded and fried, chopped up and served on a flour tortilla with lettuce, tomato, grated cheese, and house cilantro dressing Griller chicken - in case you like that better Falafel - for all the vegetarian fans
Bratwurst served in a bread roll
Par-boiled, then fried pork sausage served in a bun (that we call Broetchen)
Currywurst with 1 side
Par-boiled, hen fried pork sausage with homemade Wurstbusters sauce with your choice of side
Schnitzel with 1 side
Pork chop pounded very thinly, breaded and fried and served with 1 side and Wurstbusters sauce
Mixed Salad with chicken or Schnitzel (Vegetarian and Vegan option available with Falafel)
(Lettuce, tomatoes, cucumber, carrots + choice of dressing (House cilantro or Ranch Dressing)
Chicken Gyro Sandwich "Berlin Style" aka Doner Kebab
(Vegetarian and Vegan option available with Falafel) (Chicken gyro served in a grilled house-made flat bread filled with lettuce, cabbage, tomato, cucumber and onion finished with homemade sauce of your choice – herb; garlic; or curry- chili sauce)
Sides
Toppings
Add these to your meal to get the perfect taste for you
Spaetzle (side order)
A southern german delicacy made of homemade pasta with cheese and caramelized onions
Sauerkraut
German style pickled white cabbage served warm with fried bacon
Cucumber Salad (vegan)
Cucumber salad with vinegar based
Soft Pretzel
With salt and cheese sauce
Drinks
Soda
Your choice of refreshing soft drink
Kids Meals
Kids Meal
Choice of hot dog or chicken nuggets with small fries and caprisun
Snacks
Chicken Tenders with Fries
4 chicken tenders with fries
About Wurstbusters
Wurstbusters busts into the Florida food truck scene offering authentically German cuisine from the window of a specially designed food truck. Owned and operated by two best friends that grew up in Germany, you'd be hard pressed to find any more authentic bratwursts than the ones they're cooking up in Jacksonville, FL.
With over 20 years of experience in the hospitality and event management, Annett and Natalie know what quality customer service is when it comes to their food truck. Homemade pork and beef sausages are done up in the traditionally German style: roasted in tomato curry for a currywurst, or topped with mustard and paired with the vinegar-y German potato salad. When hunger strikes and you're in the neighborhood, I think you'd better call WURSTBUSTERS! They're on call to cater your next event, so don't be spooked and pick up the phone today.
MUST TRY
Bockwurst - a pork sausage with natural casting, drizzled with mustard in a soft bun. Add Fritten, their thinly sliced fries seasoned with paprika for a hearty meal.
Book catering for your next event
Protected by our 100% Roaming Hunger Service Guarantee