Blast Ice Cream
Popup Catering

,
Trailer

,
Food Truck
Los Angeles, CA
4+ Years

on Roaming Hunger
Food truck catering for your next event. Fast, easy and delicious. Book it here.
Get Started
Super Great For
Fancy Affairs
On-Set Catering
Huge Events
Corporate Catering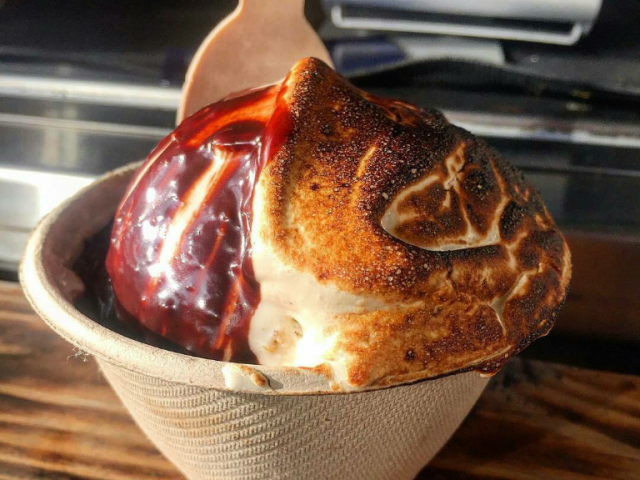 Menu
Desserts
So Much S'More
Graham Cracker Crust Ice Cream, Marshmallow Cream, Chocolate Sauce
Kettle Korn
Fresh popcorn, Himalayan sea salt, turbinado
Once Upon A Vine
Take a taste bud tour with this beauty. Homemade cranberry preserves and pecan ice cream is topped with marshmallow and toasted before receiving a coating of homemade mulled wine reduction. Served with a garnish of candied citrus. Take a pic before you devour!
Say Cheese...Cake!
The perfect strawberry ice cream is hidden behind a thick covering of chocolate sauce. Next up, a rich and airy homemade cheese cake foam (think aerated cheesecake). and of course a topping of graham cracker crust.
Total Recall
A tribute to the classic, Blast style of course. Thick rich vanilla ice cream topped with our true vanilla whip. A duet of chocolate and butterscotch are laced on top and then sprinkled with crushed peanuts.
Irish Breakfast
You'll be seeing stars and leprechauns after a bite of this knockout. Steel cut Irish oats are soaked in Stout beer for a nutty chew with hints of chocolate and coffee in this ice cream. Cold brew coffee infused whipped cream to top and a scratch made Irish whisky sauce to finish.
Ain't That Grand...
And so grand it is! Sweet and smooth Vanilla ice cream and crunchy graham cracker crust works in perfect harmony with a cold brew coffee infused whip then a dance of spiced chocolate sauce and scratch made dulce de leche.
High Fashion
Inspiration from the Old Fashioned cocktail to create this complex sundae. We start with a fresh lemon juice ice cream to build upon. A scratch made cherry bourbon sauce, made with local cherries and cold smoked with Apple wood blankets the ice cream. Whipped cream infused with chocolate bitters and a burnt sugar orange glaze complete this masterpiece.
Jack and the Giant Peach
No, you cannot bath in this…well you could try. Local organic peaches are grilled and caramelized to bring out a lightly smoky sweet peach perfect ice cream. Then comes the dousing of our famous Jack Daniels cinnamon caramel and finished with a lightly scented lemon ricotta foam.
City of Angels
Originally designed to honor City of Angels Boxing and inspired by post workout foods but now its just too good to pass up anytime. Fresh bananas and peanut butter make for a delicious healthy ice cream, chocolate sauce made from the bean and fresh whip cream
Angry Angel
A spicy take on the City of Angels. Grilled banana and peanut butter ice cream topped with hot cinnamon whip and a drizzle of spiced chocolate sauce made with chipotle peppers, cayenne and cinnamon, She may be angry but this angel is delicious!
Fall Fetish
A real fall treat. Local sweet potatoes and crunchy pepitas (pumpkin seeds) ice cream. Toasty marshmallow cream and a cranberry foam top. No need to say thanks!
Bunny Carrot
Our delicious take on this spring time classic. Starting with local carrots and fresh ground spices to make a deeply flavored spiced carrot reduction ice cream with raisins. A homemade cream cheese frosting foam on top is sprinkled with chopped pecans.
Key Lime Pie
A nod to our South Florida roots. Fresh lime and a touch of condensed milk for a true key lime pie ice cream. Fresh whipped cream and graham cracker crust and you'll save yourself a trip to the Keys!
Lemmy Have It Smokin Float
Lemme Sparkling Lemonade with Strawberry Ice Cream
Build Your Own
A true show stopper. We use real organic, fair trade vanilla that when mixed into our rich and creamy base stops people in their tracks. One look at the amount of vanilla specks in every scoop and you'll know you're in for something special... True chocolate from the bean. A non-alkalized 10/12 butterfat cacao bean packs a sweet chocolate punch... The beauty of simplicity. Local organic/ pesticide free strawberries that are gently muddled leaving perfect chunks of strawberry put our strawberry ice cream in a class all its own. Choose your Ice Cream then add your toppings- Chocolate Sauce, Butterscotch, Irish Whiskey Cinnamon Caramel, Dolce de Leche, Mulled Wine Reduction, Marshmallow Cream, Vanilla Whip, Cold Brew Whip, Popcorn Infused Whip, Malt, Luxardo Cherries, Graham Cracker Crust, Coconut, Pecans, Peanuts
The Frenchie
crunchy house made cinnamon french toast ice cream topped with cold brew coffee infused whip cream (or Smoked Maple Bourbon infused whipped cream) and maple syrup
Field of Dreams
strawberry ice cream topped with hibiscus infused whipped cream, candied basil syrup and poppy seeds
The King
peanut butter ice cream, candied bacon sauce, burleed banana, challa crouton
Thats My Jam
Home Made Blueberry Jam Ice Cream topped with Buttermilk Whip, Blistered Corn and Mesquite Smoked Honey
What the... Oh My, That's Good!
Fresh organic strawberries, goat cheese foam, balsamic reduction swirl
Drinks
Black Cow Smokin Float
White Rose Root Beer with Tahitian Vanilla Ice Cream
Cherry Bomb Smokin Float
Americana Black Cherry Soda with Tahitian Vanilla Ice Cream
How Now Brown Cow Smokin Floats
Mr Cola Cola with Tahitian Vanilla Ice Cream
Jittery Cow Smokin Float
Manhattan Espresso Soda with Tahitian Vanilla Ice Cream
Orange Ya Glad Ya Did! Smokin Float
Manhatten Orange cream soda and vanilla bean ice cream
About Blast Ice Cream
If you're wishin' for ice cream that is all-natural and without all those mysterious emulsifiers, dyes, and chemicals...then this Prohibition-themed Ice Cream truck is a dream come true. Oh yeah....and liquid nitrogen is involved.
With its 1920's-era decor, Blast Ice Cream specializes in super cool "New Old Skool Ice Cream". It's made with organic and locally sourced ingredients, all from scratch, which is totally Old Skool. Then it's all frozen right before your eyes with -320-degree liquid nitrogen, resulting in a molecular gastronomical concoction that is absolutely pure and creamy beyond belief...whoaaaaa, now that's totally New Skool!
And it gets better!
Doing our future a favor, everything is served in bowls made from crushed sugar cane fibers and their spoons are made from renewable birch.
For an extraordinarily exciting edible experience that is simultaneously a blast from the past AND a blast to the future, you gotta get to Blast Ice Cream fast.
Book catering for your next event
Protected by our 100% Roaming Hunger Service Guarantee