Bling Bling Dumpling
Cart, Popup Catering
Los Angeles, CA
Food truck catering for your next event. Fast, easy and delicious. Book it here.
Get Started
Super Great For
Indoor Events
Smaller Spaces
Corporate Catering
Vegetarians
Our food is homemade. I want to educate American people on Taiwanese culture and cuisine.
Cindy & Anne
of
Bling Bling Dumpling
Menu
Main
Chicken and Thai Basil Dumplings
A homemade ground chicken dumpling with a a Thai basil accent
Ginger Pork Dumplings
A homemade pork dumpling spiced with ginger
Shiitake Mushroom Dumplings (V)
For the vegetarians, a homemade dumpling stuffed with shiitake mushrooms
Taiwanese Rice Noodles
Thin rice noodles that are pan fried with flavorful vegetables (Vegan and Gluten free)
Chinese Chicken Salad
Chopped chicken with napa cabbage, carrots, green onions and topping it off with crunchy noodles
Xiao Long Bao
Little steamed dumplings filled with juicy pockets of broth
Pork Belly Bao
Slow cooked pork belly simmered in a sweet and savory spice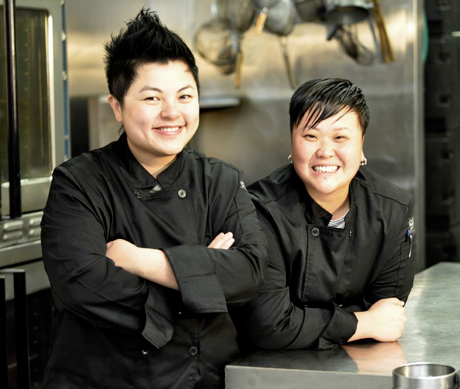 Meet Cindy & Anne
What is the story behind your business' name?
During one dumpling party, we decided to come up with a name. Someone blurted out, "Bling Bling Dumpling!" We all got excited. I knew right away this is it.
About Bling Bling Dumpling
Bling Bling Dumpling is lighting up the streets of Los Angeles, shining bright with their offering of all authentic dumplings. Sure, it's easy enough to claim authenticity when it comes to exotic cuisine. But here, they're backing it up with years of experience, having been taught authentic Chinese cooking by their Taiwanese mothers and grandmothers, uniquely inspired by the country's versatile street food scene. At Bling Bling Dumpling, they're keeping things fresh in the kitchen and on the menu. Sourcing local and organic ingredients, they're ensuring freshness in each and every handheld goodie. That, and they're merging family recipes with new and inventive flavors to tantalize your tastebuds. From the classic pork dumpling stuffed with cabbage, green onion and ginger to the savory chicken thai basil outfitted with organic chicken, nappa and onion, there's a whole lot of goodness for the discerning omnivore. But we'd be remiss not to mention their shiitake mushroom dumpling for vegans, and their cheeseburger dumpling fusing that all American classic into the most satisfying of forms. If all this sounds too good to be true, prove us wrong by finding Bling Bling Dumpling or inviting 'em to cater your next event. It's sure to please. MUST TRY Ginger Pork - Ground pork seasoned with a rich blend of ginger plus cabbage all wrapped up in a delicious dumpling shell. Yum. Shiitake Mushroom Dumpling - With all the heft of their meaty dumpling counterparts, you're getting shiitake mushroom, tofu, cabbage, spinach, green onion and glass noodles all encased in dough for your enjoyment
Book catering for your next event
Protected by our 100% Roaming Hunger Service Guarantee