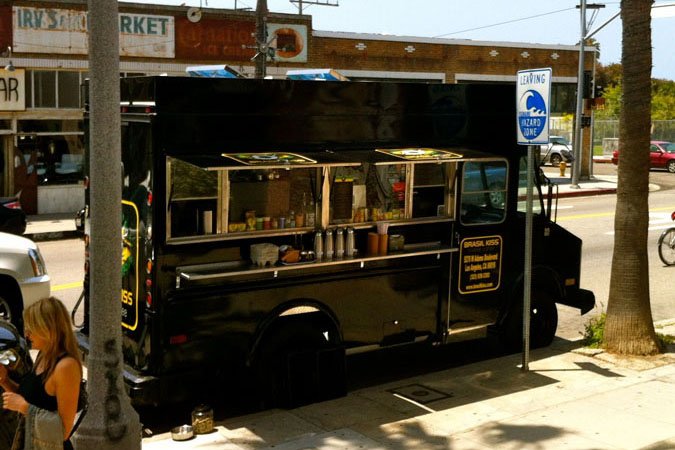 Brasil Kiss
Food Truck
Los Angeles, CA
8+ Years

on Roaming Hunger
Food truck catering for your next event. Fast, easy and delicious. Book it here.
Get Started
Menu
Appetizers
Pão de Queijo
Gluten-free cheese puffs made fresh daily, slight crunch on outside & airy and chewy on the inside. The classic bite of Brazil.
Desserts
Doces
Handmade Brazilian & Portuguese sweets fresh daily
Drinks
Cafezinho
Classic Brazilian double espresso shot
Cafezinho Macchiatto
Double espresso shot topped with steamed milk foam
Café Americano
Double espresso shot with hot water
Café com Lette
Cup of coffee with steamed milk
Cappuccino
Double espresso shot with steamed milk and foam.
Latino Latte
Double espresso shot with steamed & condensed milk
Brasil Kiss Latte
Double shot of espresso with steamed milk & a shot of Madagascar vanilla bean sugar cane syrup
I Heart LA Latte
Triple shot of espresso with steamed milk
Hot Chocolate
Ghirardelli white or milk chocolate syrup & steamed milk
Numi Organic Handpicked and Fair Trade Tea Selection
Guayaki Organic Yerba Mate
Strength of coffee, health benefits of tea, euphoria of chocolate
Traditional Yerba Mate
Organic Iced Tea
Green or Black
Batidas
Brazilian tropical ice blended creamy smoothies
Agua de Coco Zinco
Coconut Water
Guaraná Soda
Guayaki Yerba Mate Organic Energy Drinks
Yerba Mate Sparkling
About Brasil Kiss
Brasil Kiss™ LA's new barista on the move with Brazilian soul & LA style established Spring 2012. Happily serving Intelligentsia Black Cat Espresso direct-trade coffee grown in Brazil and roasted in LA by Intelligentsia Coffee Roasters + Guayaki Organic Yerba Mate & Energy Drinks, Numi Organic Teas, Batidas (Brazilian Smoothies) + Brazilian Street Bites & Sweets.
Brasil Kiss™ barista team provides "Ginga" service style which in Portuguese translates as energy rooted in movement, swing, timing, absolute bliss and happiness. Our kiss symbolizes Brazilian hospitality bringing Angelenos the energy, glow & spirit of Brasil.
To learn how creator Luciano made the shift from bartender to barista, and why Brasil Kiss' coffee is just so good, check out the Roaming Hunger interview with him here: http://roaminghunger.com/blog/4536/featured-food-truck-brasil-kiss
Upcoming Locations
No upcoming events currently listed.
Book catering for your next event
Protected by our 120% Roaming Hunger Service Guarantee