Cruisin Cuisine
Top Caterer
Food Truck
Orlando, FL
4+ Years

on Roaming Hunger
Super Great For
Custom Menus
Indoor Events
Corporate Catering
Weddings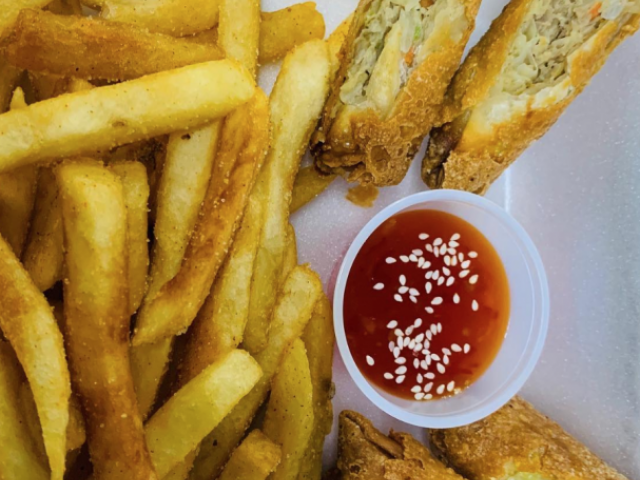 Menu
Appetizers
Tandoori Chicken Skewers
Served with Tzatziki sauce
Greek Lemon Seared Chicken Skewers
Served with Tzatziki sauce
Beef Satay Skewers
Served with hoisin Sriracha glaze and topped with cilantro
Roasted Beef Meatballs
Tossed in a banana coconut BBQ reduction
Tomato Bruschetta
Served on roasted crostinis
Pulled Pork Sliders
Tossed in our Cruisin' Cuisine BBQ sauce, topped with crispy onions and serve on Hawaiian sweet rolls
Fried Pork Egg Rolls
Served with Thai chili glaze
Main
Fried Pork Egg Rolls
Fried pork egg rolls, served with a Thai chili glaze and topped with toasted sesame seeds
Pork Egg Rolls
Served with chili glaze and topped with sesame seeds
Cruisin Cuisine Beef Burger
Served with Fry egg, Cheddar cheese, lettuce, sunset tomatoes, apple wood bacon and our secret sauce
Crispy Ranch Chicken Bacon Wrap
Served in a flour tortilla with Jack cheese, lettuce, and tomatoes
Quesadilla
Your choice of meat with cheese, salsa, crema, and avocado crema
Rice Bowl
Your choice of meat with beans, rice, salsa, lettuce, cheese, and avocado crema
Salad Bowl
Your choice of meat with beans, rice, salsa, lettuce, cheese, and avocado crema
Pancakes
Three large, fluffy pancakes served with maple syrup
Cruisin Cuisine Veggie Omelet
Served with tomatoes, peppers, mushrooms, and Monterey Jack cheese
Cruisin Cuisine Beef Sliders
Served with cheddar cheese, lettuce, tomatoes, bacon, and our secret sauce
Cheese Quesadilla (V)
A 6 inch soft flour tortilla stuffed with a blend of cheeses and served with salsa and sour cream
Buffalo Chicken Sliders
Chicken tossed with Buffalo sauce, drizzled with ranch, and served on a bun with lettuce, tomatoes
Vegetarian Wrap
Served on a flour tortilla with sautéed peppers, zucchini, mushrooms, lettuce, tomatoes, and a blend of cheeses
Cheesy Chicken Quesadilla
A soft flour tortilla stuffed with chicken, blend cheeses and served with salsa and sour cream
Crispy Chicken Club Sandwich
Served on a Kaiser roll with cheddar cheese, lettuce, tomato, bacon, and ranch
Homemade Chicken Tenders
Crispy and juicy homemade chicken tenders served with your choice of sauce
Bagel Chicken Sandwich
Served with egg and cheddar cheese
Meat & Veggie Omelette
Served with diced bacon, sausage, tomatoes, peppers, mushrooms, and a blend of shredded cheese
Cheesy Scrambled Eggs
3 large eggs, scrambled with cheese and served with toast
Breakfast Burrito
Stuffed with eggs, meat, and cheese
Golden Brioche French Toast
Served with maple syrup
Pancake Egg Sandwich
Served with bacon and cheddar cheese, topped with Sriracha and syrup
Buttermilk Fried Chicken & Waffle
Topped with bacon and maple syrup
Burrito
Your choice of meat with beans, rice, salsa, cheese, avocado crema, and chipotle crema
Beef Tacos
Served on white corn tortillas with ground seasoned beef, shredded lettuce, salsa, sour cream and a blend of cheddar mozzarella cheese (gluten free)
Seared Chicken
Served with charred tomato salsa, asparagus, and yellow rice
Roasted Chicken Sandwich
On a Kaiser roll with cheddar cheese, guacamole, and tomato
Braised Chicken Empanadas
Served with chimichurri
Buffalo Chicken Empanadas
Served with ranch
Picadillo Beef Empanadas
Served with chimichurri
Spinach & Ricotta Empanadas
Served with chimichurri
Seared Salmon
Served with roasted corn black bean salsa, sautéed vegetables, and cilantro rice
Caprese Skewers
With mozzarella, tomato, and basil
Crispy Chicken Parmesan Sliders
Smothered in a rich homemade tomato sauce and melted Mozzarella cheese.
Sides
Loaded Cheese Seasoned French Fries
Our homemade seasoned fries tossed with blended cheeses, Bacon and drizzle with ranch
Tortilla Chips & Dip
Serve with our homemade Salsa
Breakfast Potatoes
Red Bliss potatoes tossed in secret seasoning
Pork Sausage Patties
Natural Hardwood-Smoked Bacon
Desserts
Assorted Cookies
Cheesecake Miniatures
Caramel Chocolate Chip, Strawberry Swirl and New York Style Cheesecake
Mini Cupcakes
Vanilla and Chocolate mini cupcakes
Drinks
Assorted Canned Soda
Bottled Water
Orange Juice
About Cruisin Cuisine
Though you can't quite tie the food at Cruisin Cuisine to one particular country, a quick look at the menu will show that all the food is unified under the blanket of comfort food. The Orlando, FL-based truck is serving up all kinds of comfort classics, and whether it's egg rolls, sandwiches, or skewers, you can rest assured knowing that this is food for the soul.
You a burgerhead? Cruisin's burger is great, and topped with a killer secret sauce. More of a quesadillahead? You're in luck, they've got an ooey-gooey one, served with salsa and sour cream. Perhaps, though, above all, you're a meatballhead. Good news once again, Crusin is tossing their meatballs in a banana coconut BBQ reduction. No matter what corner of the globe you're chasing comfort food from, Cruisin Cuisine has your back. Track them down in Orlando, or bring them right to you by booking them for your next event.
MUST TRY
Tandoori Chicken Skewers — Served with stewed curry tomatoes and ginger dipping glaze
Book catering for your next event
Protected by our 100% Roaming Hunger Service Guarantee