Jalisco's Mobile Taco Grill
Preferred Caterer
Popup Catering

,
Cart
Los Angeles, CA
11+ Years

on Roaming Hunger
Super Great For
Indoor Events
Family Events
Huge Events
Corporate Catering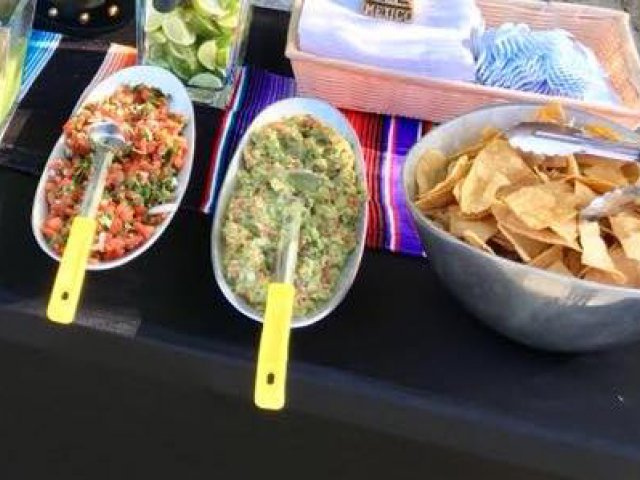 Menu
Appetizers
Street corn Elote Bar (Esquite)
Elote (corn) served in a cup or Cobb street corn style but with flare. Self serve condiments include sour cream or mayo your choice. Cotija cheese, limes and 2 types of seasonings to choose from.
Guacamole Chips and salsa fresca
Made from scratch Chunky Guacamole and salsa fresca made from scratch day of event.
Street Corn
Steamed sweet corn in a cup. Comes with the topping options of Cotija cheese, mayo, sour cream, lime and tajin
Main
Jalisco Style Tacos
We offer "Hot off the Grill" Jalisco style tacos, with onions, cilantro, creamy guacamole, red salsa, green salsa (hot or mild), limes, rice, and Peruvian beans.
Half Pound Gourmet Tamales
5 dozen minimum.
Street Tacos
Classic street tacos with a choice of meat and street taco condiments
Quesadillas
Sides
Rice
Spanish rice, vegetarian friendly
Peruvian Beans
Refried no lard, vegetarian friendly
Chips and Dip
Restaurant style chips with complementary guac and salsa fresca
Tamales
1/2 lb gourmet tamales steamed on site
Desserts
Assorted Mini Pastries
Assorted Mexican and American pastries.
Drinks
Horchata
Strawberry-Lemonade Agua Fresca
About Jalisco's Mobile Taco Grill
Jalisco's Mobile Taco Grill is well renowned throughout Los Angeles for one thing and one thing alone: tacos. Not that there's anything wrong with that. These Jalisco style tacos are truly the "taco" the town, served hot and fresh from a pop up cart.
Next time you're looking to cater an event, hire Jalisco's Mobile Taco Grill. They're preparing everything fresh off the grill, made to order for your enjoyment. From tender grilled chicken to hearty carne asada and sweet and savory al pastor, choose your meat and you're getting it cradled in corn tortillas, topped how you want it; Jalisco's Mobile Taco Grill's got the classic diced onions and cilantro, along with homemade guac, spicy red and green salsa, and even radishes. Mouthwatering? Absolutely. Find Jalisco's Mobile Taco Grill, or hire 'em to cater your next event in LA. Trust us. They won't disappoint.
MUST TRY
Tacos - we don't know what else to say about these tacos, other than they're absolutely worth indulging in
Book catering for your next event
Protected by our 100% Roaming Hunger Service Guarantee