John Que's Smokeout
|
Top Caterer
Popup Catering, Trailer
Los Angeles, CA
4+ Years

on Roaming Hunger
Super Great For
On-Set Catering
Huge Events
Corporate Catering
Weddings
John Que's Smokeout Menu
Appetizers
Rib Tips
smoked rib tips, bit sized pieces, ready to go with sauce on the side.
CHICKEN SAUSAGE BITES
OUR SMOKED GRILLED SAUSAGE SLICED INTO BITES
Main
Smokey tri-tip
Smokey tri-tip, with the sauce on the side.
Barbecue chicken
Smokey barbecue chicken
Smokey beef short ribs
Smokey, tender, and meaty short ribs.
Smoked salmon
Smoked salmon, with cajon spices. This is also is a great option for people who don't eat red meat.
Turkey burgers
Hand made turkey burgers fresh patties with fresh ingredients.
Burgers
Can be made simple or all dressed up.
Curry chicken
Taste the Caribbean, with our curry chicken!
Smoked Turkey
Let us flavor and smoke the turkey, with some of our signature flavors
Smoked Ham
Some fun in every bite.
Brats and Corn Lunch Package
Brats on buns with mustards, and onions, bell peppers. Corn on the cob, with butter, and fixings of parmesan cheese, tajin, bacon bits.
Jerk chicken
Enjoy the Caribbean flavors combined with smoke and feel like you are on the island.
Curry Chicken
Flavor, flavor, flavor, all day, taste the Caribbean. You can have whole themed party, with all the sides.
Smoked Brisket
Smoked to perfection, with moisture and flavor. Based on the amount of people needed to serve.
Entree
Chicken, rice, vegetable either Caribbean style cabbage, asparagus, Salmon, rice, vegetable either Caribbean style cabbage, asparagus, Veggie pasta dish
Burgers
All beef burgers can be made simple or all dressed up.
All beef hot dogs
We can add toppings; onions, relish, or sauerkraut
Party wings
barbecue flavor, jerk chicken, and tequila lime.
sliders
beef , or turkey, with a pickle and condiments.
Smoked Sausage
Spicy, or mild we can do either pork, beef, or chicken
Tequila Lime Chicken
Smoked chicken bursting with some of our original flavors, and don't worry you are safe from the check point.
smoked salmon, or salmon burger
Either Cajun, or our simple smoke with lemon, and olive oil.
Salmon burgers
grilled salmon burgers, a great vegetarian option, or for those that like to switch it up.
vegan sausage
grilled sausage
Pulled pork and mac & cheese
A bowl of macaroni and cheese, and smoked pulled pork topped off with our signature bourbon barbecue sauce.
Briskest Mac & cheese bowl
A bowl of Macaroni & cheese topped with chopped brisket dressed with our signature bourbon barbecue sauce.
Curry chicken bowl
Caribbean style curry chicken, on a bed of peas and rice.
Grilled vegetables
Enjoy a vegan, gluten free, grain free meal, with grilled carrots, summer squash, grilled peppers, and red onions.
Smoked Brisket Tacos
Enjoy some flavor full juicy brisket tacos, with fresh cut cilantro, and onion.
Smoked Brisket Nachos
Brisket smoked for over 15 hours, shredded over a bed of chips, topped with melted cheese and choose, if you want jalepenos, and green onion.
Smoked pulled pork Nachos
Smoked Pulled pork for over 12 hours, shredded and placed on a bed of chips drenched with melted cheese, with green onions, and jalepenos.
Smoked pulled pork tacos
Pulled pork smoked for over 12 hours, on a hot tortilla topped with cilantro, diced onions, and optional a sauce drizzle.
Smoked Brisket Sandwich
Hickory smoked for 14 plus brisket, topped with our signature bourbon sauce, with optional coleslaw.
Smoked Pulled Pork sandwich
12 hour smoked pulled pork, topped with our signature bourbon sauce , with a pickle and optional coleslaw, on a restuarant style bun.
VEGAN BURGERS
impossible burger
SOUTHESTERN BBQ CHICKEN KABOB
OUR SIGNATURE MARINATED OVERNIGHT CHICKEN GRILLED WITH OUR SPECIAL SIGNATURE RUB ALOMG WITH OUR GRILLED VEGGIES AND GRILLED PINEAPPLES DRIZZLED IN OUR HOMEMADE BBQ SAUCE ON SKEWERS
VEGGIE KABOB
GRILLED VEGGIES ON A SKEWER
Southern Fried Chicken Wings
Freshly Brined Hormone free chicken with our special blend and spices
CAJUN DEEP FRIED CATFISH
LIGHT AIRY CRISPY CATFISH SEASONED WITH OUR SPECIAL SPICES
RED WINE BRAISED SHORT RIBS
OUR BEEF SHORT RIBS THAT ARE BRAISED IN RED WINE FOR HOURS ALONG WITH OUR SPECIAL SPICES THERE SO TENDER THEY FALL OFF THE BONE JUST FULL OF FLAVOR
SMOTHERED PORK CHOPS WITH MUSHROOMS
SEANSONED AND SMOTHERED IN OUR HOMEMADE GRAVY WITH MUSHROOMS THIS PORK CHOP IS BUSTING WITH FLAVOR
PORK SPARE RIBS
MARINATED IN OUR HOMEMADE RUB OVERNIGHT AND SMOKED OVER HICKORY WOOD FOR HOURS
Sides
Macaroni and cheese
John Que's Smokeout original home made mac & cheese with no shortage of cheese and tasty noodles.
John Que's Smokeout Greens
We offer a mixture of flavor filled greens with smoked turkey.
John Que's signature potato salad
Our potato salad is made with all fresh ingredients and not over powered by any one taste.
Coleslaw
shredded cabbage, carrots, etc mixed in a flavorful coleslaw dressing.
Baked beans
Baked beans with no meat, but with all the flavor.
Caribbean style Cabbage
You simply have to have this cabbage, with some curry
Jamaican Rice and Peas
No meat but all flavor, another Caribbean dish that you and your group can enjoy.
Plaintains
Sautéed in olive oil, the perfect compliment to Caribbean style cabbage
Vegan Kielbasa
Vegan Kielbasa Sausages grilled to bring out every flavor.
Vegan mixed greens
Meatless, but full of flavor, and healthy
Corn on the cob
with butter or with out, grilled for flavor and still juicy.
SEAFOOD GUMBO
STRAIGHT FROM THE BAYOU OUR FAMILY SECRET RECIPE FULL OF FLAVOR THAT INCLUDES CHICKEN, SHRIMP, OYSTERS, CRAB, SAUSAGE AND CHICKEN
Homemade macaroni salad
With the homemade dressing.
Southern style green beans
Cooked with potato chunks, and with all the love they need!
Cornbread
honey buttered cornbread
RED BEANS AND RICE
BEANS SOAKED OVERNIGHT SEASONED IN OUR SPECIAL CAJUN BLEND AND SLOW COOKED FOR HOURS
Desserts
Assorted cake slices
We offer red velvet cake, pound cake, German chocolate for cakes for dessert, let us know if you have another preference.
Peach Cobbler
Individually wrapped, delicious peaches, in syrup inside of a crust.
Strawberry Shortcake
fresh strawberries over our moist shortcake topped with whip cream
Assorted Cookies
variety of cookies
Drinks
Juice
Have some orange juice, cranberry juice, coffee.
Lemonade
Enjoy some fresh lemonade, on ice.
Soft drinks
We can provide sodas or bottled water
Breakfast
Fruit tray
Assorted fruit cut and ready to serve.
Smoked sausage sandwich
Smoked sausage, topped with a fried egg and sliced cheese
Smoked Salmon breakfast sandwich
Enjoy a smoked Salmon breakfast sandwich topped with a fried egg on a bun.
Scrambled eggs,
Scrambled eggs
Country sauteed potatoes
Enjoy potato medallions with onions and bell peppers full of savor and flavor.
Catering Packages
John Que's Smokeout has 1 public catering package(s) and can also offer custom catering packages. Pricing will depend on the event date, number of eaters, travel distance, and other factors such as tax.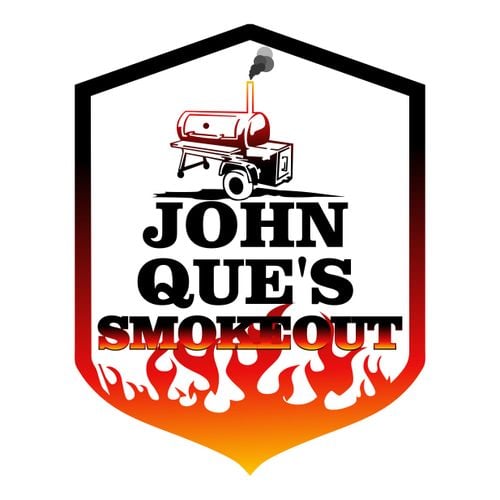 John Que's 2023 Package
Vegan and vegetarian options available
ONE MAIN: Pulled Pork Sandwich, Smoked Brisket sandwich , VEGAN BURGERS
TWO SIDES: Baked beans, Macaroni and cheese, Coleslaw
Past Catering Events
158 event organizers have booked John Que's Smokeout using Roaming Hunger
Other Catering
April 2021 * null, CA
1000+ attendees
Other Catering
October 2020 * Naval Air Station Point Mugu, CA
60+ attendees
On-Set Catering
January 2021 * Los Angeles, CA
90+ attendees
About John Que's Smokeout
John Que's Smokeout is smokin' up a whole lotta meats on the streets. Carting around a mobile smoker on a trailer, you're being treated to the pinnacle of BBQ excellence that's sure to curb your hunger on the curb.

That is, if you happen to be in Los Angeles. If you are, lucky you. You'll find John Que's Smokeout by following the savory smoke trail the trailer leaves in its wake, and immediately your mouth will water. Not to worry. John Que's Smokeout's got a whole lot to cure your mouthwatering and satiate your hunger in one fell swoop. Be a winner and get a chicken dinner, they've got smokey jerk chicken, spicy fire chicken and robust bourbon wings to sink your teeth into. Or pig out on their pork and beef lunch, featuring premium tri-tip and fall off the bone pork ribs. Of course, no bonafide BBQ joint would be anything without homemade sides. Thankfully, John Que's Smokeout's got 'em in spades, including creamy potato salad, hearty baked beans and just about the cheesiest mac 'n' cheese you're ever gonna eat. So why wait? Find John Que's Smokeout in LA, or have 'em out to cater your next event. Trust us. They're called pitmasters for a reason.
Frequently Asked Questions
Does John Que's Smokeout do catering, and are they available on my date?
Yes, John Que's Smokeout is registered for catering and/or vending events on Roaming Hunger. In terms of availability, we don't manage their calendar. The best way to find out if they're available is to fill out your event information and see if they respond.
Is John Que's Smokeout available in my city?
John Que's Smokeout serves Los Angeles and surrounding areas. Keep in mind that for catering, they may add a travel fee if it's outside of their normal travel radius.
What type of food does John Que's Smokeout serve?
John Que's Smokeout serves the following cuisine types: BBQ, Burgers, Sandwiches, Hot Dogs, Bowls, Savory
What types of services (equipment) does John Que's Smokeout have?
John Que's Smokeout has the following types of services: Pop-Up, Trailer
Book catering for your next event
Protected by our 100% Roaming Hunger Service Guarantee